IIM Udaipur Fellow Program in Management FPM 2019 : iimu.ac.in
Organization : IIM Udaipur Indian Institute of Management
Scholarship Name : FPM 2019 Fellow Program in Management
Applicable For : Postgraduates/Graduates (4-year)/CA/CS/ICWA
Applicable State : All Over India
Application Deadline : February 28, 2019
Website : https://www.iimu.ac.in/programs/fpm/fpm-at-a-glance
You can now ask your question on this scholarship.
Ask here
(OR) Go to the bottom of this page for comments.
IIMU Fellow Program in Management
Indian Institute of Management, Udaipur invites applications for Fellow Program in Management for the year 2019.
Related : USF A.P.J. Abdul Kalam Postgraduate Fellowship 2019 : www.scholarships.net.in/33776.html
FPM Eligibility
Candidates are eligible to apply for the FPM program if they fulfill the following criteria
** A Master's Degree in any discipline, with at least 55 percent marks, AND with at least 50 percent marks in the Bachelor's degree/equivalent qualification (minimum three years of bachelor's level education after the completion of higher secondary schooling (10+2) or equivalent. (or)
** A professional qualification (completed) like CA, ICWA (ICAI), CS with a Bachelor Degree. (or)
** A 4-year/8-semester Bachelor's degree with 6.5 CGPA or equivalent.
*This has been updated as per the notification received from MHRD regarding "Minimum Standards for Ph.D admission in IIMs" on December 27, 2018
FPM Application Process
The FPM application should be submitted online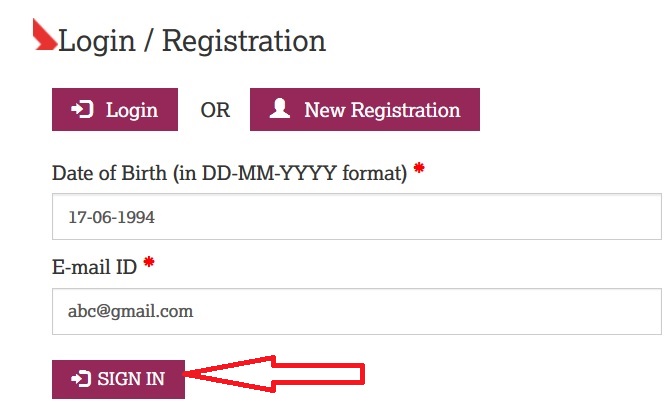 Please note that one candidate can apply only one area out of the four as mentioned below for FPM 2019
** Operations Management
** Marketing
** Finance & Accounting
** Organizational Behavior and Human Resources Management
In case of multiple applications in more than one area, the application received on the latest date will be considered and the previous application/applications will be summarily rejected.
Note :
"Candidates applying for OBHRM and Marketing Area are required to answer the specific questions in the Statement of Purpose"
SOP Questions for OBHRM Area :
(i). Why do you want to pursue an FPM? Why an FPM from IIMU? (100 Words)
(ii). State your research interest(s). Explain what research would you want to do? Why? (300 Words) Please note you may or may not be actually pursuing this research interest if you get selected.
(iii). What are your future research goals? (100 Words)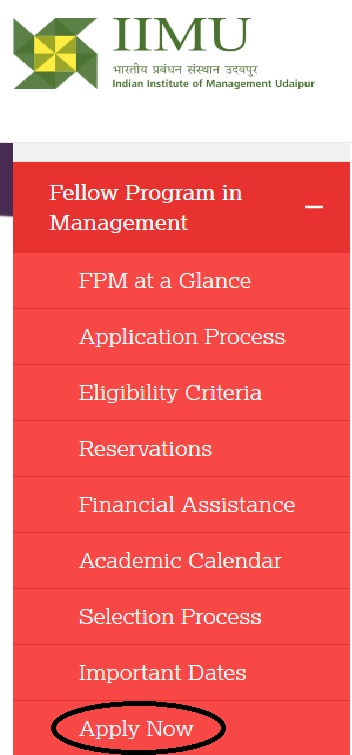 SOP Questions for Marketing Area :
(i). What is your area of research interest? Why?
(ii). Why FPM? Why IIM Udaipur?
(iii). What is your career plan post FPM?
Other relevant documents may also be submitted. e.g.
** Test Score (CAT/GRE/GMAT/GATE/NET-JRF (for areas other than Marketing)
** Awards and recognitions
** Competition results
** Documents in Support of Work/Research Experience
** Published Research Papers
Documents may be submitted in PDF, Doc, docx or JPEG formats.
Documents Required
Along with the completed application form, the following documents are mandatory
** Class X Marks Sheet
** Class XII/Diploma Marks Sheet
** Bachelor's Mark Sheet *
** Master's Mark Sheet (if applicable) *
** Mark Sheet (Professional Course – CA/ICWA/CS) if applicable
** NET-JRF in Economics/Psychology/Sociology/Anthropology/Management
** Research Experience (For Marketing Area Only)
** Curriculum Vitae
** Photo Id (Passport/PAN/Aadhar)
** Statement of Purpose
FPM Important Dates
** Application Start Date – December 8, 2018
** Application Closing Date – February 28, 2019
** RAT/Interview Date (Tentative) – April 15, 2019
Financial Assistance
The Institute will provide various forms of financial assistance to FPM students
** Students will be eligible for a stipend of INR 30,000 per month in the first year with a 10% annual increment up to a maximum of five years.
** The Institute will provide a one-time allowance of up to INR 50,000 to purchase a laptop/PC.
** Students will be eligible for a contingency grant to purchase books, research materials, hardware, software, stationery, etc. of INR 50,000 in the first year of the program and INR 25,000 from the second year onwards until the end of the fifth year. All payments would be subject to actuals.
** IIMU encourages FPM students to attend national and international conferences/seminars to present their research papers. For this purpose, students will be eligible for a grant of INR 20,000 per year to attend national conferences/seminars, and a total of INR 2,00,000 over a period of four years to attend international conferences/seminars (outside India) subject to the acceptance of their research papers.
Helpdesk
For application related queries please contact- fpmadmission [AT] iimu.ac.in or Call- 02942477106