Times and Trends Academy Meri Pehchaan Scholarship 2019 : ttaindia.com
You can ask questions or answer questions about this scholarship.
Please go to the bottom of this page.
Organization : Times and Trends Academy
Scholarship Name : Meri Pehchaan Scholarship 2019
Applicable For : student must 10th or 12th
Last Date : 14th April 2019
Exam Date : 5th May 2019
Website : https://www.ttaindia.com/admissions/meri-pehchaan-scholarship/
TTA Meri Pehchaan Scholarship
Times and Trends Academy invites the applications for Meri Pehchaan scholarship scheme for the year 2019.
Related : ExamsPlanner Young Heroes Scholarship 2019 : www.scholarships.net.in/33174.html
Scholarships are an encouragement for aspiring students who genuinely wish to make it big in their career. This scholarship would waive off 30-100% of the tuition fees for students who've qualified for it.

Times and Trends Academy would offer financial aid for the said amount (30-100%) on the tuition fees
Meri Pehchaan Scholarship Eligibility
Meri Pehchaan Scholarship is offered only to students who meet the below criteria
** 10th or 12th score must be 65% and above.
** The students must pass the Meri Pehchaan test
** TTA accepts only 3 students per domain for Meri Pehchaan scholarship
Eligible Courses :
This scholarship is valid for the following courses only.
** Interior Designing
** Fashion Designing
** Animation
** Event Management
** Finance and Accounts, and
** Jewellery Designing
Meri Pehchaan Scholarship Registration
Just follow the below steps to register for Meri Pehchaan Scholarship 2019.
Steps :
Step 1 : Go to the official website of Times and Trends Academy through provided above.
Step 2 : Read the instructions carefully before you are applying for the exam

Step 3 : Next fill the registration form with the required fields like Name, Email Id, Phone Number
Step 4 : Enter the captcha as shown in the image and click on "Send" button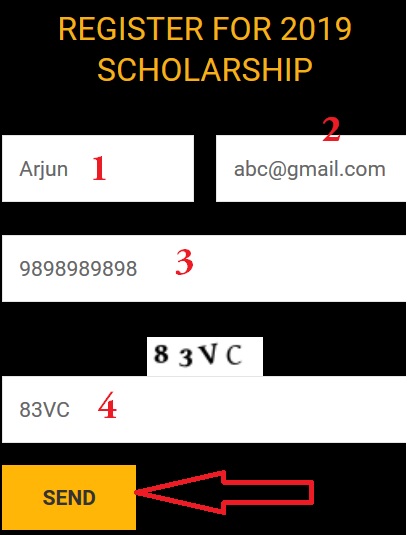 Important Dates
** Last Date to Apply – 14th April 2019
** Scholarship Exam Date – 5th May 2019 At 11:00 AM
Terms & Conditions
Here are the terms and conditions that one must carefully understand before applying or being eligible for the Meri Pehchaan Scholarship.
** The student must 10th or 12th
** The above mentioned eligibility criteria must be met.
** The scholarship is valid only for the above mentioned courses.
** It is offered as a waiver on the tuition fees and ranges from 30% to 100%.
** The terms and conditions of the scholarship are subject to change at any time and under any condition/s. TTA reserves the right to changes the terms and conditions or even terminate the scholarship.
FAQs
1. How many students study in one batch for Diploma & B.Sc. courses?
We have 15 seats for the diploma course and 30 seats for the B.Sc. degree course.
2. How many centres of Times and Trends Academy are in Pune?
We have 7 centres in Pune city at Deccan, Chinchwad, Koregaon Park, Kothrud, Sinhagad Road, Wakad and Wanowrie.
3. How does Times and Trends Academy select students for the course?
The admissions are on first come first serve basis.
4. Does Times and Trends Academy give Placements to students?
We have 150+ tie-ups and associations. Every year in the month of October we conduct a Placement Fair. Students should have fulfilled the condition of 80% Attendance and 70% Marks in the academics to qualify for the placement fair.
5. Does Times and Trends Academy provide Hostels to students?
We have identified different budget hostels, PGs and flats. Once you come here we will assist you to see the hostels and you can choose one as per your convenience.