Stipendium Scholarship 2019 : Form Bazaar U/O JH Education
Organisation : Form Bazaar U/O JH Education Private limited
Scholarship Name : Stipendium Scholarship 2019
Applicable For : Students Of Class 12th
Application Deadline : 31-Jan-2019
Website : http://stipendium.in/
You can now ask your question on this scholarship.
Ask here
(OR) Go to the bottom of this page for comments.
Stipendium Scholarship
A scholarship for University Of Delhi aspirants. STIPENDIUM is an incredible opportunity for the students of class 12th.
Related : Tata Steel Millennium Scholarship 2018-19 : www.scholarships.net.in/33761.html
It is a scholarship programme conducted for aspirants of University of Delhi. The aim is to help students to achieve their goals by providing them scholarship for their graduation.
Stipendium Eligibility
** Students of class 12th of any stream have an absolute chance of winning the scholarship. The test is based on thoughts, vocabulary and relevance.
** So there exists is no bias related to the student's stream. The communication and writing skills of the student and his perspective regarding his future choices can fetch him this wonderful opportunity.
Stipendium Important Dates
| | |
| --- | --- |
| Registration Starts From | 01-Dec-2018 |
| Registration Closes | 31-Jan-2019 |
| Write Up Submission Last Date | 28-Feb-2019 |
| Write Up Submission Mode | Email Only |
| Registration & Participation Fee | FREE |
| Announcement Of Result | 15-Mar-2019 |
Stipendium Application
In Stipendium, the students have to participate with 2 write up's of 150-200 words each. The students have to only register with STIPENDIUM and then answer two questions given to them while following our procedure.
Top 10 students with the best answers ( based on thoughts & vocabulary) will be given the scholarship.
** Register
** Get Topic On Mail
** Submit The Write Up Via Mail
** Participation Done
Just follow the below steps to register for the Stipendium Scholarship 2019.
Steps :
Step 1 : Go to the official website of Stipendium provided above.
Step 2 : Read the instructions carefully before you are applying.
Step 3 : Fill the Application Form with the required details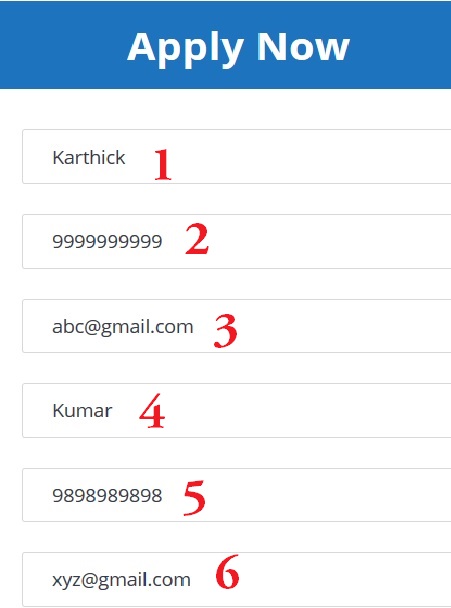 Step 4 : Tick the check box to accept the terms & conditions
Step 5 : Finally click on the "Submit" button to complete the registration.
Scholarship Details
Category

Rank

Application Fee

Registration Fee

Tuition Fee

A
1 to 4
100% Waiver
100% Waiver
100% Waiver
B
5 to 8
100% Waiver
75% Waiver
50% Waiver
C
9 to 10
100% Waiver
50% Waiver
25% Waiver
D
11 to 20
Certifications Only
Terms & Conditions
** The Scholarship is valid only for Delhi University courses where admission is based on Merit (10+2) Score.
** This scholarship cannot be exchanged for cash or admission for any other course from different college/university.
** The scholarship cannot be transferred to any other student.
** This scholarship is Valid only for 2019 intake. It can't be forwarded for next academic year.
** The Management reserve the right to decline/ cancel the scholarship if it is found that student has copied the write up or used an in appropriate method/ means to write.
** Selection of students for the scholarship will be on the basis of vocabulary used for write up, its perspective and relevance for. Also, the result once announced will be final and immutable.
FAQs
1. Why & Who is conducting Stipendium?
The scholarship is being programmed by Form Bazaar U/O JH Education Private limited as a part of their Corporate Social Responsibility. They aim to become the support system for students at the beginning of their career.
Their target is to spread awareness in the field of education so that no student is left unaware of the opportunities and chances that he/she can achieve.
Form Bazaar is a helping hand to students who guides class 12th students during the most crucial time of their school life by solving the problem of finding the forms and filling them with ease of sitting at their home.
2. What are we looking from students?
All that we want from the students associated with us is to have the hunger for learning and education. The student need not be an extraordinary one in education but must have the will to improve and perform better and better for the best future.
If the student has a good command over his written or verbal communication skills and good knowledge about his own interests, he has an absolute chance of winning the scholarship.