AIF William J. Clinton Fellowship 2020-21 : American India Foundation
You can ask questions or answer questions about this scholarship.
Please go to the bottom of this page.
Organisation : American India Foundation
Fellowship Name : William J. Clinton Fellowship 2020-21
Applicable For : Undergraduate Students
Applicable Country : India
Application Last Date : 20.01.2020
Website : https://aif.org/fellowship/
AIF William J. Clinton Fellowship
Applications For The 2020-21 AIF William J. Clinton Fellowship For Service In India Are Now Open.
Related / Similar Post : Buddha Fellowship Program 2019
The William J. Clinton Fellowship for Service in India is an immersive, 10-month volunteer service program matching young professionals with development organizations.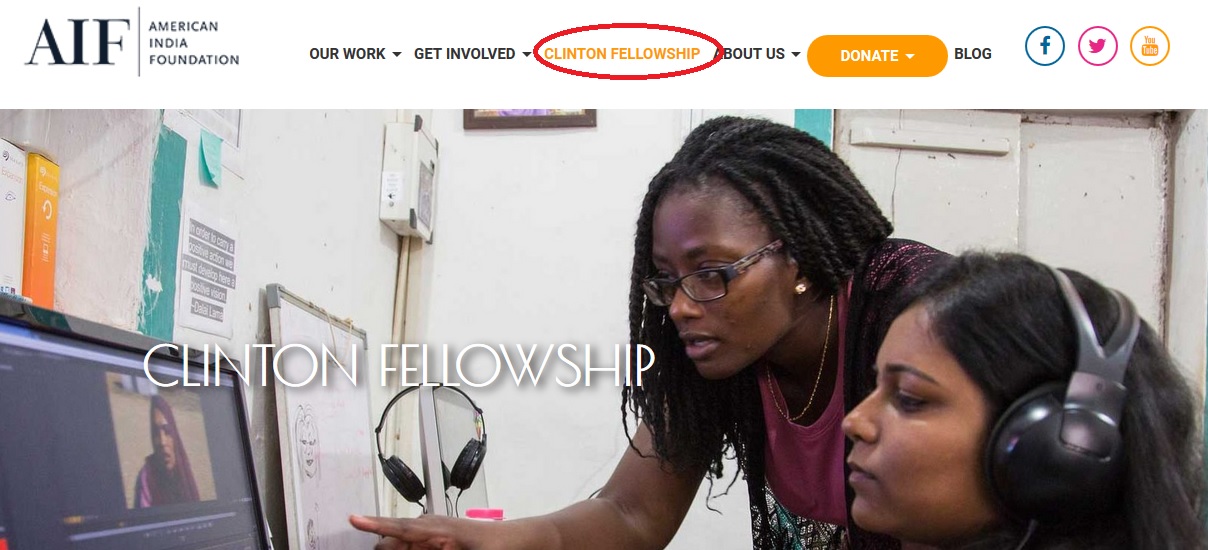 Clinton Fellowship Eligibility
Candidates must :
** Be a U.S. or Indian citizen, or a U.S. permanent resident
** Be between the ages of 21 and 34 on September 1, 2020
** Have completed an undergraduate or Bachelor's degree before the start of the program on September 1, 2020
Clinton Fellowship Application
Just follow the below steps to apply for the William J. Clinton Fellowship 2020-21.
Steps :
Step 1 : Go to the official website of American India Foundation through the URL provided above.
Step 2 : Then click on the "Apply" link in the home page.
Step 3 : Read the instructions carefully and click on "Start Your Application" button

Step 4 : Already registered user can login with your email id and password to apply for the fellowship.
Step 5 : If you are a new user then click on the "Sign Up" link and fill the required details to complete the registration.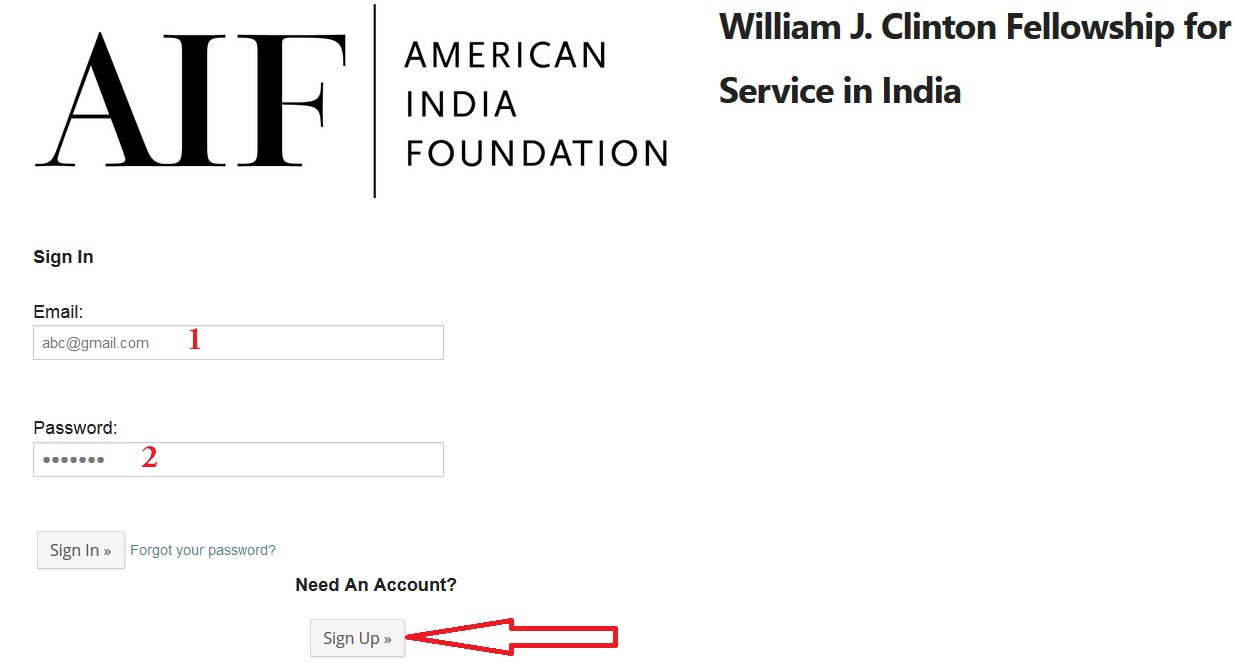 Clinton Fellowship Last Date
Last date to Submit your application by January 20, 2020
FAQs
1. Do I need to submit letters of recommendation?
No, we do not require recommendation letters. Instead, we will ask you to provide us with two references from a professional or volunteer setting to complete an online form evaluating your skills, abilities, and preparedness for the Fellowship.
2. Can I apply for a fellowship and work at an organization of my choice that is not a partner of AIF?
No, you can only apply for projects offered by pre-vetted AIF partner organizations. This is done to ensure that the organization aligns with AIF's values, mission and policies, can demonstrate the need of hosting a Fellow for an eligible project, and will be able to provide the level of support expected by AIF in hosting a Fellow.
3. What are the fellowship requirements?
Fellows are expected to complete the following during their service in India
** Meeting or exceeding expectations of the Fellowship, including upholding their commitment to AIF and their host organization
** Participation at Orientation, Midpoint, and Endpoint, and other program related events
** Adherence to the policies and agreements between Fellow, AIF and partner organizations
** Full completion of the Fellowship program
** Timely submission of monthly and quarterly reports and other program deliverables
** Contribution of regular posts on the AIF Blog
** Prompt settlement of finances and logistical items throughout the Fellowship
** Completion of end of service documents and presentations
All Fellows are expected to complete the full program, while upholding basic values and principles of trust, honesty, and integrity. Fellows are expected to embrace and engage with multiple challenges, and take a lot of initiative in the structuring and completion of their projects.
Fellows must abide by host organization work calendars and work complete workweeks in accordance with organizational policy and procedure, which in India commonly involves working on Saturdays.
4. Can I apply for the fellowship to do my own research?
The Fellowship is a full-time commitment. Due to time constraints and conflict of interest, Fellows are not allowed to conduct or work on their own research projects for the duration of their service.