Buddha Fellowship Program 2019 : buddhafellowship.org
Organisation : SRIJAN
Scholarship Name : Buddha Fellowship Program 2019
Applicable For : Fresh Graduates from IIT/IIM
Applicable State/UTs : All India
Website : https://buddhafellowship.org/fellowship/
Buddha Fellowship Program
Buddha fellowship helps young and experienced bright minds to take the entrepreneurial journey to build equitable and empowered communities.
Related / Similar Post :
TIFR VSRP 2020 Visiting Students' Research Fellowship
Provide livelihoods, or ensure better health or education or financial inclusion services, or better energy solutions to families at the last mile in the form of jobs or micro-entrepreneurship.
Program overview
Our fellowship offers an incubation space with a combination of community, capability, capital and customer that helps them become a development entrepreneur and tomorrow's change agent.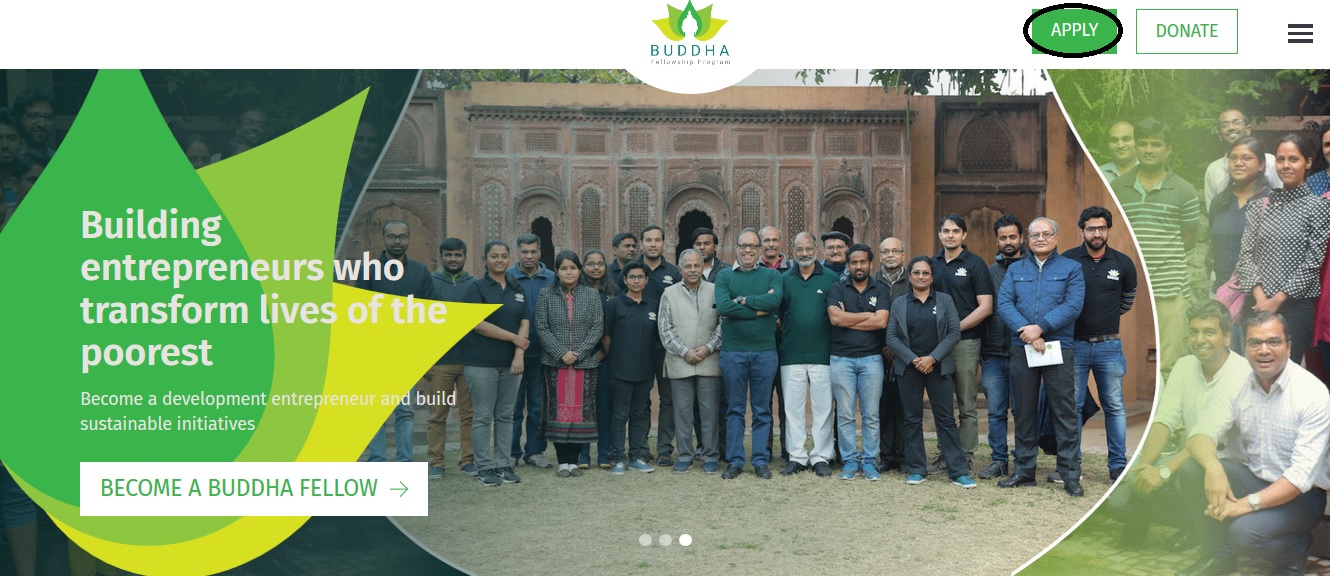 The fellows have opportunity to witness first hand the lives of less privileged sections of Indian society and think about the possibilities of changing their career and life plans with a cost and benefit analysis of the same.
An additional support will provide coaching and mentoring as well as help Fellows get funding for their enterprises.
Eligibility Criteria
** Fresh Graduates from IIT/IIM who are ambitious about changing the world and get an early start.
** Experienced professionals with work experience in corporate or other fields willing to setup their own business.
** Budding entrepreneurs who need scaling-up support such as mentoring, funding etc..
How to Apply?
Eligible fellows can apply for the fellowship program where they will take a complete journey of building an enterprise.
Steps :
Step 1 : Visit the official website through provided above.
Step 2 : Next, click on the "Apply" button under fellowship.
Step 3 : Fill all the fields with the required details.
Step 4 : Upload the documents (please upload upto 3 docs, you can include resume, SOP as pdf)
Step 5 : Finally click on "Apply" button
Benefits
** Stipend that would help the Fellows to pay back their education loans and sustain a standard living.
** Exposure to experts and eminent people for interaction and mentorship.
** Secure seed funding and additional support in raising funds for their enterprise.
** Get opportunity to lead a program vertical in an NGO or start your own non profit organisation.
Other Fellowships
Rural Immersion Program :
You get to witness first hand the lives of the less privileged sections of Indian society and mull over possibility of changing their career and life plans.
Duration : 10-15 days
Internship :
1st-year students of post graduate programmes and 2nd & 3rd year students of the 4th year programs can start early with the immersion program.
Duration : 2 months.
About Us :
To transform lives in the poorest communities to build a modern, inclusive India. To groom the leaders of tomorrow and develop as entrepreneurs to bring about this change .
Buddha Fellowship Program emerges from our parent institution, Srijan that is committed to promote sustainable and self-reliant models of rural development.
Contact :
1, First Floor, Community Shopping Centre
Anupam Apartments
Saidullajab, Mehrauli-Badarpur Road
New Delhi – 110068