Career Launcher ISBR Business School Scholarship 2019 : careerlauncher.com
Want to comment on this post?

Go to bottom of this page.
Organisation : Career Launcher, ISBR Business School
Scholarship Name : ISBR Scholarship 2019
Applicable For : Students to pursue their masters in business management
Website : https://www.careerlauncher.com/
Career Launcher ISBR Scholarship
ISBR Scholarships Widening the pool of highly Creative, Challenging and Socially Responsible Global Leaders.
Related : Vibrant Academy Prime Cash Reward Program 2019 : www.scholarships.net.in/33494.html
To encourage meritorious students to pursue their masters in business management and in recognition of extraordinary achievements in the area of sports, ISBR Business School has instituted several scholarships for the academic year 2019.
With the December Application Round Last Date of the PGDM 2019 intake fast approaching on 26 December 2018, we encourage you to apply and this being one of the early rounds, the chances of securing scholarship is high.
ISBR Scholarship Eligibility
Entrance Test for MAT / CAT / XAT / GMAT/ NMAT/CMAT/ PGCET / ATMA / ICET & any Other State Entrance Test
S.NO.
Category
Quantumn of Scholarship
Eligibility
CAT %ile
GMAT Score
NMAT
XAT %ile
MAT
CMAT
ISBR Aptitute Test
X %age
XII %age
1
Merit / Industry Sponsored
100% Full Ride
90
700
240
90
750
300
90
90
90
2
50% Waiver in Tuition Fee
80
600
200
80
700
250
80
80
80
3
25% Waiver in Tuition Fee
70
550
180
70
650
200
75
75
75
4
Sports
25% Waiver in Tuition Fee
National level player (Sports/Games) – Year of participation considered: 2017 and later
60
60
Benefits
The broad scholarship categories would include :
** Merit and Industry Sponsored Scholarships ranging from 25% to up to 100%
** Sports Scholarships up to 25%
ISBR Scholarship Application
Just follow the below steps to apply for the ISBR Scolarship 2019.
Steps :
Step 1 : Go to the official website of Career Launcher provided above.
Step 2 : Then fill the application form with the required fields.
Step 3 : Click on the "Apply Now" button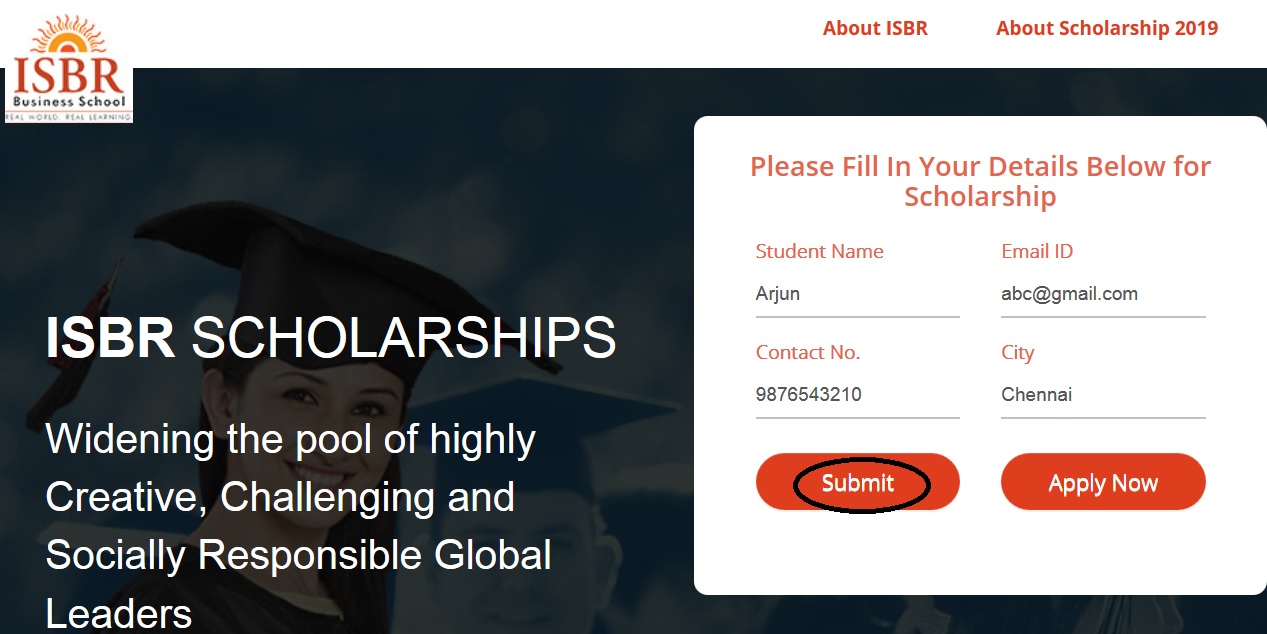 Step 4 : Once you fill the application form, a copy of the application form will be emailed to your email id.
Step 5 : After submit your application you will receive a confirmation message. Next click on the link to print your application form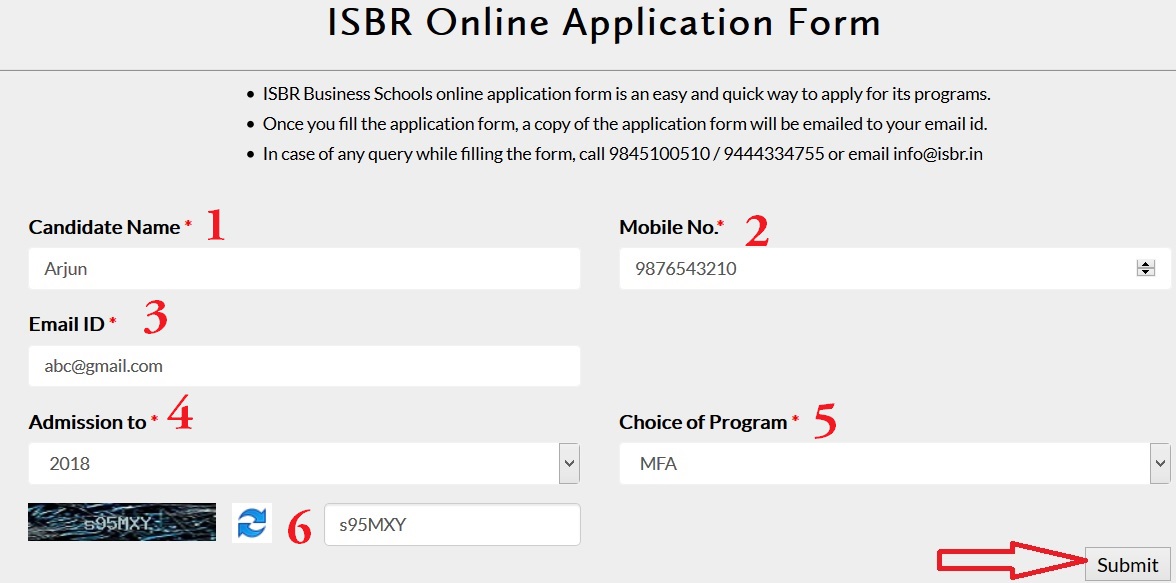 Note :
** ISBR Business Schools online application form is an easy and quick way to apply for its programs.
** In case of any query while filling the form, call 9845100510 / 9444334755 or email info [AT] isbr.in
Key Dates
Cities
Last date to apply
ASP dates
Bangalore
Jan. 8, 2019
Jan. 12, 2019
Delhi
Jan. 29, 2019
Feb. 2, 2019
Hyderabad
Kolkata
Mumbai
Bhubaneshwar
Jan. 29, 2019
Feb. 3, 2019
Indore
Raipur
Visakhapatnam
Chennai
Jan. 29, 2019
Feb. 10, 2019
About ISBR Business School :
ISBR Business School is at the forefront of educational excellence to help students realize their career aspirations. ISBR is honored to be amongst the premier B-Schools of the country and have been ranked as A+ Rated institute for over a decade. Ranked Among Top 1% B-Schools Brands of India.
Headquartered in Bangalore, ISBR Business School is one of top business schools in India. Education at ISBR prepares you to think boldly and act confidently in any business environment. At ISBR the focus goes beyond education as it aims to prepare students for life – Making them a Leader