Road Heroes Student 2 Scholar Programme 2018-19 : buddy4study.com
Organisation : Hero MotoCorp, Buddy4Study
Scholarship Name : Road Heroes Student 2 Scholar Programme 2018-19
Applicable For : Accident Victims & family members
Applicable State : Rajasthan, Delhi, Haryana & Uttar Pradesh
Application Last Date : 07-Jan-2019
Website : https://www.buddy4study.com/application/RHS1/instruction
Road Heroes Student 2 Scholar Programme
Hero MotoCorp in association with Buddy4Study invites applications for Road Heroes 'Student 2 Scholar' Programme 2018-19.
Related : WeTech Goldman Sachs Scholarship & Mentorship Application 2018-19 : www.scholarships.net.in/33404.html
Hero MotoCorp has taken an initiative to promote road safety and help those students who are the victims of any road accident or affected due to any road accident in their family.
With the 'Road Heroes – Student 2 Scholar Program', Hero MotoCorp aims to enable and empower students so that they continue to pursue their education dreams.
Through scholarship awareness, guidance and support, the program aims to provide financial assistance to students in such families by connecting them to available scholarship opportunities.
Student 2 Scholar Eligibility
Have you or anyone in your family ever been affected by a road accident? If yes, then you are the fit applicant for this programme.
Below is the brief of the eligibility criteria :
** Students pursuing primary, secondary or higher education
** The applicant should be a victim of a road accident or be affected by a road accident in his/her family
** Family income should be less than INR 5 lakh per annum
** Students should be the residents of Delhi NCR
Student 2 Scholar Online Registration

Just follow the below steps to apply for the Road Heroes Student 2 Scholar Programme 2018-19.
Steps :
Step 1 : Visit the official website provided above.
Step 2 : Sign-in to your Buddy4Study account or Buddy4Study account to access the form.
If you already have an account, click on :
** Login with Facebook
** Login with Google Plus
** Login with Email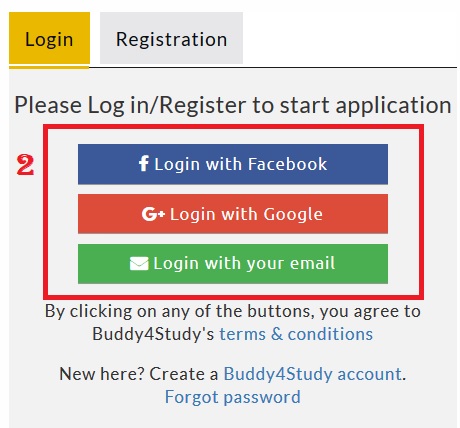 Step 3 : Then, Login with your User id and Password as per your selection.

Step 4 : Once signed in, click on 'START APPLICATION' to start filling the form.

Step 5 : Fill in all the details and upload the documents required.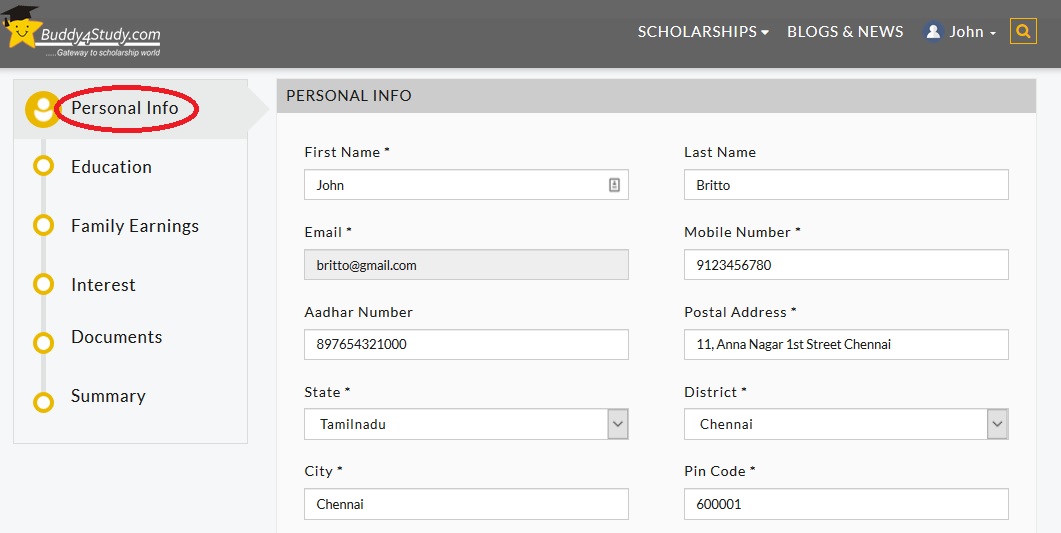 Step 6 : Click on 'Submit'. The form will take about 30-60 minutes to complete.

New User
If you are a new user Click the Registration link in the Login page and enter the following details for Registration,
Step 1 : Select your Role [Student]
Step 2 : Select your Class [Class 11]
Step 3 : Enter your First Name [John]
Step 4 : Enter your Last Name [Britto]

Step 5 : Enter your Mobile Number [9123456780]
Step 6 : Enter your Email Id [abc@gmail.com]
Step 7 : Enter your Password
Step 8 : Confirm your Password
Step 9 : Click on the Register button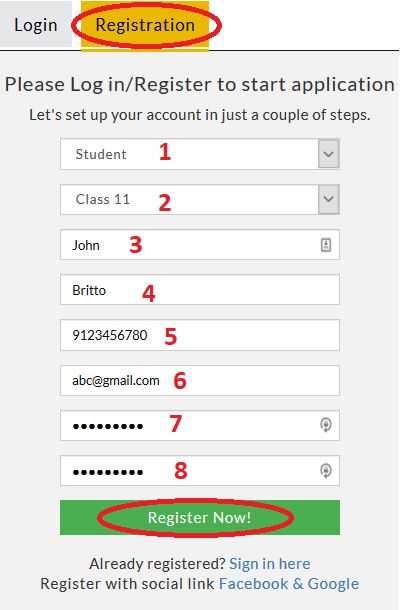 Note : Please start early to ensure the application completes before the Last Date.
Benefits
** Get your profile created at Buddy4Study
** Your profile is matched to the existing live scholarships
** Get complete assistance from Buddy4Study support team to apply for matching scholarships
** Receive timely updates on potential scholarships that you stand to win
** Tracking of scholarships on your behalf
Student 2 Scholar Last Date
Last date to complete the application for Road Heroes Student 2 Scholar Programme is 07th January 2019