Hostnetindia Scholarship Program 2018-19
Organisation : Host Net India
Scholarship Name : Hostnetindia Scholarship Program 2018-19
Applicable For : College Students
Application Last Date : April 30, 2019
Website : https://hostnetindia.com/scholarship
You can now ask your question on this scholarship.
Ask here
(OR) Go to the bottom of this page for comments.
Hostnetindia Scholarship Program
Hostnetindia announce the Hostnetindia scholarship program 2018-19. This is annual scholarship program.
Related : Shaadi Dukaan Indian Wedding Writing Scholarship 2018 : www.scholarships.net.in/32506.html
We believe in supporting young people to grow in their life. Our scholarship program also offers to take real life experience and learn new things about latest technology. It can aid to students join top companies internships programs and reach new goals.

Eligibility
** Both full time and part time students can apply.
** Students must be able to provide copy of documents to us for verification.
** We want some creative thinkers and writers for our project.
How to Apply?
** Follow us on Facebook, Twitter, LinkedIn and Google+.
** Before submitting your content, send a mail to us.
** Our team will discuss with applicants.
** We will suggest about what kind of content need us.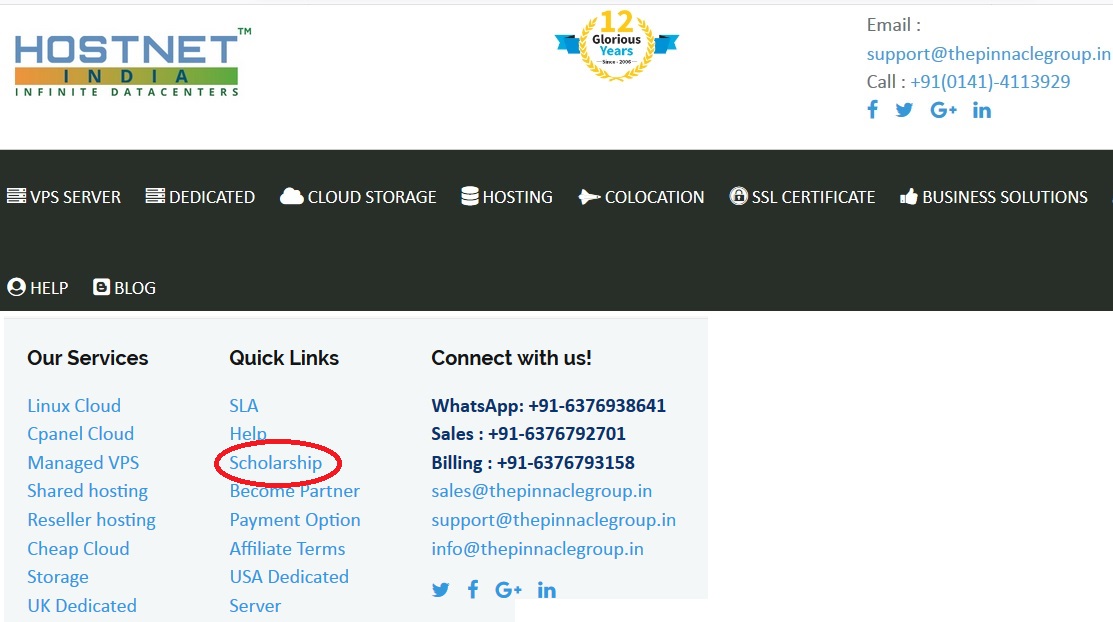 Requirements
** Each article must be minimum 1500 words.
** Need Unique, helpful for readers, depth and informative content.
** Write structured and well researched quality content.
** Attach some relevant images.
Scholarship Award
The winner of the project will get $1600 scholarships once. This scholarship will given by the check.
Host Net India Affiliate Program
Our affiliate program is designed to help you generate income in exchange for referring new hosting clients to our company. Listed below are the terms and conditions associated with our affiliate program
Payment :
** Affiliates are paid a one-time commission for each hosting account referred to our services.
** The offline payments / Third Party Transfer or any method that moves the affiliate to third party site for payment are not traceable and affiliates will not get commission on the untraceable orders.
** In case you or your customer has made the online payment & system didn't track then you need to inform us within 2 days. The case will be investigated in order to check the relevancy of that sale.
** Affiliates must generate a balance of Rs. 2000/- or more before their account is eligible for payment.
** Affiliates must submit ID proof along with address proof in order to receive commissions.
** Affiliates can choose to receive commission payments via Check or PayPal & Cheque. For larger affiliates with balances of over Rs. 80,000/- per month we offer Wire Transfer.
** We are not responsible for lost/stolen payments. There is a Rs. 2000/- charge to re-issue payment and it will be deducted from the affiliate earnings.
About Hostnetindia :
Hostnetindia, having Datacenters in india ( Delhi, Noida, Mumbai, Nashik), USA, UK and Europe, Provides best, managed and Affordable services like Dedicated servers, Virtual Private servers, Shared Web Hosting, Reseller Web Hosting, Cheap SSD Cloud Storage, Domain services, and Mailing solutions. We have expertise in managing dedicated servers for more than 10 years.
Helpdesk
If you have any queries please Contact Support to request a call back from sales team Whatsapp to 6376938641