Shaadi Dukaan Indian Wedding Writing Scholarship 2018 : shaadidukaan.com
Rate this post:
[ Votes=

0

, Average =

0

]
Organisation : Shaadi Dukaan, Arnav Media And Entertainment Pvt Ltd
Scholarship Name : Indian Wedding Writing Scholarship 2018
Applicable State/ UT : All Over India
Application Last Date : 31.12.2018
Website : https://www.shaadidukaan.com/scholarship.php
Shaadi Dukaan Indian Wedding Writing Scholarship
Shaadidukaan invites applications for "The Shaadidukaan.com Indian Wedding Writing Scholarship" for the year 2018.
Related : Dealsshutter Scholarship & Win Amazing Prizes 2018-19 : www.scholarships.net.in/32494.html
Eligibility Criteria
** Applicant must be enrolled in any high school or college/university in all over India.
** Applicant must be from India and hold a valid identification of India.
** The immediate family members of Shaadidukaan's employee who works there are not eligible for the above Shaadidukaan's scholarship.

How to Apply?
Just follow the below steps to apply for the Shaadidukaan Indian Wedding Writing Scholarship 2018
Steps :
Step 1 : Go to the official website of Shaadi Dukaan provided above.
Step 2 : Then read the instructions carefully and scroll the pages down.

Step 3 : Fill the online application with the required details and upload your Project Information
Step 4 : Finally submit your application.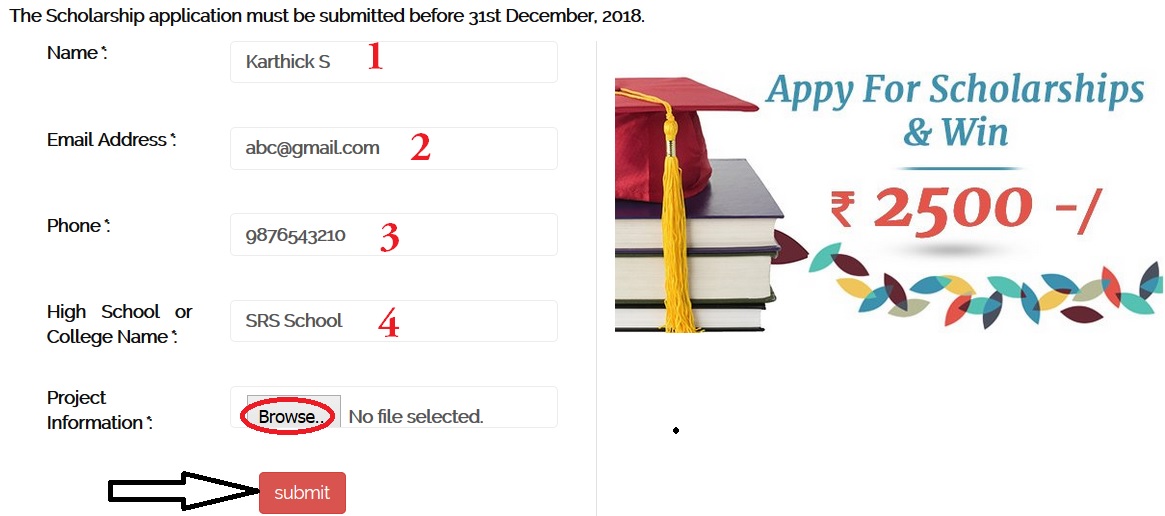 Project Information
** Article – The article should be based on our subject i.e. Weddings, Wedding planning, Health, Photography, Beauty, Wedding Venue, etc.
** Your Photo – photo that must be taken during project execution.
** Words limit – Articles should be minimum of 1500-2000 words with attaching bio & photo.
Note :
** The article will be approved if it is on our subject- The Wedding or wedding related service.
** Articles should be plagiarism-free means unique and original. Should not be published anywhere else.
Prize
The prize money for scholarship is INR 2500. The price money only applies to the following school/college/university-related expenses: Tuition, fees, books, and board.
Scholarship money is provided by the Shaadidukaan through the mail or direct account pay strictly on the winning applicant's account.
About Shaadidukaan :
Shaadidukaan, an online wedding platform that serves wedding related vendors like photographers, venues, caterers, attires, etc to the customers. Couples can achieve their dream wedding with us.
As part of the creative industries, Shaadidukaan.com believes in supporting new talent. So, we organized a scholarship for the undergraduate and graduate students from all our India.
We organized in an effort to harness the energy, creativity and initiative of the Indian's youth. Showcase your creativity on public audience and will win the winning amount by entering our scholarship.
Shaadidukaan encourage the skilled student and student can use this winning amount in their top choice college or internship.
Disclaimer :
All of our listings are genuine. We do not use registered applicant's information for the listing. If the winners applicant unable to contact us by the targeted date but follow all the Scholarship's criteria and rules properly, Shaadidukaan reserves the right to award the scholarship.
Contact Us :
Shaadidukaan
601,602,603 , 6th Floor,
Crop's Aarcade, K-12 Malviya Marg,
C-Scheme, Jaipur – 302 001
Rajasthan, India
Last Date
The Scholarship application must be submitted before 31st December, 2018