niitcloudcampus.com Bhavishya Jyoti Scholarship 2015 BJS : NIIT Cloud Campus
Rate this post:
[ Votes=

0

, Average =

0

]
Organisation : NIIT Limited Cloud Campus
Announcement : Bhavishya Jyoti Scholarship
Last date : 19th September, 2015
Home Page : https://www.niit.com/india/
Bhavishya Jyoti scholarship
Life doesn't give second chances, but for the past 25 years , it has been our constant endeavor to provide students a change to realize their dreams and build a career they have always wished for.
Related / Similar Scholarship : NIIT Srinagar BJS 2017
NIIT announces the 25th Bhavishya Jyoti Scholarship 2015. For 25 years, the perfect head start to lakhs of students in the pursuit of their dream careers. It's your turn now. Over 10,000 Scholarships are available for meritorious students based on their class 12th percentage. The scholarships can be availed by college going students and Graduates.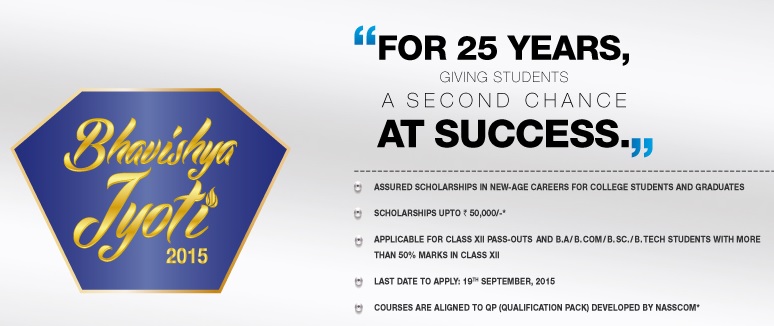 Bhavishya Jyoti Scholarships (BJS) for the year 2015 , rewarding students looking forward to building careers in IT and New age careers such as Banking , Management , Telecom , Digital Marketing , Analytics, Retail management, Information Technology , Finance & accounting .
All you need to do is register online , bring class XII mark sheet and self-attested photo copy along with two passport photos to the nearest NIIT center .
Last date of application – 19th September, 2015
Test date -20th September, 2015
Eligibility & Selection
The Bhavishya Jyoti Scholarship Programme is a unique initiative by NIIT to recognize, empower and award meritorious students and help them follow the pathway to excellence.
For over 25 years, these scholarships have offered endless opportunities to students to rise and shine in the field of IT and other new age careers.

Programme Eligibility
Applicants need to have secured an aggregate of 50% or more in class XII
Applicants should have basic communication skills and command over English language
Applicable for Class XII Pass-outs and BA/B.COM/B.SC/B.TECH students with more than 50% marks in XII
Highlights
Assured Scholarships in new-age careers for college students and graduates.
Scholarships upto Rs 50,000/-
Applicable for XII pass-outs and BA/B.COM/BSC/B.TECH Students with more than 50% marks in class XII
Last date to apply 19th September , 2015
Courses are aligned to QP (qualification pack) developed by NASSCOM.
Terms & Conditions
1. These terms and conditions shall be applicable in case you have enquired about our products and provided your details on websites / forms / calls / any other mode of communication, in order to enable us to contact you.
2. By providing your details, you give us or any of our partners or authorized representatives (collectively referred to as NIIT) the permission to send any physical or electronic promotional offers, any updates or any kind of contact material to be delivered on your registered telephone number or email id or postal address. You also give NIIT the permission to contact on the registered telephone number even if your number is registered with NDNC.
3. You agree to provide your authentic and correct personal information. NIIT reserves the right (but not have any obligation) to confirm and validate the information and other details provided by you at any point of time. If upon confirmation, your details are found not to be true (wholly or partly), NIIT have the right in its sole discretion to stop providing details requested by you. Further, NIIT does not accept any liability whatsoever for any errors or omissions committed by you in providing the details.
4. NIIT shall not be liable to for any direct, indirect, punitive, special, incidental or consequential damages arising out of or in connection with you providing personal information or enquiring details about products of the Company or any act of commission or omission.
5. Disputes, if any, arising out of or in connection with or as a result of aforesaid or otherwise relating hereto shall be subject to the exclusive jurisdiction of the competent courts / tribunals in Delhi only, irrespective of whether courts / tribunals in other areas have concurrent or similar jurisdiction.
Contact Us :
NIIT Limited
Plot No 85, Sector 32,
Institutional Area
Gurgaon 122001 India
Tel: +91 (124) 4293000
Fax: +91 (124) 4293333