scw.tripura.gov.in Post Matric Scholarship 2018-19 : Department for Welfare of SCs
Want to comment on this post?

Go to bottom of this page.
Organization : Department for Welfare of SCs, Tripura
Scholarship Name : Post Matric Scholarship 2018-2019
Applicable For : SC Students
Applicable State/UTs : Tripura
Application Last Date : 31.12.2018
Website : https://scw.tripura.gov.in/
SCW Tripura Post Matric Scholarship
Department for Welfare of SCs, Tripura invites applications for Post Matric Scholarship 2018-2019.
Related : NSP Tripura NEC Merit Scholarship 2018-19 : www.scholarships.net.in/31400.html

Objective
The objective of the scheme is to provide financial assistance to the Scheduled Caste students studying at post matriculation or post-secondary stage to enable them to complete their education.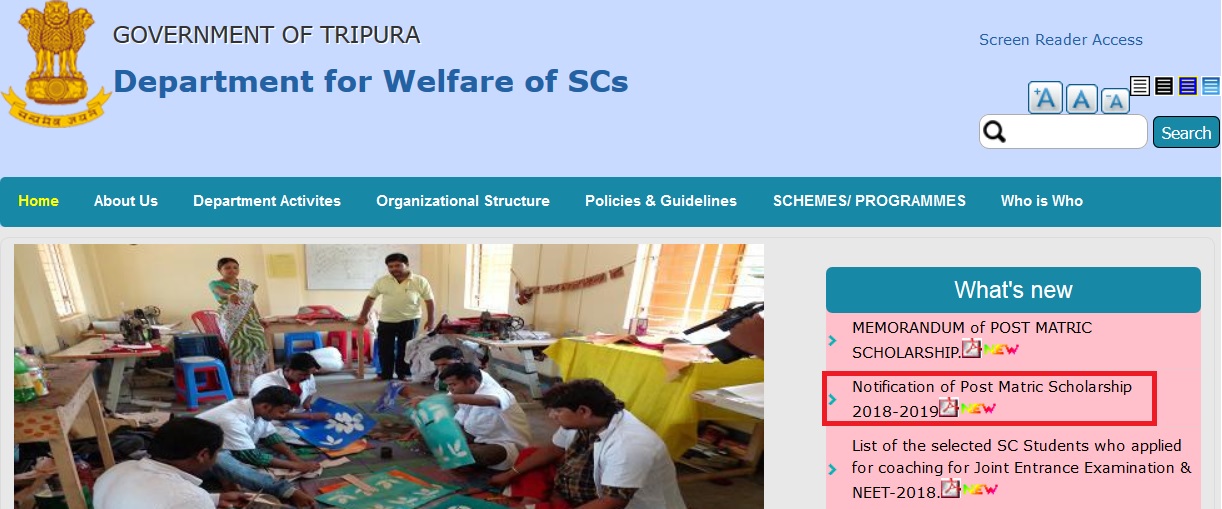 Who Can Apply?
** The scholarships are open to nationals of India and who belong to Scheduled Castes so specified in relation to the State/Union Territory to which the applicant actually belongs
** These scholarships will be given for the study of all recognized post-matriculation or post-secondary courses pursued in recognized institutions with the following exceptions
"Scholarships are not awarded for training courses like Aircraft Maintenance Engineer's Courses and Private Pilot license Courses
** All children of the same parents/guardians will be entitled to receive benefits of the scheme.
** A scholarship holder under this scheme will not hold any other scholarship/stipend.
** Scholarships will be paid to the students whose parents/guardians' income from all sources does not exceed Rs. 2,50,000/- (Rupees Two lacs Fifty thousand only).
How to Apply?
Just follow the below steps to apply for the Post Matric Scholarship 2018-2019.
Apply Online : https://scholarships.gov.in/
Steps :
Step 1 : Go to the official website of National Scholarship Portal
Step 2 : For Fresh Registration students click on the New Registration link in the home page.

Step 3 : A new page requesting to enter the personal data will be displayed. Fill student registration form.
Step 4 : Click on the Check boxes of Aadhar consent, Bank Account and Application form. After entering all required details Click on the Register button.
Step 5 : Student registration ID will be displayed. (Note down the Student Registration ID number for further reference and enquiries. Click on "Continue" button, it will take you to the Login Page.
Step 6 : The login id and password to log into NSP portal will be your Application Id and DOB respectively.
Step 7 : After Login Student will get OTP of 5 digits on Registered Mobile Number. Confirm OTP will take you to Change Password Page and Change your password as per instruction in the same page.
Step 8 : Click ''Apply'' button and enter below details
** Registration Details
** Academic Details
** Basic Details
Step 9 : After entering above details click on "Save & Continue" to Switch on to next Page. Applicant is directed to see the next page for "Contact Details & Scheme Details"
** Enter your contact details.
** Based on eligibility criteria of the student, schemes will be displayed.
** After selecting the scheme, in the same page an Upload Document section will be displayed – upload your documents therein (MCM / Top Class Students only).
** Re-check all your entries, uploaded documents, before finally submitting the application, as there will be no provision to amend or alter it thereafter.
Step 10 : Click on Final Submit. Take a print on Clicking print Button for further reference and as an Acknowledgement.
Instructions
** After successful submission of online application, students shall submit the print copy of filled up online application with necessary documents to the concerned Institution.
** In case of students those who are studying outside the State, they have to submit to the office of the Director, SC Welfare Deptt. Govt. of Tripura, Gurkhabasti, Agartala.
** The Head of Institution shall verify the SC students in respect of course, income ceiling, Bank Account number and reimbursement of fees etc.. Institution shall forward the student's data to the State Level through online.
** The task for verification of students by Institution has invariably to be completed by 5th January, 2019.
Notification :
https://www.scholarships.net.in/uploads/pdf2018/32378-Advt.pdf
Documents Required
a. One copy of the application for scholarship in the prescribed form
b. One copy of the passport size photograph with signatures of the student thereon (for fresh scholarship).
c. One attested copy of certificates, diploma, degree etc. in respect of all examinations passed.
d. A certificate (in original) of Caste duly signed by an authorised Revenue Officer not below the rank of Tehsildar.
e. An income declaration by the self-employed parents/guardians, stating definite income from all sources by way of an affidavit on non-judicial stamp paper.
Employed parents/guardians are required to obtain income certificate from their employer and for any additional income from other sources, they would furnish declaration by way of an affidavit on non-judicial stamp paper.
f. A receipt in acknowledgement of the scholarship in the previous year on the form attached to the application only duly countersigned by the Head of the Institution concerned, if the application was in receipt of a scholarship under this scheme in the preceding year
Helpdesk
In case of any confusion, every one can access Helpdesk cum call centre at State Level 0381-230-5936, in addition to Department Website and Email: dir.scw-tr [AT] gov.in with Telefex 0381-232-3363/3686.