British Council Charles Wallace India Trust Long Term Scholarship 2019-20
Organization : British Council India
Scholarship Name : Charles Wallace India Trust Scholarships Long Term Awards 2019-20
Applicable For : Indian citizen living in India
Application Deadline : 8th December 2018
Website : https://www.britishcouncil.in/study-uk/scholarships/charles-wallace-trust/long-term
You can now ask your question on this scholarship.
Ask here
(OR) Go to the bottom of this page for comments.
British Council Charles Wallace India Trust Scholarship
Applications for the Charles Wallace India Trust Awards for the session 2019-20 are now open.
Related : British Council 70th Year Scholarship 2019-20 : www.scholarships.net.in/31971.html
The awards, which are generally from 2–3 months up to a maximum of a year, cover accommodation and living costs in the UK, fees and a contribution to international fares. CWIT does not support two year courses.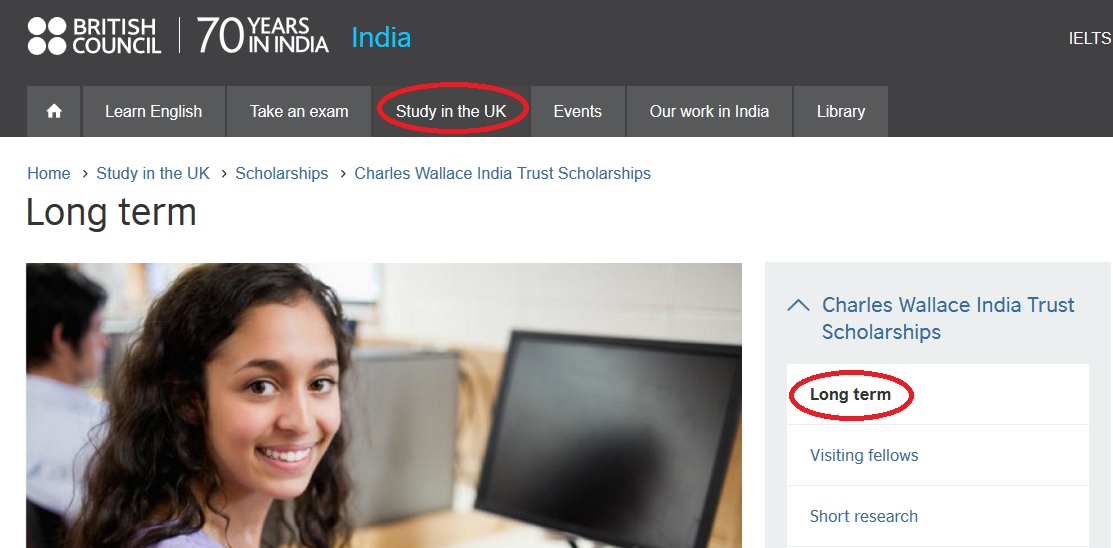 Eligibility
The applicant should :
** be an Indian citizen living in India
** be aged between 25 and 38
** have a first degree, diploma or professional qualification in their specialization. CWIT prefers applicants with significant working experience
** have not received a CWIT grant within the last five years.
Fields Of Study
CWIT covers the following Arts and Heritage Conservation fields of study
Arts :
** Visual Arts
** Performance, e.g. Dance, Drama, Music, Directing
** Film – including Script Writing and Direction
** Photography
** Design (but not Architecture)
** Curating
** Art History
Heritage Conservation :
** Conservation architecture
** Management of heritage projects or sites
** Conservation of materials such as timber, stone, metal (including metal structures, armour and artefacts), paintings, photographs and film. Internships for painting conservators are sometimes hosted at the Tate conservation department. Enquiries to conservation.enquiries [AT] tate.org.uk
** Conservation of landscape
** Management of museums and collections
** Engineering, in relation to conservation of heritage buildings and structures
How to Apply?
Just follow the below steps to apply for the Charles Wallace India Trust Scholarships 2019-20.
Steps :
Step 1 : Go to the official website of British Council India provided above.
Step 2 : Read the instructions carefully and download the Application form from the official website or you can directly download it from below mentioned link.
Download Application Form :
https://www.scholarships.net.in/uploads/pdf2018/32342-Form.docx
Step 3 : Fill the application with the required fields and Applicants should send their application to the nearest British Council office in India.

Step 4 : It is important that the application must be filled clearly since the interview will be based on the information provided in the form and in the statement of purpose written by the applicant.
Step 5 : The enclosures should include
** Portfolio I Sample of work
** A set of press clippings (photocopies. if applicable}
** Two references from people who are familiar with your work (in original}
** Proof of educational qualifications (photocopies)
** A curriculum vitae
Kindly ensure that all enclosures are properly attached.
Please Note :
** Candidates for Architecture, Fine Arts, Applied Arts and related subjects must submit CD's or 12-15 colour slides of recent creative work giving the size of the original work, the material used and the date of completion.
Candidates for Film, Music, Dance and Acting must submit a good quality CD or DVD
** Only portfolio/slides/DVD's will be returned.
** Please send typed or printed copy. All questions must be answered
Selection Procedure
Applicants are shortlisted on the basis of their applications and will be invited to the British Council for an interview in New Delhi in February 2019. The panels of Indian experts are chaired by CWIT. Results of the interviews are announced in early April.
Interviews will be held in late February/Early March 2019. The candidates will be informed 20 days before the interview.
Last Date
Last Date To Apply for the Charles Wallace India Trust Scholarships is 8th December 2018