IIM Ahmedabad Fellow Programme in Management 2019 : iima.ac.in
Organization : IIM Ahmedabad Indian Institute of Management
Fellowship Name : FPM 2019 Fellow Programme in Management
Applicable For : Postgraduates/Graduates (4-year)/CA/CS/ICWA
Applicable State/UTs : All Over India
Application Deadline : 24.01.2019
Website : https://www.iima.ac.in/web/fpm/apply/admissions
You can now ask your question on this scholarship.
Ask here
(OR) Go to the bottom of this page for comments.
IIMA Fellow Programme in Management
Online Application for FPM batch (2019) is now open. The Fellow Programme in Management (FPM) is the doctoral programme of IIMA.
Related : CSIR Raman Research Fellowship 2019-20 : www.scholarships.net.in/32114.html
FPM admits students who have a strong academic background, are highly motivated and who have the intellectual curiosity to undertake original research.
Candidates can apply to the following Areas of high levels of specialization :
(1) Business Policy,
(2) Economics,
(3) Finance & Accounting,
(4) Food & Agribusiness,
(5) Human Resource Management,
(6) Information Systems,
(7) Innovation and Management in Education,
(8) Marketing,
(9) Organizational Behaviour,
(10) Production and Quantitative Methods, and
(11) Public Systems.
Eligibility
1. "A Master's Degree in any discipline, with at least 55 percent marks, AND with at least 50 percent marks in the Bachelor's degree/equivalent qualification (minimum three years of bachelors level education after the completion of higher secondary schooling (10+2) or equivalent". (OR)
2. Five year/four year Integrated Masters Degree programme in any discipline, with at least 55 percent marks, obtained after completing Higher Secondary schooling (10+2) or equivalent. (OR)
3. A professional qualification like CA, ICWA, CS, with at least 55 percent marks. (OR)
4. A 4-year/8-semester Bachelor's degree with at least 60 percent marks or equivalent grade point average.
How to Apply?
Application Form and Brochure are available online. Candidates can fill-up the application form online.
Steps :
Step 1 : Go to the official website of IIM Ahmedabad provided above.
Step 2 : Read the instructions carefully and click on the "Apply" link at the end of the page.

Step 3 : Then Click on "New Applicants please REGISTER here first" button.
Step 4 : Fill in all required details and submit to register.
Step 5 : Once registered, the applicants will registration and login details on their email.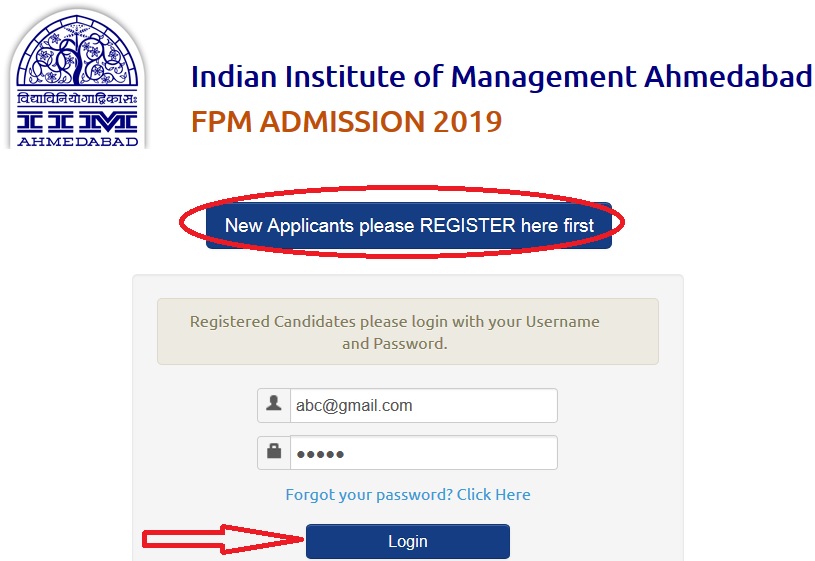 Step 6 : Login again to complete the application.
Step 7 : Read all the instructions carefully.
Step 8 : Fill in all necessary details.
Step 9 : Upload supporting documents.
Step 10 : Pay the application fee of INR 500 through IIMA gateway.
Step 11 : Finally, submit the application.
Fellowship Amount
The fellowship covers all academic expenses like tuition, computer, library. placement, alumni fees and medical insurance.
Adding to this, the fellows will receive –
** Subsistence allowance of INR 32,800 per month (for first and second years), INR 35,400 per month (after the completion of comprehensive examination) and INR 39,300 per month (after the submission of TAC approved thesis proposal).
** Contingency allowance of INR 25,000 per annum for 5 years covering research expenses, photocopying expenses, expenses on books, etc.
** A maximum amount of INR 1,75,000 for attending international workshops/summer school/conferences during the fellowship programme.
** Accommodation (if available)
Notification :
https://www.scholarships.net.in/uploads/pdf2018/32138-Advt.pdf
Selection Process
Candidates applying to the Fellow Programme in Management are required to take the Common Admission Test (CAT) or a standard test in lieu of CAT. For NRIs and Foreign students this standard test is the Graduate Management Aptitude Test (GMAT).
Standard Test Score not required if an applicant is
** PGP Alumni of any IIM
** PGPX/PGP-PMP Alumni of any IIM where such courses are offered
(Part-time/evening/week-end/Distance Learning programmes of IIM are NOT considered)
Last Date
The last date for submitting the application will be January 24, 2019.
Contact :
For further information/clarifications, please contact
In-charge
Fellow Programme in Management
Indian Institute of Management
Vastrapur, Ahmedabad 380 015