CSIR Raman Research Fellowship 2019-20
Organisation : Council of Scientific & Industrial Research CSIR
Fellowship Name : Raman Research Fellowship 2019-20
Applicable For : CSIR Researchers
Applicable State/UTs : All Over India
Application Deadline : January 18, 2019
Website : http://www.csir.res.in/careeraward/raman-research-fellowships-year-2019-2020
You can now ask your question on this scholarship.
Ask here
(OR) Go to the bottom of this page for comments.
CSIR Raman Research Fellowship
Applications are invited from CSIR institutes for the award of Raman Research Fellowships for the year 2019-2020.
Related : CLPR Centre For Law & Policy Research Equality Fellowship 2018 : www.scholarships.net.in/32020.html
The Raman Research Fellowships are granted to the CSIR researchers for carrying out research in the emerging / high priority technology areas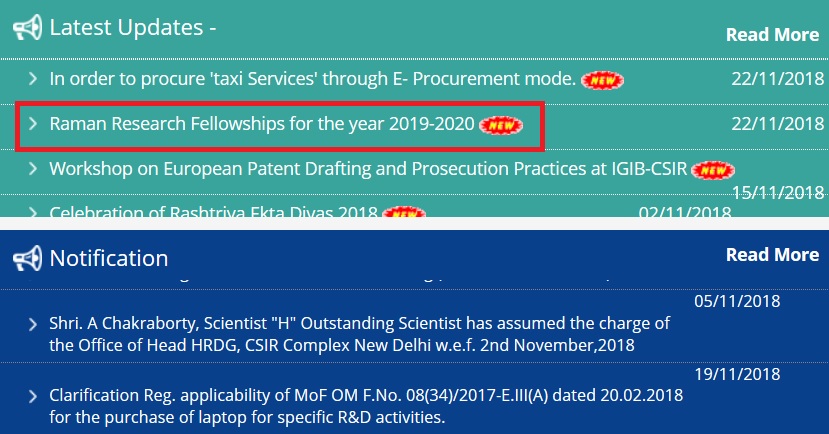 Eligibility
** Regular Scientists of CSIR with high academic qualifications (Post graduate in Engineering and PhD in Natural Science) and research experience, presently working in high priority areas, (FTT / Mission mode projects / NIMITLI projects / major programmes of Institute) who have completed minimum 5 years of service in CSIR on the last date for receipt of the applications.
** The candidate should not be more than 45 year of age as on January 18, 2019.

Application Procedure
The candidates are required to submit 6 (six) copies of their application form. In addition, an electronic copy of the nomination summary as per Annexure-III may be sent to the undersigned (kamlesh [AT] csir.res.in).
Download Application Form :
https://www.scholarships.net.in/uploads/pdf2018/32114-Form.pdf
Note :
** Applications of upto two eligible meritorious candidates may be forwarded to ISTAD, CSIR after thorough careful evaluation.
** All applications will be returned to the concerned Institute if the number of nominations exceeds two.
Fellowship Amount
** International air fare to & fro by cheapest Economy class
** Fellowship @ US 2500/- per month
** US 1000/- lump sum towards contingency and preparatory expenses
** US 1000/- Supplementary grant for participation in Conferences/visiting institutions of excellence in country of placement
Selection Process
The selection will be made through a mechanism of interview by the duly constituted Selection Committee. The interviews will be held in CSIR HQs., New Delhi sometimes between March – June 2019.
The exact date and time of the interview will be intimated to all the eligible candidates about one month in advance.
Terms & Conditions
** The Fellowship will be for a period of 2 to 6 months on deputation terms. It is awarded for research and training in the specific areas of priority identified by the CSIR (FTT / Mission mode projects / NIMITLI projects / major programmes of Institute)
** The Institution in which the fellow will work do not generally charge any fee. The Director of the Institute presumably must have ensured that no fee is payable in this case.
** The Fellow is expected to take appropriate measures to protect the IPR likely to be generated during his/her stay at the host-institution.
** The Fellow shall be required to execute a bond before proceeding on Fellowship to serve the concerned institute for Three years on return from fellowship.
** If the Fellow does not return to India or gets job opportunities overseas on completion of the fellowship, the Institute will recover the entire expenditure from the fellow and remit it to the CSIR
Application Deadline
The last date for receipt of the duly filled in applications, complete in all respects is January 18, 2019. Applications received after the last date will be summarily rejected