nbhm.dae.gov.in Ph.D Scholarship in Mathematics 2019-20
Organisation : National Board For Higher Mathematics
Scholarship Name : NBHM Ph.D Scholarship in Mathematics 2019-20
Applicable For : Students who have completed B.S./M.A./M.Sc
Application Deadline : December 7, 2018
Exam Date : January 19, 2019.
Website : http://www.nbhm.dae.gov.in/
You can now ask your question on this scholarship.
Ask here
(OR) Go to the bottom of this page for comments.
NBHM Ph.D Scholarship in Mathematics
The National Board for Higher Mathematics (NBHM) invites applications for Scholarships For Pursuing Doctoral Program (Ph.D) In Mathematics For The Academic Year 2019-20.
Related : India Culture Scholarships for Young Artistes in Different Cultural Fields 2018-19 : www.scholarships.net.in/31342.html
Who Can Apply?
Eligibility to receive the NBHM Ph.D. scholarship is restricted to students who have completed their B.S./M.A./M.Sc. (or equivalent) degree and have secured admission to a recognized Ph.D. programme on or before August 1, 2019.

How to Apply?
Applications should be made in the format given at the end of this advertisement and should include a recent passport size photograph. Completed applications should be sent by e-mail, or submitted online, or sent by SPEED POST, as indicated below.
Application Format :
https://www.scholarships.net.in/uploads/pdf2018/31367-Form.pdf
Zonal Coordinator Addresses
Addresses of zonal coordinators for sending completed applications
Zone 1 :
The online registration will open on 10th Nov 2018 and the eligible candidates will be able to download hall tickets from 5th Jan 2018 onwards. Hard copies of applications will not be accepted in Zone 1.
Contact person : Prof. Gurmeet K. Bakshi
e-mail : gkbakshi [AT] pu.ac.in
Zone 2 :
Prof. Kalyan Chakraborty,
e-mail : kalyan [AT] hri.res.in
Harish-Chandra Research Institte,
Chhatnag Road, Jhusi,
Prayagraj – 211 019.
Uttar Pradesh
Zone 3 :
Prof. Siddhartha Bhattacharya,
e-mail : siddhart [AT] math.tifr.res.in
School of Mathematics,
Tata Institute of Fundamental Research,
Homi Bhabha Road, Colaba,
Mumbai – 400 005.
Zone 4 :
Dr. Mrinal Nandi
e-mail : mrinal.nandi1 [AT] gmail.com
Department of Statistics,
West Bengal State University,
Berunanpukuria, Malikapur,
Barasat, 24 Parganas North,
Kolkata – 700 126.
Zone 5 :
Prof. S. Kesavan,
e-mail :nbhm [AT] imsc.res.in
The Institute of Mathematical Sciences,
CIT Campus, Taramani,
Chennai – 600 113.
Exam Pattern
The test will be of 150 minutes' duration and will involve questions with short answers. Question papers of some earlier years will be available on the NBHM website (URL given at the top) and on the IMSc website (www.imsc.res.in, under `Opportunities>Doctoral Programme>Mathematics').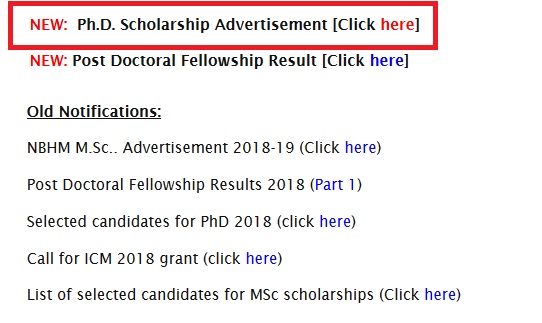 Exam Centres
The written test will be conducted at the following centres, divided into five separate zones
Zone 1 : Chandigarh, Delhi, Srinagar
Zone 2 : Allahabad, Indore, Jabalpur, Raipur
Zone 3 : Goa, Mumbai, Pune, Vallabh Vidyanagar
Zone 4 : Bhubaneswar, Guwahati, Kolkata, Ranchi, Shillong
Zone 5 : Bangalore, Chennai, Cochin, Hyderabad
Selection Procedure
** Candidates must appear for a written test which will feature questions based on topics normally covered in masters degree programmes in mathematics.
** Based on the performance in the written test, candidates will be shortlisted for interview before nal selection.
Scholarship Amount
Successful candidates will receive a scholarship amount of Rs. 25,000/- (Rupees Twenty-five Thousand Only) per month for the first and second year and Rs. 28,000/- (Rupees Twenty-eight Thousand Only) per month for subsequent years, a contingency grant of Rs. 32,000/- (Rupees Thirty-two Thousand Only) per year and house rent allowance as per central government norms wherever applicable.
Important Dates
** December 7, 2018 – Last date for receiving applications.
** January 4, 2019 – Applicant should contact zonal coordinator if hall ticket is not received by this date.
** January 19, 2019 – Date of written test.