Toptal Scholarship For Women 2018-19
Organisation : Toptal
Scholarship Name : Scholarships For Women 2018-19
Applicable For : Women above the age of 16
Applicable State : All Over India
Application Deadline : 30-11-2018
Website : https://www.toptal.com/scholarships-for-women
You can now ask your question on this scholarship.
Ask here
(OR) Go to the bottom of this page for comments.
Toptal Scholarship For Women
Toptal invites applications from women around the world who are over the age of 16 for the Toptal Scholarships for Women 2018-19.
Related : DST SHE Scholarship For Higher Education 2018 : www.scholarships.net.in/30131.html
The scholarships are an initiative to provide opportunities for exceptional women to break through barriers and accomplish extraordinary outcomes.
Who Can Apply?
** The scholarship program is open to women from all walks of life, 16 years or older, who are passionate about making some meaningful change for a community or cause they care about.
** Applicants should be currently pursuing or aiming to pursue any type of education program.
How to Apply?
Just follow the below steps to apply for the Toptal Scholarships For Women 2018-19.
Steps :
Step 1 : First, write a blog post on your chosen idea to change the world. The blog post ("Blog Post") must clearly include the following sections
** Your vision to change the world
** How you believe you can accomplish your goals
** Support and mentorship you need to accomplish your goals
** It must clearly and unambiguously reference Toptal Scholarships

Step 2 : Publish the Blog Post on your personal blog about your idea. The Blog Post must be at least 1,000 words.
Step 3 : Share the blog post on the applicant's blog.
Step 4 : Fill in the application with all the details and attach the link of the blog.
Step 5 : Submit the application for the scholarship.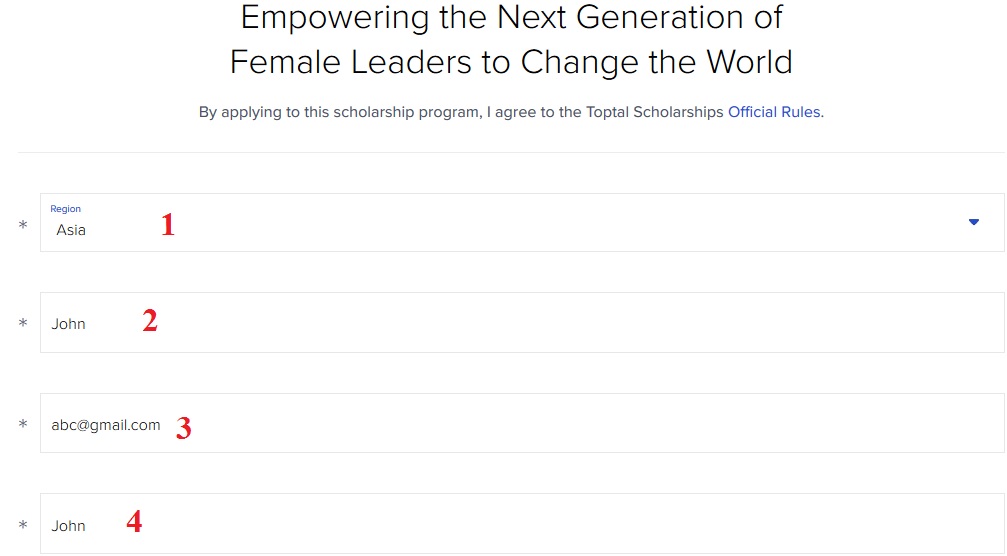 Terms & Conditions
** One prize will be awarded per region to current residents of Europe, the Americas, Africa, Asia, and Oceania.
** The mentors will be designated by Toptal from someone who works for or with Toptal.
** The mentorship will consist of at least 40 hours of remote mentorship via telephone or VoIP conversation, approximately worth USD 5000.
Rules :
https://www.scholarships.net.in/uploads/pdf2018/31049-Rule.pdf
FAQs
1. What professions or fields of study are you looking for?
We are looking for leadership potential, no matter the candidate's experience or background. That said, we do have a commitment to supporting women from underserved areas or communities.
2. Where should I publish my blog post?
A candidate should publish his/her post on a personal blog. If the applicant doesn't already have one, he/she can set one up very easily.
3. Can more than one person apply as a team?
No. Toptal Scholarships for Women is focused on individual women. You are more than welcome to continue collaborating with your team, but the scholarship will be awarded to a single person.
4. I work for a school/university — how should I share this?
You can share this in multiple ways with your students, for example hosting this on the relevant section of your website and intranet or including it in a newsletter – it's up to you.
Important Dates
** The last date for applications for applicants in Asia is November 30, 2018
** Winners will be announced on January 9, 2019
Helpdesk
If you have a question that isn't answered in the Official Rules document, you can email us at scholarships [AT] toptal.com.