gokdom.kar.nic.in Special Incentive To B.Ed & D.Ed Students 2018-19 : Karnataka Directorate of Minorities
Organization : Directorate of Minorities
Scholarship Name : Special Incentive To B.Ed.& D.Ed Students
Applicable State : Karnataka
Applicable For : Minority Students
Application Deadline : 15-12-2018 (Date is Extended)
Website : https://gokdom.kar.nic.in/index_en.asp
You can now ask your question on this scholarship.
Ask here
(OR) Go to the bottom of this page for comments.
GOKDOM Special Incentive To B.Ed.& D.Ed
Applications are Invited from students belonging to Minority Communities who are pursuing B.Ed. & D.Ed. Courses for Special Incentive Scheme.
Related : GOKDOM Free Training With Accommodation To Minority Students To Join Indian Army 2018-19 : www.scholarships.net.in/31559.html
Special Incentive Amount of Rs 25,000/-P.A will be provided for each year (Maximum for 2 Years only) during the Course Period.
Who Can Apply?
1) Students should be a domicile of state of Karnataka. (Non Karnataka Minority students are not eligible even though they are pursuing higher education in Institutes located within Karnataka.
However Karnataka domiciled Minority Students pursuing higher education in any of the Institutions Accredited by National Council for Teacher Education and Department of State Educational Research and Training (DSERT-Karnataka), located anywhere are eligible).
2) Student should belong to Minority Community.
3) Students Annual Family Income Should not exceed Rs.6 Lakh.
4) Student should have scored Minimum 50% of marks in previous examinations to avail the incentive.
5) Students must have cleared all previous examination without any backlogs & are selected based on merit i.e, marks scored in previous exams.
6) Only those students whose B.Ed. & D.Ed. Courses are Accredited from National Council for teacher Education & Department of State Educational Research and Training Respectively are eligible.
How to Apply?
Just follow the below steps to apply for the Special Incentive Scheme,
Steps :
Step 1 : Go to the official website of Directorate of Minorities provided above.
Step 2 : Then click on the "Online Registration link for Special Incentive" under Latest News section
Step 3 : Fill the Registration Form with the required details and click on the next button
Step 4 : Next fill the remaining details to complete the registration form.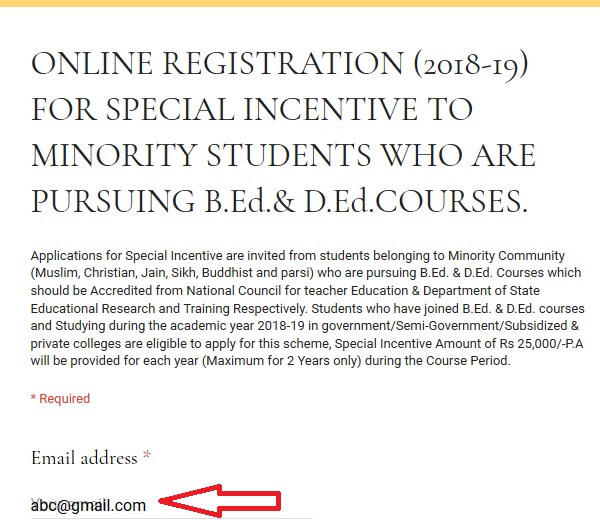 Step 5 : After successful online registration the candidates must take the print out of Duly filled in ONLINE APPLICATION FORM which is mailed to your provided E-mail id & submit it along with the required documents at the office of the District Minority Welfare Department of the concerned district (where college is located).
Terms & Conditions
** Based on duration of course period each year (Maximum for 2 Years) amount will be sanctioned.
** Students who are availing this incentive are also eligible to apply for National or any other scholarships and are also eligible to avail Government/Departmental free hostel facilities as per the terms & Conditions set by the department.
** Students should submit all the official documents related to admission for the B.Ed. & D.Ed. Course & fee paid Receipts of the college.
** Students should submit separate application form for every year (Maximum for 2 years) to avail the incentive amount of each year separately.
** 50% of the applicants for this scheme are reserved for girls & 25% for D.Ed Course and 75% for B.Ed. Course students.
** If any of the information or documents/income & caste certificate submitted by the students are found to be false at any stage then the strict action shall be taken against the applicant.
Last Date
Last date to apply is 15.12.2018. For further details contact concerned District Officer, Minority Welfare Department.
Helpline
Helpline for Queries regarding B.Ed.&D.Ed.Incentive and Free Army Training Schemes
Email : gokdomnewschemes2018 [AT] gmail.com
Contact : 08022535920