gokdom.kar.nic.in Free Training to Minority Students for Skill Development Scheme 2019-20 : Karnataka
You can ask questions or answer questions about this scholarship.
Please go to the bottom of this page.
Organisation : Karnataka Directorate of Minorities
Scheme Name : Free Training of Skill Development Scheme 2019-20
Applicable For : Minority Students
Applicable State : Karnataka
Application Last Date : 30/11/2019 (Date is Extended)
Website : https://gokdom.kar.nic.in/index_en.asp
GOKDOM Free Training for Skill Development
Karnataka Directorate of Minorities invites applications for free training to Minority Students for various skill development and entrepreneurship and livelihood courses for the year 2019-20.
Applications for free training are invited from students belonging to Minority Communities (Muslim, Christian, Jain, Sikh, Buddhist and parsi) who are interested in Skill Training under Various Sectors and courses.
Who Can Apply?
** Students should be a citizen of India and domicile of state of Karnataka.
** Minimum age limit is 18 years and Maximum age limit is 35 years.
** Student should belong to Minority Community.
** Candidates total annual family income should not exceed for Category-1 Rs.2.5 Lakh per annum and for Category 2A,2B,3B,sikhs and parsis Rs.2 Lakhs per annum
How to Apply?
Just follow the below steps to apply for the Free Training Under Skill Development Scheme 2019-20.
Steps :
Step 1 : Go to the official website of Karnataka Directorate of Minorities through the URL provided above
Step 2 : Then click on the "Online Registration Link for free training of skill development" under latest news section.


Step 3 : Next enter your Email address to proceed with the registration.
Step 4 : Fill the required details to complete the registration.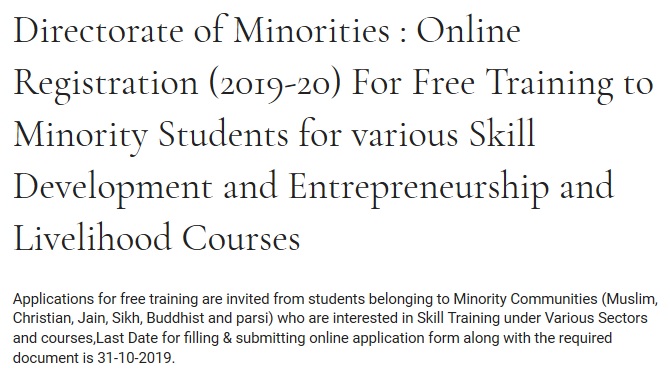 Step 5 : After successful online registration the candidates must take the print out of duly filled in ONLINE APPLICATION FORM which is mailed to your E-mail id & submit hard copy along with the required documents to District Minority Welfare Office of the concerned district(Where he is Resident of).
Notification :
https://www.scholarships.net.in/uploads/pdf2018/33285-Advt.pdf
Terms & Conditions
** Training will be given only once.
** 3 to 4 months of training will be given depending upon the sector and name of the course.
** Attendance will be taken through bio metric mode, 80 percent of attendance during the training period is mandatory.
** Candidates will be having an option to select the training institute as per their convenience and interest in sector and course.
** After completion of Training program, certificates will be provided to the candidates signed by the concerned institute and Director,Directorate of Minorities.
** No stipend will be provided to the candidates during training period.
** Amount will be reimbursed from trainee candidate if they discontinue the training program in between the prescribed tenure of training.
** If any of the information or documents/income & caste certificate submitted by the students are found to be false at any stage then the strict action shall be taken against the applicant and the amount spent on the trainee shall be collected from him/her.
Last Date
Last Date for filling & submitting online application form along with the required document is extended upto 30-11-2019.
Contact/Helpdesk
Helpline for Queries regarding Free Skill Development Training Scheme Email to gokdomnewschemes2018 [AT] gmail.com
Contact Details :
Government of Karnataka
Directorate of Minorities
20th Floor, V.V.Towers, Dr. B.R.Ambedkar Veedhi,
Bangalore-560 001