highereducationmanipur.gov.in NEC Merit Scholarship Fresh & Renewal 2019-20 : Higher Education Manipur
Organization : Department of University & Higher Education
Scholarship Name : NEC Merit Scholarship Fresh & Renewal 2019-20
Applicable State : Manipur
Application Last Date : 16th December 2019
Website : http://www.highereducationmanipur.gov.in/ViewScholars.aspx
You can ask questions or answer questions about this scholarship.
Please go to the bottom of this page.
Manipur Higher Education NEC Merit Scholarship
Manipur Department of University & Higher Education invites online applications for NEC Merit Scholarship Fresh & Renewal for the year 2019-20.
Related / Similar Scholarship :
Manipur NEC Merit Scholarship Result 2019-20
Who Can Apply?
** All bonafide students of Manipur who have already taken admission in various recognized higher educational institutions in India for pursuing Post-Matric Higher Professional Courses/Streams of Studies that they may apply.

** Students who have been selected for the scholarship in the first year and promoted to the next higher class without any break.
How to Apply?
Just follow the below steps to apply for the NEC Merit Scholarship Fresh & Renewal 2019-20.
Steps :
Step 1 : Go to the official website of Manipur, Higher Education through the URL provided above.
Step 2 : Then click on the "NEC Scholarship" link.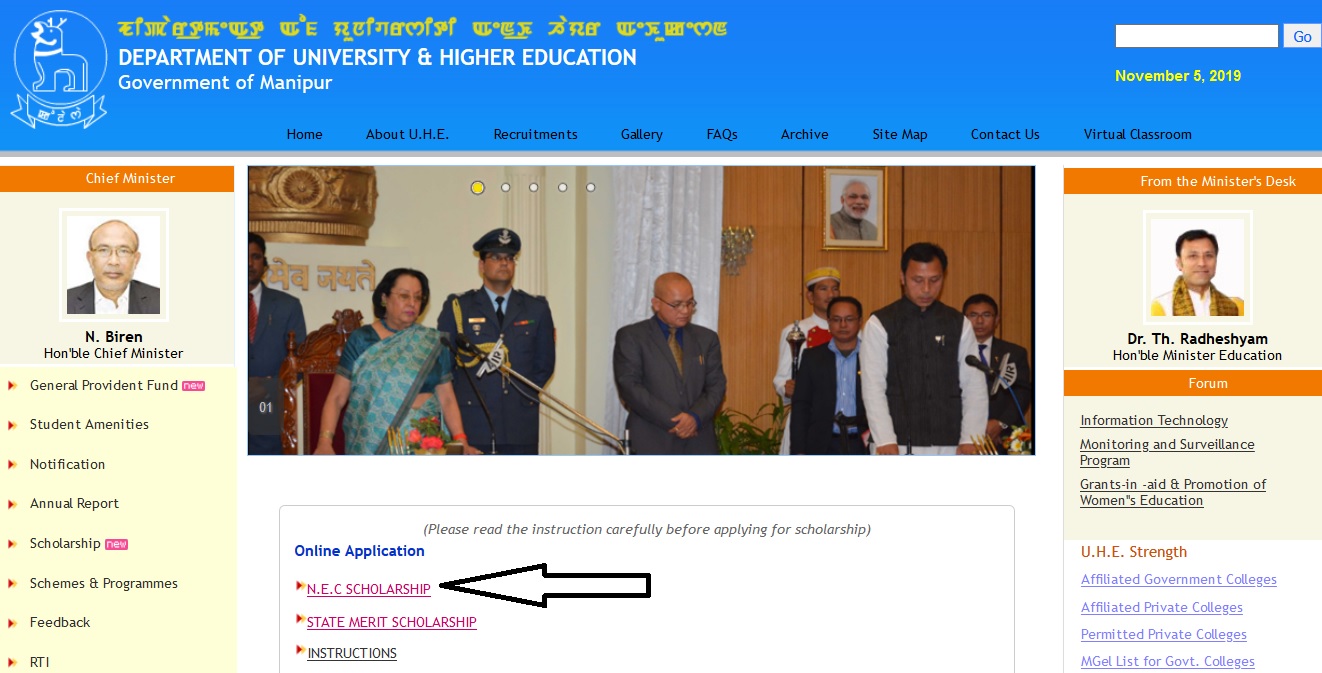 Step 3 : Click on "Sign Up" button to register in the scholarship portal.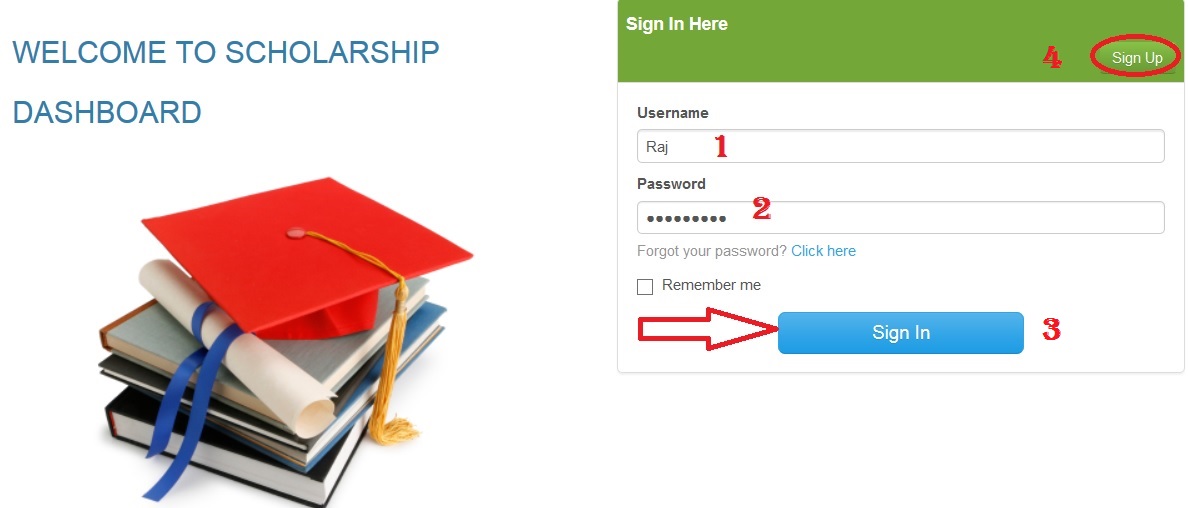 Step 4 : Fill the required details like Username, Password, E-Mail address, and choose the scheme for which you are going to apply.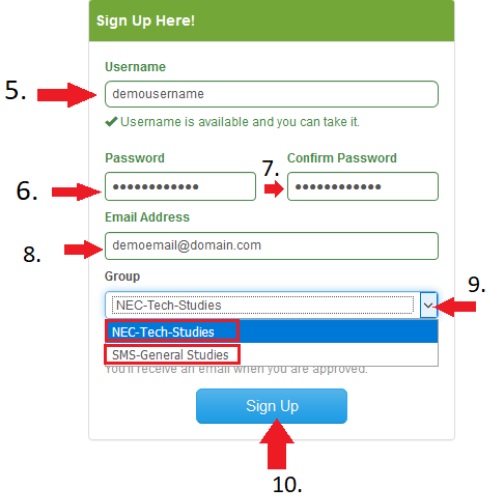 Step 5 : Click on "Sign Up" button to complete the registration.
Step 6 : After getting this successful screen, Click on "Sign In" button to continue.
Step 7 : Enter your Username and Password for Login
Step 8 : Click on "Student Profile" button to add/view more detail about yourself. (This part is mandatory to apply a scholarship)


Step 9 : Click on "Add New" button to add more detail about yourself.
Step 10 : Click on "Browse" button to upload your photo.
Step 11 : Fill all the fields with your own data except "Email" field, this will be auto filled after saved with your registered email.
Step 12 : Click "Save New" to complete updating your profile.
Step 13 : Click on"NEC Fresh Application" for NEC Students to open application list. Then Click on "Add New" to open application form.
Step 14 : Click "Browse" button to upload the relevant documents and then click on "Save New".
Notification :
https://www.scholarships.net.in/uploads/pdf2019/30392-Advt.pdf
NEC applicable student may not find the name of their Institute in the dropdown list, Click on the (+) symbol at the right side of the field to add your institute.
Note :
** Failure to furnish correct information required in the form may lead to automatic cancellation of the application.
** Selected candidates will not be allowed to enjoy scholarship from any other Departments or Ministry of Government of India.
Documents Required
** Recognition letter from the AICTE or equivalent agency (Fresh only).
** Income Certificate from the competent authority (Fresh only).
** Certificate of OBC/SC/ST duly signed by the competent authority, if any. (Fresh only)
** P.R.C. duly signed by the D.C. concerned. (Fresh only).
** Mark statement of the qualifying examination.
** Xerox copy of Bank Pass-Book and *Aadhaar Card.
** Admission Receipt or Bonafide Certificate from the Institution.
Rate of scholarship/Annum
** Diploma level – 20000/-
** Degree level – 22000/-
** Post graduate – 25000/-
** Ph.D./ M.Phil. – 30000/-
Last Date
Last date to apply for the NEC scholarship both fresh & renewal is 16th December 2019.