CSCUK DFID UK Commonwealth PhD Scholarship For Indian Students 2019
Organisation : Commonwealth Scholarship Commission in the United Kingdom
Scholarship Name : Commonwealth PhD Scholarship 2019
Applicable For : Residents of Commonwealth Countries (India)
Application Deadline : 19 December 2018
Website : http://cscuk.dfid.gov.uk/apply/phd-scholarships-low-middle-income-countries/
You can now ask your question on this scholarship.
Ask here
(OR) Go to the bottom of this page for comments.
CSCUK DFID UK Commonwealth PhD Scholarship
Commonwealth PhD Scholarships are for candidates from low and middle income Commonwealth countries, for full-time doctoral study at a UK university.
Related : CSCUK DFID UK Commonwealth Shared Scholarship India 2019 : www.scholarships.net.in/35081.html
Scholarship Theme
These scholarships are offered under six themes
** Science and technology for development
** Strengthening health systems and capacity
** Promoting global prosperity
** Strengthening global peace, security and governance
** Strengthening resilience and response to crises
** Access, inclusion and opportunity
Eligibility
To apply for these scholarships, you must
** Be a citizen of or have been granted refugee status by an eligible Commonwealth country, or be a British Protected Person
** Be permanently resident in an eligible Commonwealth country
** Be available to start your academic studies in the UK by the start of the UK academic year in September/October 2019
** By October 2019, hold a first degree of at least upper second class (2:1) honours standard, or a second class degree and a relevant postgraduate qualification (usually a Master's degree)
** NOT be registered for a PhD, or an MPhil leading to a PhD, at a UK university before September/October 2019
** NOT have commenced and be currently registered for a PhD, or an MPhil leading to a PhD, in your home country or elsewhere
** Be unable to afford to study in the UK without this scholarship
Eligible Commonwealth Countries :
** Antigua and Barbuda
** Bangladesh
** Belize
** Botswana
** Cameroon
** Dominica
** Eswatini
** Fiji
** The Gambia
** Ghana
** Grenada
** Guyana
** India
** Jamaica
** Kenya
** Kiribati
** Lesotho
** Malawi
** Malaysia
** Mauritius
** Montserrat
** Mozambique
** Namibia
** Nauru
** Nigeria
** Pakistan
** Papua New Guinea
** Rwanda
** Samoa
** Sierra Leone
** Solomon Islands
** South Africa
** Sri Lanka
** St Helena
** St Lucia
** St Vincent and the Grenadines
** Tanzania
** Tonga
** Tuvalu
** Uganda
** Vanuatu
** Zambia
How to Apply?
Just follow the below steps to apply for the Commonwealth PhD Scholarship 2019.
Steps :
Step 1 : Visit the official website provided above.
Step 2 : Read the terms & conditions carefully before you are applying.
Step 3 : You must apply to one of the following nominating bodies in the first instance – the CSC does not accept direct applications for these scholarships
** National nominating agencies – this is the main route of application
** Selected universities/university bodies, which can nominate their own academic staff
** Selected non-governmental organisations and charitable bodies
Step 4 : You must check with your nominating body for their specific advice and rules for applying, their own eligibility criteria, and their own closing date for applications.

Step 5 : You must make your application using the CSC's online application system, in addition to any other application that you are required to complete by your nominating body.
Step 6 : For that, scroll the pages down and click on the "Apply Here" button at the bottom of the page.
Step 7 : Fill the application form with the required details and finally click on the Submit button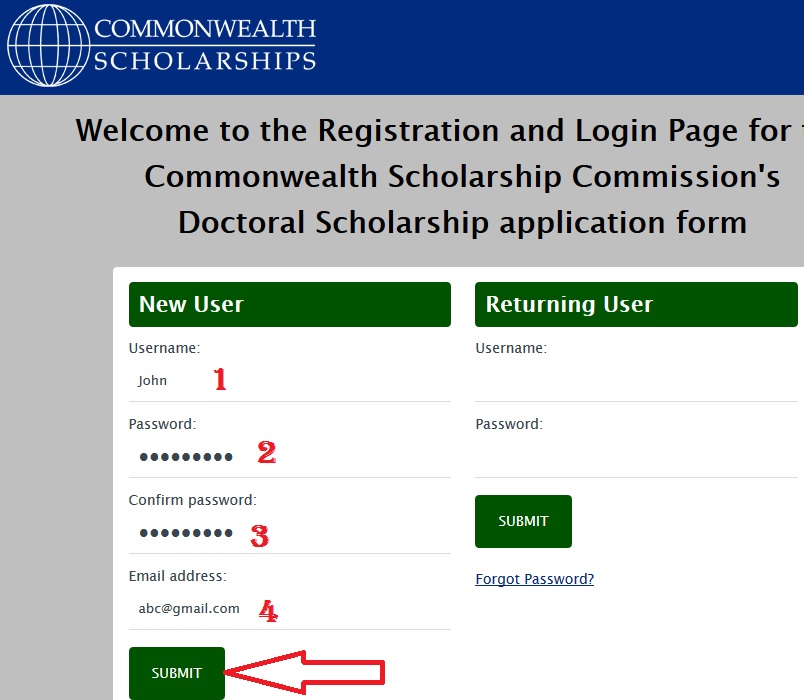 Documents Required
Your application must include the following supporting documentation, by 16:00 (GMT) on 4 January 2019 in order for your application to be eligible for consideration
** Proof of citizenship or refugee status – uploaded to the online application system
** Full transcripts detailing all your higher education qualifications (with certified translations if not in English) – uploaded to the online application system
** References from at least two individuals – submitted directly by the referees to the online application system (referees will be sent an email request)
** Supporting statement from a proposed supervisor in the UK from at least one of the institutions named on your application form – submitted directly by your proposed supervisor to the online application system (supervisors will be sent an email request).
Last Date
All applications must be submitted by 16:00 (GMT) on 19 December 2018 at the latest.
Contact/ Helpdesk
If you have a technical query regarding the online application system please contact eas [AT] cscuk.org.uk
General enquiries about applying for Commonwealth Scholarships or Fellowships sent to this email address will not be answered; please use the Contact us form instead.
Contact Us :
Commonwealth Scholarship Commission in the UK
Woburn House
20-24 Tavistock Square
London WC1H 9HF
UK