Marubeni India Meritorious Scholarship 2019-20
Organisation : Marubeni India Private Limited (MIPL)
Scholarship Name : Meritorious Scholarship 2019-20
Applicable For : Class 12 passed students
Applicable State : All India
Application Last Date : 25-09-2019
Website : http://www.marubeni.co.in/
You can ask questions or answer questions about this scholarship.
Please go to the bottom of this page.
Marubeni Meritorious Scholarship
Marubeni India Private Limited invites applications for Meritorious Scholarship for the year 2019-20.
Related : Vidyasaarathi TransUnion CIBIL Scholarship 2019-20 For GNM Students : www.scholarships.net.in/37398.html
This scholarship aims to support the dreams of talented, meritorious and needy students by providing them financial aid to pursue higher education.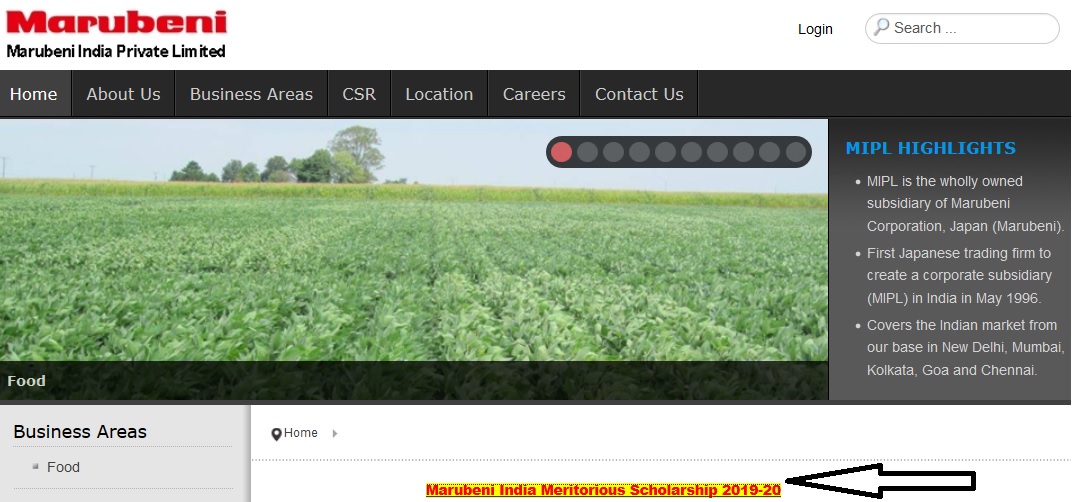 Who Can Apply?
The following eligibility criteria should be fulfilled (all conditions) to be eligible for this scholarship
** Class 12 passed students during the academic session 2018-19
** Students having scored more than 65% marks in class 12 board exams
** Students pursuing higher education in any full-time Undergraduate/Professional/Technical Courses with state/UGC recognized Universities/Reputed Engineering, Management and other technical institutes situated in the State of Kerala, India ONLY.
** Students having annual family income from all sources not more than INR 400,000
** Students not availing any other scholarship (having value INR 6000 or more)
Note :
Children of employees of Marubeni and Buddy4Study are not eligible to participate in the scholarship program.
How to Apply?
Just follow the below steps to apply for the Meritorious Scholarship 2019-20.
Steps :
Step 1 : Go to the following link [https://www.buddy4study.com/page/marubeni-india-meritorious-scholarship]
Step 2 : Login/Register using Facebook, Google or using the Email id.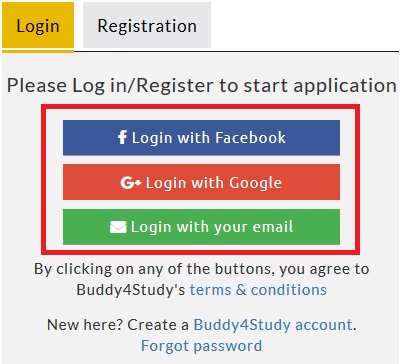 Step 3 : Once signed in, click on 'Start Application' to start filling the form.
Step 4 : Fill in all the details and upload the required documents.
Step 5 : Finally, click on 'Submit'.
Documents Required
The applicants must submit the following documents while applying for the scholarship. (Submit scanned copies of all available documents)
** Passport size photo
** One age proof document (Acceptable documents – Birth certificate, First and last pages of a valid Indian passport, Driver's license, Class 10 mark sheet with Date of Birth mentioned)
** One identity proof (Acceptable documents – PAN Card, Voter Identity Card, Driver's License, Aadhar Card, Class 10 mark sheet with photo)
Family income certificate : (anyone)
** BPL card (if belonging to BPL category)
** Income certificate (Government approved organization)
** Recent monthly pay slip of the main wage-earner of the family
Qualification certificates :
** Class 10 mark sheet
** Class 12 mark sheet
Admission confirmation :
** Admission letter
** Latest college fee receipt
Scholarship Amount
A total of up to 100 scholarships will be awarded. A minimum amount of INR 40,000 will be credited to the bank account of each student selected for the scholarship.
Note :
The scholarship payment will be made in a single installment.
Selection Criteria
** Initially, the candidates will be shortlisted based on their class 12 performance and annual family income and background.
** The candidates will then be selected for telephonic interview round based on the shortlisting.
** After the telephonic round, candidates will be shortlisted for the final personal interview round.
** This personal interview round will be conducted by the Marubeni team.
Important Dates
Dates of tentative, subject to change
** Applications open from – August 26, 2019
** Applications close on – September 25, 2019, Wednesday (till 23:59 Hours)
** Interviews (telephonic) – October 11, 2019 to October 25, 2019 (tentative)
** Interviews (face to face) – December 07, 2019 (tentative) at Marubeni India's offices
** Scholarship program result announcement – December 17, 2019 (tentative)
Terms & Conditions
** The selection of candidates for awarding scholarship shall be done solely by Marubeni India and shall be final and binding.
** The Scholarship amount shall be paid to the selected candidates through normal banking channels either through direct bank transfer or by account payee cheque / demand draft.
Thus, all selected candidates must have active bank account in their own name at the time of remittance of scholarship amount or issue of account payee cheque / demand draft.
** Canvassing In Any Form Shall Be A Disqualification.
** The scholarship for a candidate may be withdrawn at any stage if you provide incorrect, false or misleading information or withhold relevant information.