telanganaepass.cgg.gov.in Other State Post Matric Scholarship Renewal 2019-20 : Telangana ePass
Want to comment on this post?

Go to bottom of this page.
Organisation : Telangana ePass
Scholarship Name : Other State PMS Renewal 2019-20 Post Matric Scholarship
Applicable For : Students who are studying in other than Telangana
Website : https://telanganaepass.cgg.gov.in/
Telangana ePass Other State PMS Renewal
PMS Post Matric Scholarships Other State Renewal Student Registrations are opened for the academic year 2019-20.
Related : Telangana ePass Post Matric Scholarships For Renewal 2019-20 : www.scholarships.net.in/24887.html
Who Can Apply?
Students who are studying in other than Telangana are eligible to apply.
How to Apply?
To apply for the Other State Post Matric Scholarship Renewal, Kindly follow the mentioned steps below.
Steps :
Step 1 : Go to the official website of Telangana ePass through the URL https://telanganaepass.cgg.gov.in/
Step 2 : Then, Scroll the pages down and Click on the Post Matric Scholarship Services link in the home page.
Step 3 : After that, You can find "Other State Scheme Renewal Student Registrations(2019-20)" under Post Matric and click on Renewal Registration button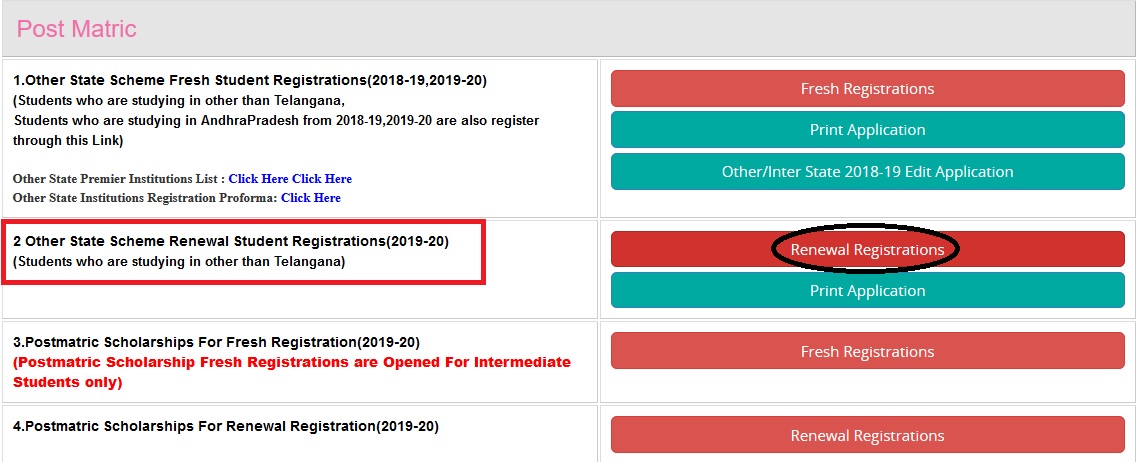 Step 4 : Enter the following details to Renew your Post Matric Scholarship
** Enter Previous year Application ID [123456]
** Select your SSC Pass Type – SSC Regular/SSc Supplementary/Other Board/CBSE/ICSE/OSS/Oriental SSC/Direct Degree
** Enter your SSC Hall Ticket No [080001]
** Select your SSC Pass Year [2019]

Print Application
To print your application click on the Print Application link in the website provide above and enter the following details,
Steps :
Step 1 : Select Your SSC Pass Type [AP Regular]
Step 2 : Select Your SSC Pass Year [2018]
Step 3 : Enter Your SSC Exam No [123456]
Step 4 : Enter Your Application No [11111]
Step 5 : Click on the Get Details button

Prerequisits
1) Incase of change of Bank account, open your Zero balance account in any of the nationlized banks (Click here for the list of nationalised banks). Bank account not required For EBC students.
2) Student should have a Mobile Number for receiving One Time Password for registration (Mobile number may belong to the student or any one of his/her family members).
Documents Required
** Bank Pass Book first page with Bank Account number and IFS Code incase of change.(Not Required For EBC Students)
** Passed/Promoted Marks Memo of Previous year.
** Original Income Affidavit (signed by the Student & the Parent) Download format for affidavit.
Note : If Any Problem in getting Password to Your Mobile, Go to nearest Meeseva/eSeva/APonline Centers For Registering With out Password.
FAQs
1. Will I get a scholarship automatically on application?
Scholarships are granted only after admission to a college and is subject to verification and eligibility. Only those who are eligible will be granted a scholarship.
The steps for a scholarship are given as under :
** Secure admission to a college
** Apply online for a scholarship through the concerned welfare department ( SC/ST/BC/EBC/DW/MW)
** Verification by the college principal
** Verification by the Verification officer
** Scrutiny by the Welfare Officer
** Sanction of the scholarship
** Subission of the bill online to the treasury
** Sanction of the bill and upload of amounts into student (MTF)and college (RTF) bank accounts
2. Can I secure a scholarship for the previous year?
No the scholarship can be claimed only for the current year. Scholarships for the previous year can not be claimed under any circumstance.
3. How do I know my verification officer?
The District Collector appoints verification officers for one or more colleges depending on the number of students in the college.
The verification process is a two step verification process
i. Verification by the College Principle : All applications to be verified individually by the college and signed by the principal of the college.
ii. Verification by the verification officer : The verification officer will have to verify all the student in the college an appointed date and time.
The details of the verification officer can be viewed on this website by clicking of the verification officer details given on the right side of the web page.
Help Desk
For Technical Issues, Please Call to 040-23120311,23120312 between 10.30 A.M. to 5 P.M.