telanganaepass.cgg.gov.in Post Matric Scholarships For Renewal 2019-20 : Telangana ePass
Want to comment on this post?

Go to bottom of this page.
Organisation : Telangana ePass
Scholarship Name : PMS Postmatric Scholarships For Renewal Registration 2019-20
Applicable State : Telangana
Last Date : 15.02.2020
Website : https://telanganaepass.cgg.gov.in/
Telangana ePass Post Matric Scholarships Renewal
Post matric Scholorships Registrations for Fresh,Renewal of 2019-20 are Re-Opened.Last Date for Submission is : 15-02-2020
Related / Similar Scholarship : Telangana ePass Postmatric Scholarship 2019-20
Who Are Eligible?
** Students who belong to the categories of SC,ST whose annual parental income is Rs. Two Lakhs or below.
** BC & Minority Welfare Students who are belongs to rural area family income should be Rs. One Lakh Fifty Thousand or below.
** BC & Minority Welfare Students who are belongs to Urban area family income should be Rs. Two Lakhs or below.
** EBC,Disabled Welfare Students whose parental income is RS. One lakh or below.
** Students whose attendance is 75% at the end of each quarter.
How to Apply?
To renew the Post Matric Scholarship, Kindly follow the mentioned steps below.
Step 1 : Go to the official website of Telangana ePass through the URL https://telanganaepass.cgg.gov.in/
Step 2 : Then, Scroll the pages down and Click on the Post Matric Scholarship Services link.
Step 3 : After that, Click Postmatric Scholarships For Renewal Registration(2019-20) link.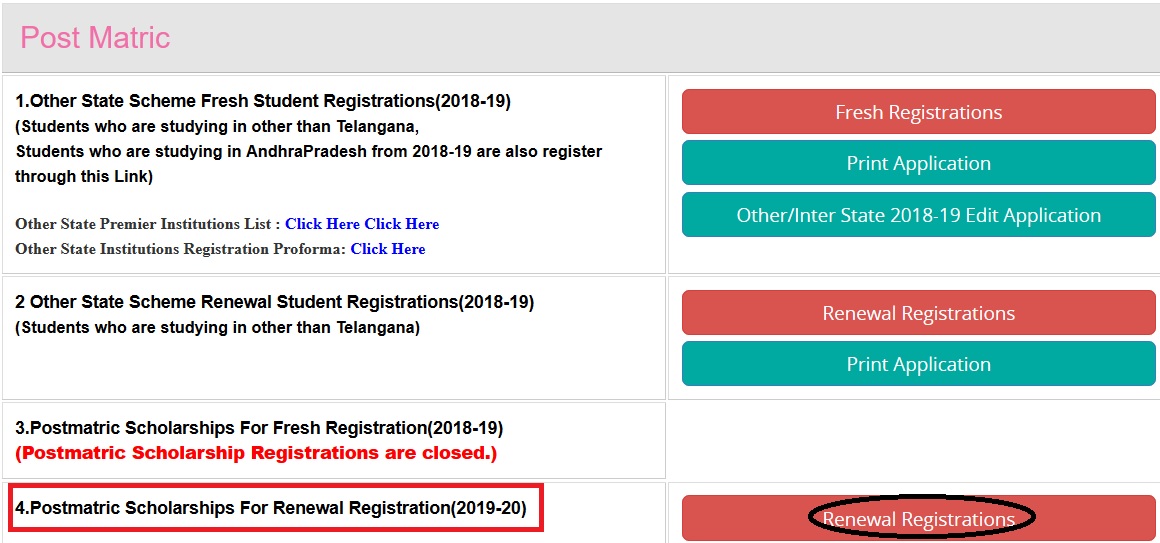 Step 4 : Please tick the check boxes to proceed and Click Apply Now button
Step 5 : Enter the following details to Renew your Post Matric Scholarship
** Enter Previous year Application ID [12345]
** Select your SSC Pass Type – SSC Regular/SSc Supplementary/Other Board/CBSE/ICSE/OSS/Oriental SSC/Direct Degree
** Enter your SSC HallTicket No [11111]
** Select your SSC Pass Year [2018]

Prerequisits
1) Incase of change of Bank account, open your Zero balance account in any of the nationlized banks (Click here for the list of nationalised banks). Bank account not required For EBC students.
2) Student should have a Mobile Number for receiving One Time Password for registration (Mobile number may belong to the student or any one of his/her family members).
Documents Required
** Bank Pass Book first page with Bank Account number and IFS Code incase of change.(Not Required For EBC Students)
** Passed/Promoted Marks Memo of Previous year.
** Original Income Affidavit (signed by the Student & the Parent) Download format for affidavit.
Note : If Any Problem in getting Password to Your Mobile, Go to nearest Meeseva/eSeva/APonline Centers For Registering With out Password.
Courses Eligible
Post Matric Courses approved by the concerned University/Board having duration of 1 year and above
Group-I :
Professional Courses (Degree and PG Courses in Medicine, Engineering, Technology, Management, Agriculture, Veterinary and Allied Sciences, Business Finance, Business administration and Computer Applications/ Science, Commercial pilot License course)
Group-II :
Other professional and technical graduate and PG including (M.Phil, PhD and post doctoral research) level courses not covered in Group-I. C.A./I.C.W.A./C.S./ etc., courses, all post graduate, graduate level diploma courses, all certificate level courses.
Group-III :
** Degree courses(not covered in group I & II)
** NIFT (National Institute of Fashion Technology) courses
Group-IV :
** Intermediate
** ITI/ITCs
** Vocational courses (Intermediate level)
Colleges Eligible
** All Post Matric Colleges in Telangana recognized by Government of Telangana/Competent Authority.
** The list of colleges are confirmed by respected Universities (or) Head of the department
Help Desk
For Technical Issues, Please Call to 040-23120311,23120312 between 10.30 A.M. to 5 P.M.