Jadavpur University Non-NET Fellowship 2018-19 : jurecruitment.jdvu.ac.in
Organisation : Jadavpur University
Scholarship Name : Non-NET Fellowship 2018-19
Applicable For : M.Phil or PhD Research Scholars
Registration Deadline : 15/11/2018
Website : http://jurecruitment.jdvu.ac.in/non_net_phd_mphil_fellowship/
You can now ask your question on this scholarship.
Ask here
(OR) Go to the bottom of this page for comments.
Jadavpur University Non-NET Fellowship
Non-NET Fellowship for PhD and MPhil Scholars under UGC XII Plan General Development Assistance.
Related : UGC Rajiv Gandhi National Fellowship For Persons With Disabilities 2018-19 : www.scholarships.net.in/29625.html
The UGC has sanctioned Rs.10 crore for this fellowship for the entire XIIth plan period for release of fellowship to the eligible MPhil and PhD Scholars.
Eligibility Criteria
For Ph.D Scholars :
The scholars who are registered under full time Ph.D Programme in the University is eligible for fellowship @ Rs. 8,000 p.m. and it is applicable to the scholars who are not NET qualified and are not receiving any fellowship/scholarship/salary from any source.
However, NET (LS) scholars, who are not receiving any fellowship/scholarship/salary from any source, are also eligible for the fellowship.
For M. Phil Scholars :
The students who are enrolled under full time M. Phil Programme in the University in Science Subjects and Humanities & Social Science subjects are eligible for fellowship @ Rs. 5,000 p.m. and it is applicable to the M. Phil. Students who are not receiving any fellowship/scholarship /salary from any source
How to Register?
Just follow the below steps to register for Non-NET Fellowship 2018-19.
Steps :
Step 1 : Go to the official website of Non-NET Fellowship portal provided above.
Step 2 : Already registered user enter your E Mail ID OR Mobile Number and Password for Login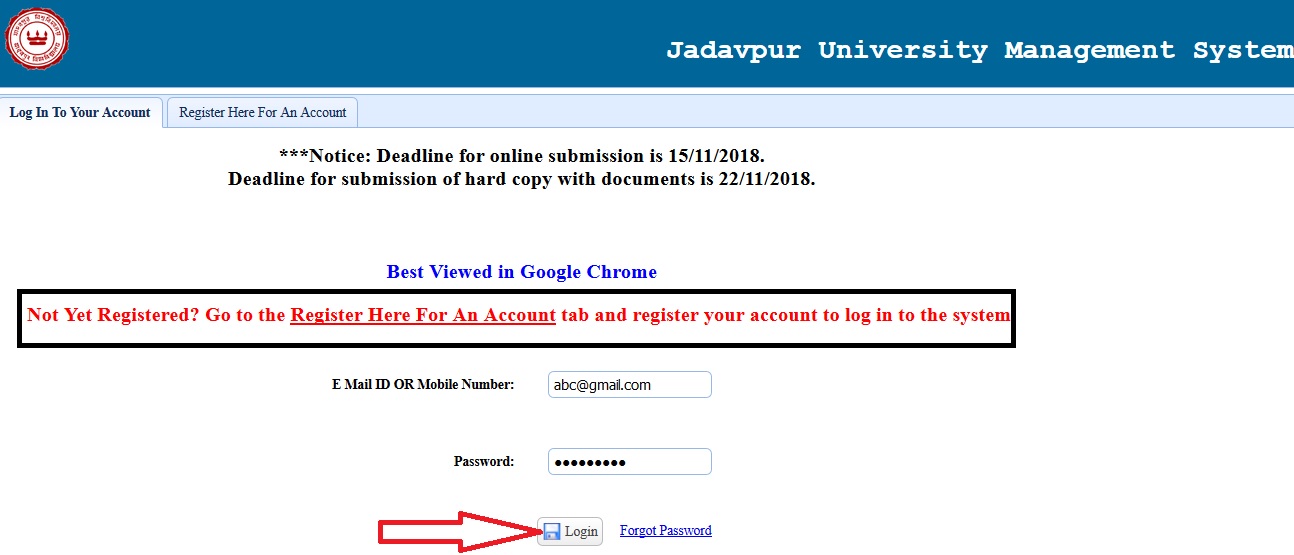 Step 3 : Not Yet Registered? Go to the Register Here For An Account tab and register your account to log in to the system.
Step 4 : After register your account, fill up the further details to complete the application process.
Notification :
https://www.scholarships.net.in/uploads/pdf2018/29837-Advt.pdf
Terms & Conditions
** The Fellowship shall be started from the date of admission or 2nd June 2012, which ever is later. The Fellowship shall continue till end of the programme
** Reimbursement of contingency will be allowed @ Rs. 10,000 p.a. for Science Subjects and @ Rs. 8,000 p.a. for Humanities and Social Science subjects under this scheme during the programme period
** It is applicable to eligible scholars w.e.f. 2nd June 2012.
** Monthly fellowship shall be released on submission of attendance/performance report from the Department/School.
** No House Rent Allowance (HRA) is admissible to the scholar.
** The scholar should refund the entire amount of fellowship drawn for the period during which he/she has received any fellowship/scholarship/salary (part time/full time) from any other source.
** The scholarship is liable to be terminated, if
(a) the scholar is found to be involved in any act of misconduct or any other ground which may be considered detrimental to the interest of the university by the competent authority and
(b) the academic performance of the scholar as assessed by the relevant academic body of the university, is not satisfactory such as work-in progress seminars/ workshop in the department etc.
Application Deadline
** Deadline for online submission is 15/11/2018.
** Deadline for submission of hard copy with documents is 22/11/2018.