ACU Catherine McAuley Scholarship 2018 : Australian Catholic University
Organisation : Australian Catholic University
Scholarship Name : Catherine McAuley Scholarship 2018
Application Deadline : 11 March 2019
Website : http://www.acu.edu.au/study_at_acu/fees_and_scholarships/scholarships_and_financial_support/scholarships_browser/catherine_mcauley_scholarship
You can now ask your question on this scholarship.
Ask here
(OR) Go to the bottom of this page for comments.
ACU Catherine McAuley Scholarship
Catherine McAuley Scholarship is an endowed scholarship established in 2006 by the Sisters of Mercy in Queensland to honour Sister Catherine McAuley, founder of the Sisters of Mercy, and in recognition of the predecessor college McAuley College.
Related : CCB Welfare & Scholarship Scheme Online Application 2019 : www.scholarships.net.in/28026.html
Eligibility
1. Citizenship : domestic and international students
2. Faculty : Health Sciences, Education and Arts or Law and Business
3. Course : any ACU undergraduate degree (except Theology)
4. Campus : Brisbane
5. Year level : First year

How to Apply?
Just follow the below steps to apply for the Catherine McAuley Scholarship 2018.
Apply Online : https://webapp.acu.edu.au/scholarship/index.php?sbid=338249
Steps :
Step 1 : Visit the official website of Australian Catholic University provided above.
Step 2 : Read the instructions carefully before applying the scholarship

Step 3 : Next, click on the "Apply Online Now" button at the end of page.
Step 4 : Click on the Register button and fill the application form with the required fields.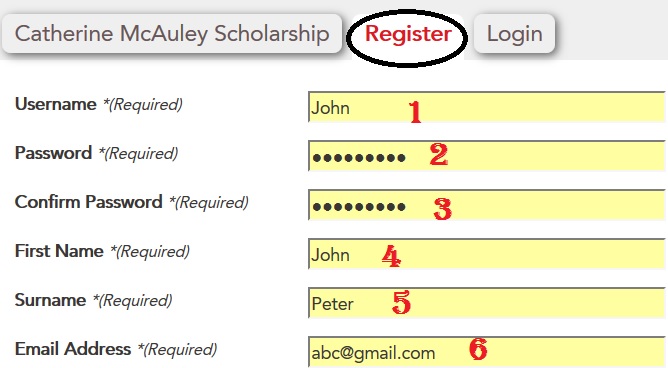 Registration Steps
1. After logging in, or when registering, you will need to complete the personal information screen. Once all required fields are completed, submit your information.
Not all fields are required however we recommend you complete the entire form. (If you are an ACU student it is very important that you enter your ACU student email address.)
2. Once you have submitted your personal information you will need to attach your supporting documentation.
** The document types that can be uploaded are .doc, .docx, .rtf, .txt, .pdf.
** If you have more than one document to support one of the criteria, scan all of the documents together and upload as one file.
** Combined file size should not exceed 8MB.
3. Once you have uploaded your documents, your application will be processed. After the closing date, eligible applications will be considered by a Selection Committee and you will be notified by email as to the outcome of your application.
Documents Required
You must attach the following documentation with your application
1. A written statement of approximately 100 words outlining;
** Why have you chosen to undertake your degree?
** What do you hope to achieve with it in the future?
2. Evidence of the applicant's involvement and/or leadership in community service through activities designed to create a more just, merciful and sustainable world.
3. Two written references.
Selection Criteria
Applications are assessed based on the strength of the following criteria
** Written statement.
** Evidence of contribution to community service.
** Written references.
** Preference will be given to applicants who are Aboriginal and Torres Strait Islander students, students with social and economic disadvantages, or students from rural and regional areas.
Scholarship Value
The scholarship is valued at up to $10,000. It will be paid in installments of $2,500 per annum for the duration of your course (up to a maximum of four years).
Application Dates
1. Open : Thursday, 6 September 2018
2. Close : Monday, 11 March 2019