ccbnic.in CCB 2020 Welfare & Scholarship Scheme Online Application : Combined Counselling Board India
Organization : CCB Combined Counselling Board India
Scholarship Name : Welfare & Scholarship Scheme Online Application 2020
Applicable For : SC/ST/OBC/Minority/ General Candidates of All States
Applicable States/UTs : All States & UTs
Website : http://www.ccbnic.in/
You can ask questions or answer questions about this scholarship.
Please go to the bottom of this page.
CCB Welfare & Scholarship Application
CCB has invited online Scholarship Applications-2019-20 from the students for various courses under Welfare and Scholarship Scheme for the reserved quota in Govt. approved colleges or Universities in India.
Related / Similar Post :
CCB Bihar VKSS Coaching Scholarship Scheme 2019
Online Application Form is invited for more than 40 Govt. approved courses for the session 2019-20.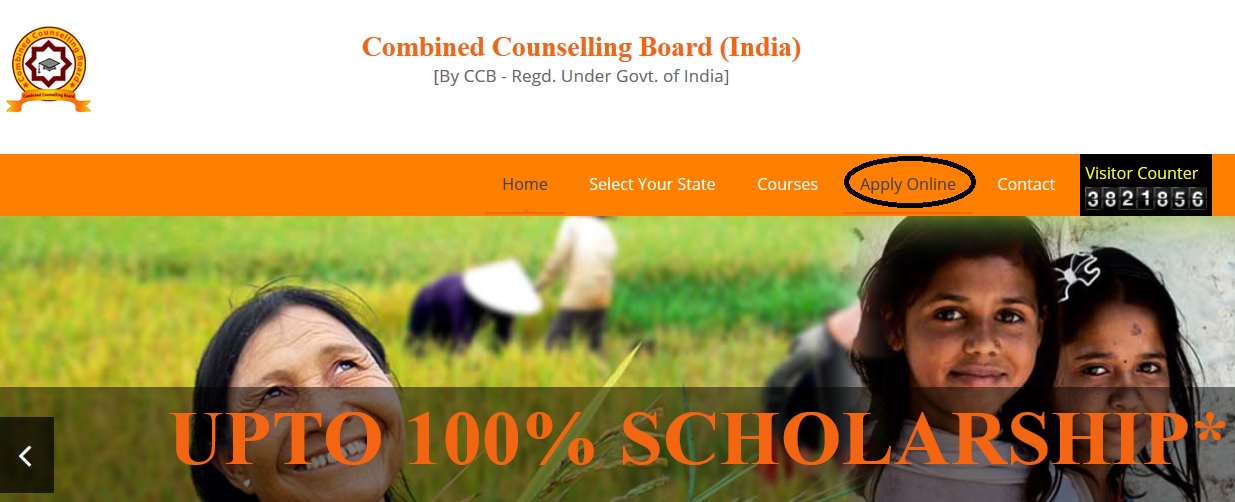 Scholarship Process & Steps
** First of all, Select your state and Read the matters carefully on your state page.
** Apply Online & Take printout of Application Receipt/Counselling Letter. (Mandatory)
** Attend the counselling process as mentioned in your counselling letter.
** Select your choice college from CCB colleges list which will be provided at the time of counselling.
** Take printout of Allotment Letter of your choice college from CCB and talk to your college director (contact number is given in the Allotment Letter).
** Report to your allotted college with the CCB Allotment Letter and do admission process under scholarship scheme within 5 days of your allotment.
** Inform your admission to CCB scholarship department by calling/whatsup/SMS on mobile number- 6202601616.
Update :
Candidates must download their Counselling Letter on or after 11th June 2020.
How to Apply?
Just follow the below steps to apply for the scholarship online,
Steps :
Step 1 : Visit the official website of Combined Counselling Board India provided above.

Step 2 : Then click on the "Apply Online" link and select your state to apply for Scholarship.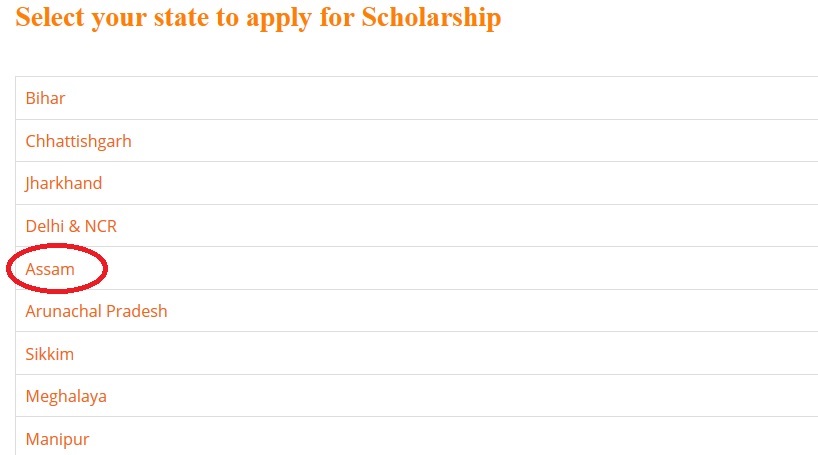 Step 3 : To fill your Application Form enter the following details
Application Form
Candidate's Basic Detail :
Step 1 : Enter your Name
Step 2 : Enter your Father's Name
Step 3 : Enter your Date of Birth
Step 4 : Select your Sex – Male/Female
Step 5 : Select your Cast Category – SC/ST/OBC/General/Minority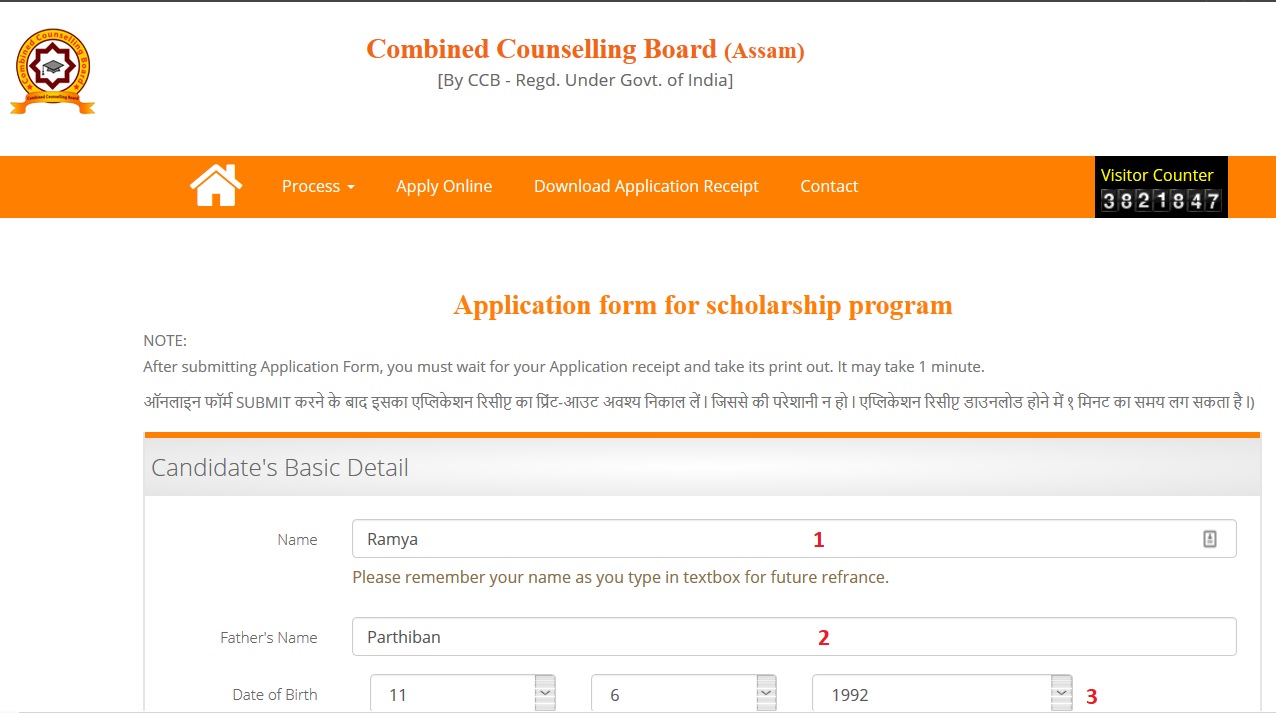 Step 6 : Select your Courses – Please select course for scholarship program. [Note- Maximum 2 course allowed.]
Step 7 : Enter your E-Mail Id

Step 8 : Enter the Candidate Mobile No.
Step 9 : Enter your Guardian Mobile No.
Step 10 : Enter your Whats-app Mobile No.

Previous/Current Education Detail :
* Please fill your qualification detail according to your relevance (you passed 'or' appear).
Step 11 : Enter your Education Qualification
Step 12 : Select your Stream
Step 13 : Select your Board/University
Step 14 : Enter the Passing/Appearing Year
Step 15 : Enter your Marks [in % (Percentage)]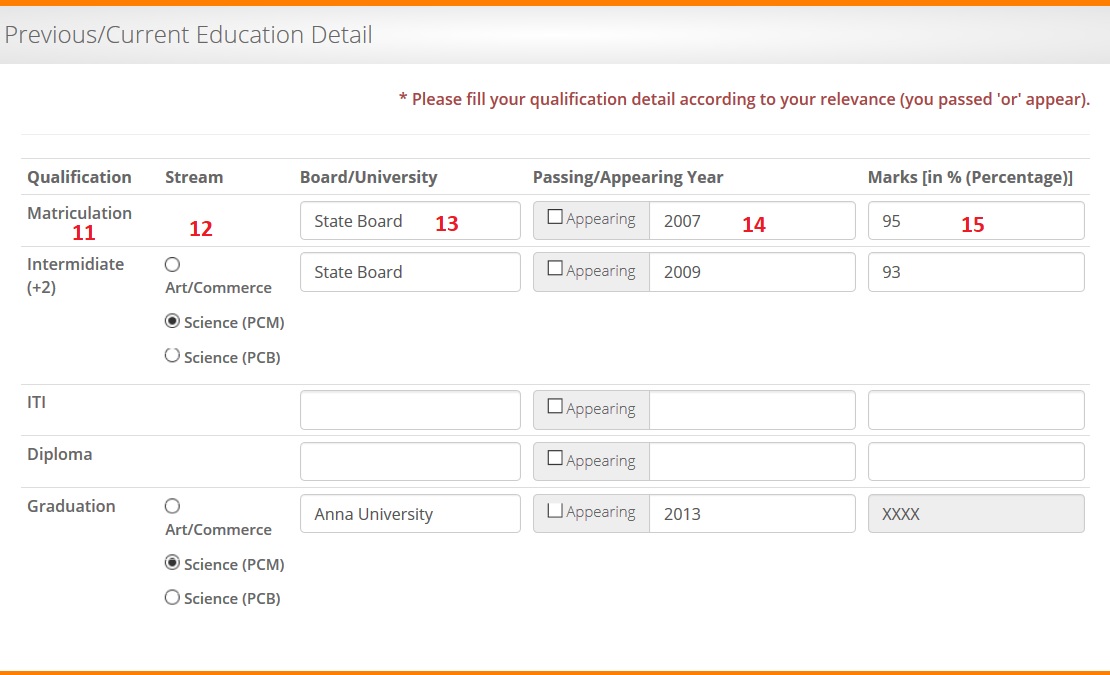 Contact/Address Detail :
Step 16 : Enter your Address
Step 17 : Enter Post
Step 18 : Enter your District
Step 19 : Enter your State
Step 20 : Enter your PinCode
Step 21 : Click Submit Form button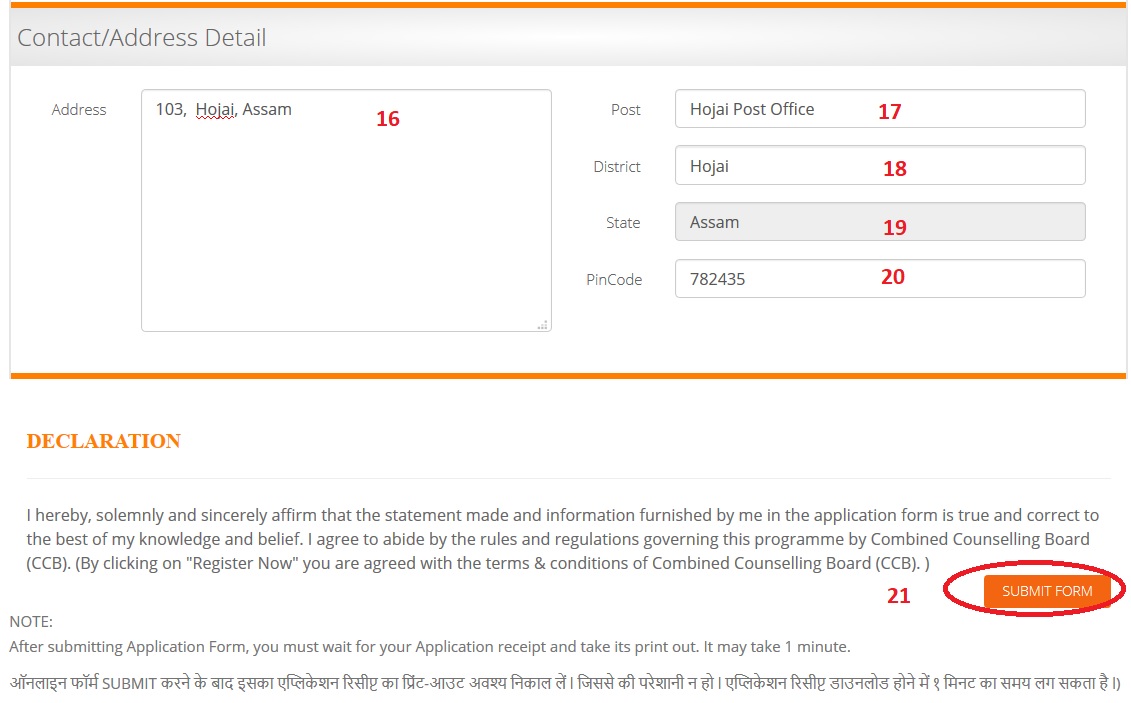 Essential Documents
Candidates must have following documents (Xerox copy) and details at the time of counselling.
** Counselling Letter of CCB.
** Result/Marks sheet of last examination.
** Passport size 2 photographs.
** Adhar card/voter id or school/college id proof.
Documents required at the Time of Admission at college :
** Allotment Letter of CCB
** Migration Certificate/SLC/T.C. (Original).
** Age Proof Certificate (Birth Certificate/Matric/10th Admit Card).
** Marks sheet of last examination.
** Cast certificate (if applicable) from the competent authority.
** Domicile Certificate/ Residential Certificate
** Character certificate in original from the Head of the Institution last attended (Original).
** Passport size 8 photographs
Important Information
** Scholarship Application for 2020 has been started from.
** Candidates must download their Application Receipt after submitting Application Form.
** Candidates must download their Counselling Letter on or after 11th June 2020.
** Beware of scholarship agents as CCB does not appoint any agent.
Helpline No.
| | |
| --- | --- |
| State Name | HelpLine No. |
| Jharkhand | 7369068234, 8580399743 |
| Bihar | 7369068234, 8580399743 |
| Chhattishgarh | 7782880467, 7782031986 |
| Delhi & NCR | 7782880467, 7544953261 |
| Uttar Pradesh | 8877655978, 7563845910 |
| Uttarakhand | 8877655978, 7563845910 |
| Rajasthan | 8877655978, 7563845910 |
| Haryana | 8877655978, 7563845910 |
| Madhya Pradesh | 8877655978, 7563845910 |
| Himachal Pradesh | 8877655978, 7563845910 |
| West Bengal | 8877655978, 7563845910 |
| Karnataka | 8877655978, 7563845910 |
| Kerla | 8521914783, 7544953261 |
| Assam | 8521914783, 7544953261 |
| Arunachal Pradesh | 8521914783, 7544953261 |
| Sikkim | 8521914783, 7544953261 |
| Meghalaya | 8521914783, 7544953261 |
| Manipur | 8521914783, 7544953261 |
| Nagaland | 7782880467, 8809667659 |
| Tripura | 7782880467, 8809667659 |
| Jammu & Kashmir | 7782880467, 8809667659 |
| Andhra Pradesh | 7782880467, 8809667659 |
| Goa | 7782880467, 8809667659 |
| Odisha | 7782880467, 8809667659 |
| Tamilnadu | 7970484533, 6202601616 |
| Telangana | 7970484533, 6202601616 |
| Maharashtra | 7970484533, 6202601616 |
| Gujarat | 7970484533, 6202601616 |
| Andaman & Nicobar | 7970484533, 6202601616 |