crpf.gov.in Merit Scholarship/ Educational Assistance 2018-19 : Central Reserve Police Force
Organisation : Central Reserve Police Force
Scholarship Name : Merit Scholarship/ Educational Assistance 2018-19
Application Deadline : 31/12/2018
Website : https://www.crpf.gov.in/important-notification.htm
You can now ask your question on this scholarship.
Ask here
(OR) Go to the bottom of this page for comments.
CRPF Merit Scholarship
All Zone offices and Adm Sectors may invite applications for Educational Assistance for the year 2018-19 on the basis of marks obtained in academic session 2017-18.
Related : CRPF Grant Of Scholarship Out Of Police Memorial Fund PMF 2018-19 : www.scholarships.net.in/33627.html
Who Can Apply?
Children of personnel who were killed in action and sustained 100% disability during action/duty and boarded out from service are also eligible for Educational Assistance

Application Procedure
Step 1 : Visit the official website.
Step 2 : Download the Application form from the website or you can directly download it from below mentioned link.
Download Application Form :
https://www.scholarships.net.in/uploads/pdf2018/28826-CPRF.pdf
Step 3 : Fill the application form with the required fields.
Step 4 : Completed application form along with the required documents mentioned below should be sent to the Welfare Dte before the last date.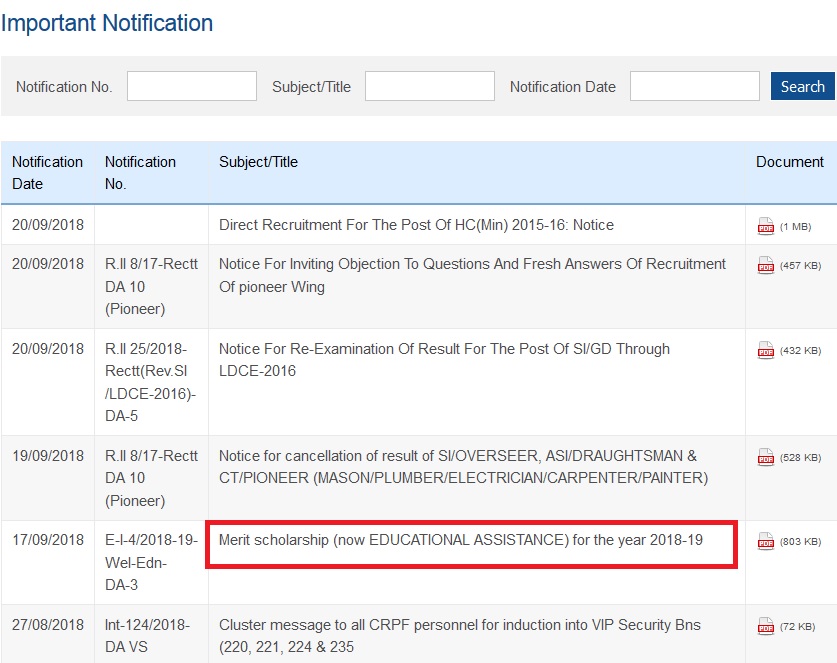 Application Format
1 Force No.
2 Rank
3 Name
4 Range/Unit
5 a) Name of the ward and DOB (Use separate form for separate ward)
b) Brief details of 2nd eligible ward for which application has been preferred separately(Name, DOB, Class & category)
Note : Information at 5(b) is only for use of Range Hqr to cross verify and ensure that the application in r/o two eligible ward is submitted.
6 Last examination passed with division and percentage obtained in year 20………20………. (Mark Sheet of previous year indicating that the ward had passed his examination to be enclosed).
7 Class in which studying during current academic session 20……..20……… for which scholarship is applied.
8 Duration/Name of course (if the ward is studying in professional/Technical Degree/ Diploma courses). Separate certificate may also be attached.
9 Name of Institute/College/School with full address.
10 Certificated of school authority to be enclosed indicating whether the ward is continuing study or not.
11 SBI Account No
12 Remarks
Documents Required
The following documents are required to be submitted for grant of educational assistance
1. Application in prescribed form.
2. Attested mark sheet / Grading certificate of previous years indicating that the ward had passed his examination.
3. Certificate regarding continue studying which is issued by School / College / Institution where ward is studying presently.
4. Certificate showing Degree / Course (in full form), duration of Course / Degree, years etc in case of ward studying / pursuing under Technical category-"A" & Professional category – "B" which is issued by College / Institutions.
5. Certificate showing amount of boarding and lodging charges and duration if the ward is staying in a recognized hostel.
6. Certificate that is issued by Govt. hospital is also required in case of handicapped for scholarship purpose.
Certificate By The Force Personnel :
1. Certified that the particulars furnished by me are correct.
2. Certified that the child for whom scholarship is applied for is not an earning hand.
3. Certified that I will refund the excess or wrong payment of scholarship, if any paid to me.
4. Certified that my wife/husband, if serving in CRPF is not claiming the scholarship for the same ward(s).
5. Certified that I am regular member of Education Fund and subscribing towards the Fund for more than 5 year as on date and also eligible for claiming benefits of the Fund.
6. Certificate from the school is enclosed.
Scholarship Amount
Educational Assistance for college level has been increased from 1500 to 2500 (Arts & Commerce) and 2000 to 3000 (Science) and Children of all deceased force personnel (except martyrs) upto 10 class are also eligible for Educational Assistance at double of the existing rate from the academic year 2017-18.