mscepune.in NMMS 2019-20 : National Means cum Merit Scholarship Exam Maharashtra
Organization : Maharashtra State Council of Examination, Pune (mscepune.in)
Scholarship Name : NMMS 2019-20 National Means cum Merit Scholarship Examination
Applicable For : Class 8th Students
Applicable State : Maharashtra
Exam Date : 3rd December 2019
Website : https://nmms.mscescholarshipexam.in/
You can ask questions or answer questions about this scholarship.
Please go to the bottom of this page.
MSCE Pune NMMS
Maharashtra State Council of Examination, Pune (MSCE Pune ) invites online applications for National Means cum Merit Scholarship Examination(NMMS) for the year 2019-20.
Related / Similar Post :
MSCE Pune NMMS 2019-20 Result
Who Can Apply?
** Students studying in Government, Local Body and Government Aided Schools in Maharashtra in Class VIII.
** Students who secure 55% marks or equivalent Grade for General Category and 50% marks or equivalent Grade for Scheduled Caste / Scheduled Tribe/ Physically Challenged group of children in class VII.
** Students whose parental income is not more than Rs.1,50,000/- per annum from all sources.
How to Apply?
Just follow the below steps to apply for the NMMS 2019-20
Steps :
Step 1 : Go to the official website of MSCE Pune through the URL http://www.mscepune.in/
Step 2 : Then select NMMS tab under "About MAHATET" and click NMMS Online Application Form link.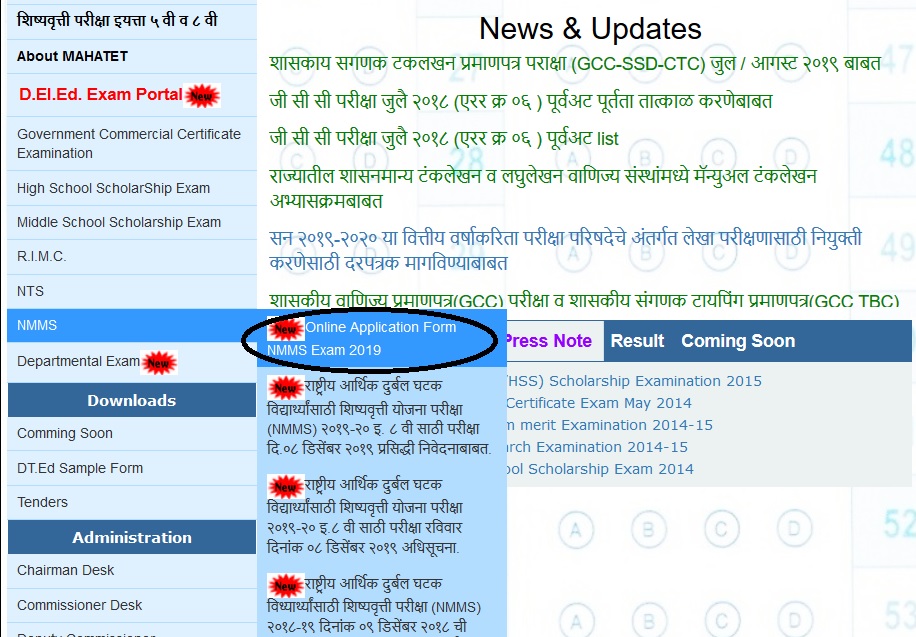 Step 3 : After that, click on the Student Registration link and fill the required details to complete the registration form.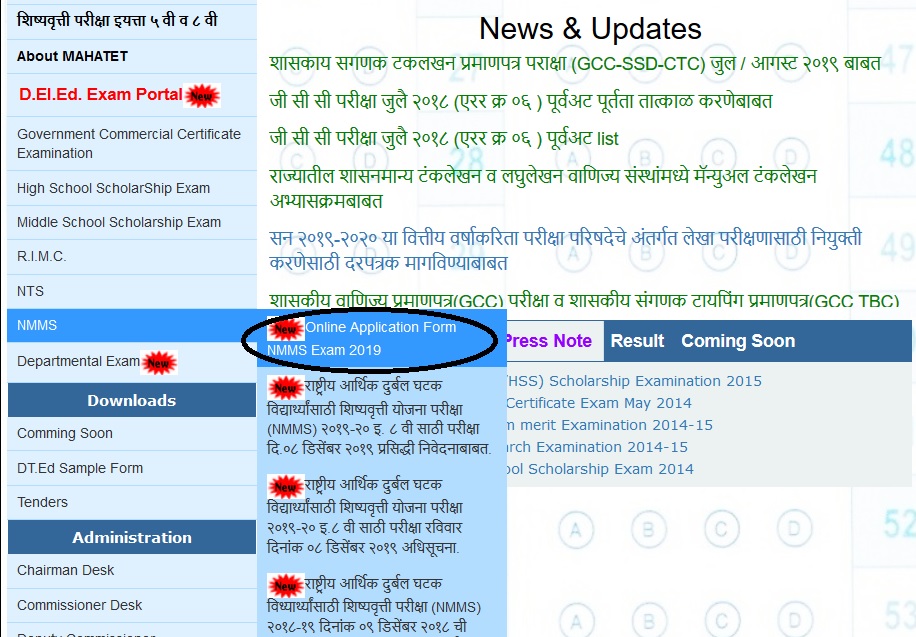 Documents Required
** Two Passport size (School uniform)
** Mark Sheet/ Report Card,
** SC/ST Certificate,
** Disability Status Certificates from Competent Authority and
** Income Certificates are to be submitted to the DSEO/ SDSEO of the respective District/Sub-division.
Notification :
https://www.scholarships.net.in/uploads/pdf2019/28398-NMMS.pdf
Exam Pattern
Each State / UT will conduct its own test for selection of students for the award of the Means-cum-Merit Scholarship.
The State Level Examination may consist of the following two tests
(i) Mental Ability Test (MAT)
(ii) Scholastic Aptitude Test (SAT)
Mental Ability Test :
Mental Ability Test may consist of 90 multiple-choice questions testing verbal and non-verbal meta-cognitive abilities like reasoning and critical thinking. The questions in the test may be on analogy, classification, numerical series, pattern perception, hidden figures etc.
Scholastic Aptitude Test :
Scholastic Aptitude Test may consist of 90 multiple-choice questions covering subjects namely, science, social studies and mathematics as taught in classes VII and VIII.
Instructions
** Reach the Examination Centre at least half an hour before the commencement of the Examination; and occupy the seat that bears your Roll Number.
** DO NOT take Mobile Phones, Calculator, Mathematical or Physical table or any other kind of ready reckoned to the Examination Hall.
** Write your Roll Number, as given in the Admit Card, on the Answer Sheet and on the Cover Page of the Question Booklet in the space provided.
** All questions in the booklets are objective type. For each question, Four possible answers are given, but only one is correct. Your task is to find out the correct answer and mark your choice in the Answer Sheet
** Record your answer-using Ball Point Pen only. Hand over your Question Booklet and Answer Sheets to the Invigilator before you leave the Examination hall.