Inlaks Fellowships For Indian Classical Music 2018 : inlaksfoundation.org
Organization : Inlaks Shivdasani Foundation
Grant Name : Fellowships For Indian Classical Music 2018
Applicable For : Indian Citizen Practicing Vocal Music In Indian Classical Tradition
Applicable States : All India
Application Deadline : October 8th 2018
Website : http://www.inlaksfoundation.org/music/indian-classical-music/
You can now ask your question on this scholarship.
Ask here
(OR) Go to the bottom of this page for comments.
Inlaks Fellowships For Indian Classical Music
Inlaks Shivdasani Foundation invites applications for the selection of Fellowships for Indian Classical Music (Hindustani Raag Sangeet and Carnatic Music) 2018.
Related :
Inlaks Foundation Travel & Research Grant 2018 : www.scholarships.net.in/28289.html

Inlaks Foundation Fine Arts Award 2019 : www.scholarships.net.in/28299.html

Inlaks Foundation Theatre Award 2019 : www.scholarships.net.in/28306.html
This fellowship is intended to help vocal musicians in their formative years to further their creative talent by providing financial assistance.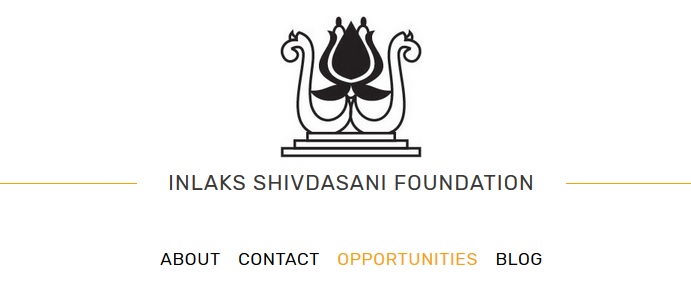 Who Can Apply?
** The applicant for this fellowship must be an Indian citizen, currently resident in India, practicing vocal music in the Indian classical tradition.
** The recipient should not be holding a similar /government scholarship or award during the same tenure.
** He / she should be below the age of 30 years on 31st December in the year of application
Application Procedure
Just follow the below steps to apply for the Inlaks Theatre Award 2019.

Steps :
Step 1 : Go to the official website of Inlaks Shivdasani Foundation through the URL provided above.
Step 2 : Download the Application Form from the official website or you can directly download it from the below mentioned link.
Download Application Form :
https://www.scholarships.net.in/uploads/pdf2018/28313-Form.docx
Step 3 : The Downloaded application form may be filled in by hand or by type and should be emailed to info [AT] inlaksfoundation.org with the following attachments as listed below. The subject line should read as "Indian Classical Music Award 2018".
Required Documents
Attachments To Include Together With This Duly Filled-In Form
1. CV/Resume – PDF
2. Audio/Video to be sent as links on any of the following online platform such as artist website/ vimeo/ youtube/ soundcloud. If links are password protected, please provide the password.
3. Letter Of Acceptance From Your Guru / Guide/ Institution/ Collaborators With Whom You Intend To Work.
4. Evidence Of Birth Date – PAN Card Copy/Aadhar Card Copy/Driving License
About the Award
Applications are invited from young vocal musicians to either
A) Pursue additional training with a musician (vocalist) or instrumentalist, other than one's regular guru) or with artists from other areas of performance.
B) Undertake performance-related research (Including language and poetry) that enriches their own learning or practice.
C) A combination of the above. The award is a sum of Rs.1,20,000/- (Rupees One Lakh Twenty Thousand Only) for a period of one year.
The fellowships could number around 2-3, depending on the merit of the applications received.
Recipients :
2017 :
** Ashok Viswanathan
** Shatavisha Mukherjee
2016 :
** Anjana Rao
** Deepika V
2015 :
** Anagha Bhat
** Siddhartha Jagannath
About Us :
The Inlaks Foundation was established in 1976. The Foundation focuses on providing scholarships, grants and awards in various fields to outstanding young Indians to enable them to develop their professional, scientific, artistic and cultural abilities, both abroad and in India.
Application Deadline
The deadline for receiving applications for these fellowships is October 8th 2018.