GICLM IB & Secondary Scholarship Program 2019-20 : Garodia International Centre for Learning
Organisation : Garodia International Centre for Learning
Scholarship Name : IB & Secondary Scholarship Program 2019-20
Applicable For : 6th to 12th standard students
Applicable State/UT : All over India
Application Deadline : 03 October 2018
Website : http://giclm.edu.in/scholarship-program
You can now ask your question on this scholarship.
Ask here
(OR) Go to the bottom of this page for comments.
GICLM IB & Secondary Scholarship Program
Garodia International Center for Learning Mumbai (GICLM) launches its second IB and Secondary Scholarship Program for July 2019-20.
Related : Doodle 4 Google Contest/ Scholarship 2018 : www.scholarships.net.in/27200.html
Who Can Apply?
** Students from across all accredited Indian boards are eligible to apply
** Applications will be open to current Garodia students and also new applicants to GICLM.
** Candidates are welcomed from all National or International programmes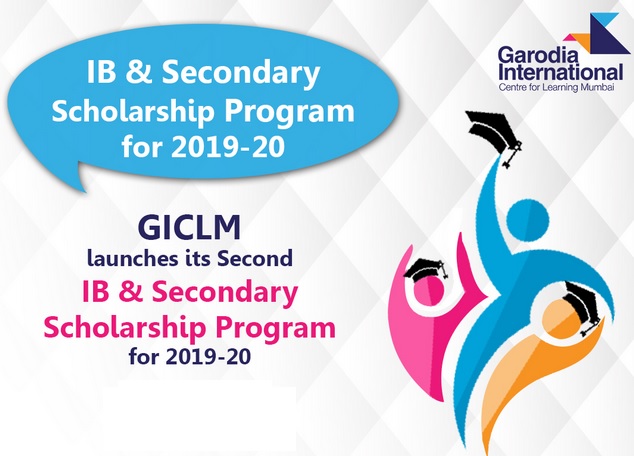 How to Apply?
There are four stages of application procedure. Just follow the below steps to apply for the IB & Secondary Scholarship Program 2019-20.
Stage I
Application by candidates :
Step 1 : Visit the official website provided above
Step 2 : Read the instructions carefully and fill the application form with the required fields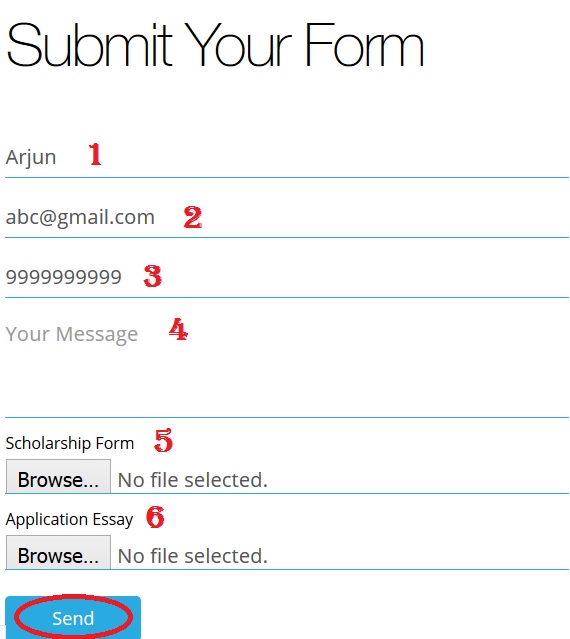 Step 3 : Applications and required scanned documents (PDF) can either be
(i) Uploaded to official website OR
(ii) Handed into Garodia International Centre for Learning, Mumbai. Plot 55, 90 Feet Road, Ghatkopar (E), Mumbai, 400077.
Download Application Form :
https://www.scholarships.net.in/uploads/pdf2018/28284-Form.doc
Note :
All documents should be placed in an envelope with 'Scholarship Application' and candidate name written clearly on the front.
Stage II
Open exam for all applicants : Saturday 06 October 2018.
Maths, English and Science Three papers of one hour duration (The exams will be set at age appropriate levels and accommodate topics applicable to all exam Boards.
There is no specific syllabus to study in preparation) Papers marked and final candidates chosen and invited to Selection Day
Stage III
Final Interview and selection day : Saturday 13 October 2018
The interview panels will consist of the Board, Selection Panel and invited community specialists from education, media and business to add extra insights
Candidates undergo :
a. Group Interview/ task with invited academics/ Board
b. Personal interview with Selection Committee
Stage IV
Announcement of Scholarship winners on Wednesday 17 October 2018
Required Documents
** Completed application form
** Scanned copies of last 2 years of school reports and grades or transcript
** Personal essay 300 words – 'What motivates you'
Application Essay Details :
https://www.scholarships.net.in/uploads/pdf2018/28284-IB.doc
Optional Extra Documents :
** Personal recommendation letter from current teacher or school supporting your application
** Personal recommendation letter from community member (not family member) detailing your contributions outside school
** Personal CV of your achievements and activities
Last Date
The deadline for the application form is on Wednesday 03 October at 4.00pm.
FAQs
1. If I am not an Indian citizen, can I still apply?
All students who are permitted to reside in India are entitled to apply
2. Is there an option of filling the forms offline?
Yes. Hard copies of the form can be picked up from the Garodia International Centre for Learning located at Plot No. 55, 90 Feet Road, Ghatkopar (East) Mumbai – 400077
3. How long is the scholarship valid for?
The scholarship is valid for students from the 6th to the 8th grade, 9th through to 10th grade in IGCSE and for the 11th through to 12th Grade for IB
4. Is it possible to check the status of the scholarship?
There will be no online facility available. The school will keep all applicants informed about their status and about precise arrangements for each stage that they progress to.
Helpdesk
Please contact Ziyanah or Shweta School Admissions Officers at admission [AT] giclm.edu.in OR ziyanah.shaikh [AT] giclm.edu.in OR shweta,joshi [AT] giclm.edu.in OR telephone 022-62277500/+91 8108177377/ 8108166866