SSA SCERT Punjab NTSE National Talent Search Exam 2018-19 : ssapunjab.org/ epunjabschool.gov.in
Organization : Department of School Education SCERT
Scholarship Name : NTSE 2018-19 National Talent Search Examination
Applicable For : Class 10th Students
Applicable State : Punjab
Application Deadline : 30.09.2018
Date of Exam : 04.11.2018
Website : http://www.ssapunjab.org/scert/circulars_scert.html
You can now ask your question on this scholarship.
Ask here
(OR) Go to the bottom of this page for comments.
SSA Punjab NTSE
SCERT Punjab shall be conducting the State Level Talent Search Examination (NTSE Stage 1) for the year 2018-19 on 04.11.2018
Related : SSA SCERT Punjab NMMS National Means-cum-Merit Scholarship 2018-19 : www.scholarships.net.in/28191.html
Who Can Apply?
Students studying in 10th Class in State Govt., KendriyaVidyatyas, NavodayaVidyalyas or any other type of recognized/ affiliated schools, situated in punjab securing minimum 55% marks for (SC/ST/physically challenged students) and 70% marks (for other categories) in 9th class annual examination are eligible.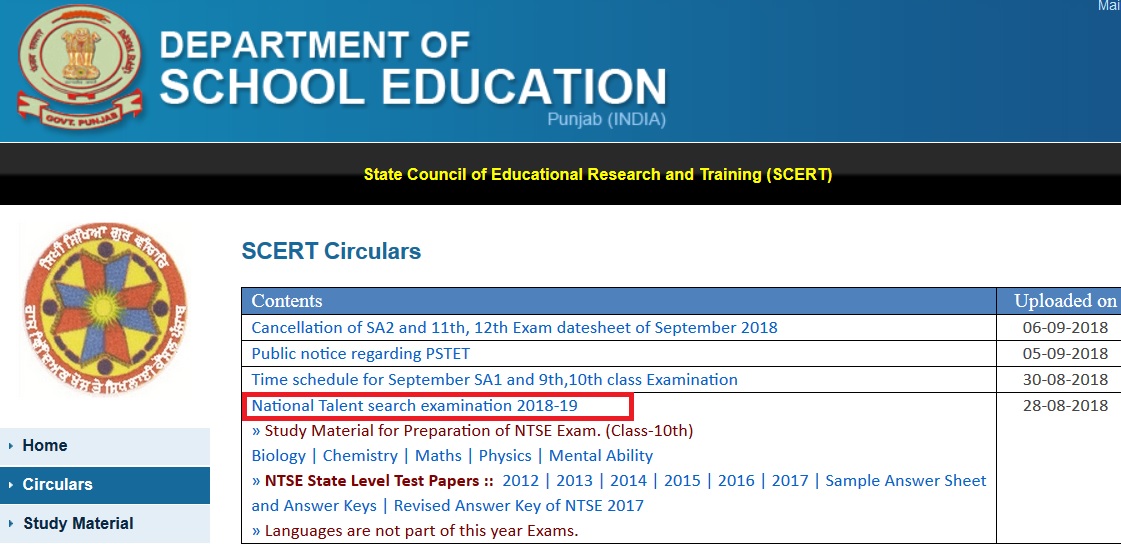 How to Apply?
Admission forms can be filled on school login id at education department portal www.epunjabschool.gov.in from 01-09-2018 to 30-09-2018.

Schools can download Student's admit card from 15-10-2018.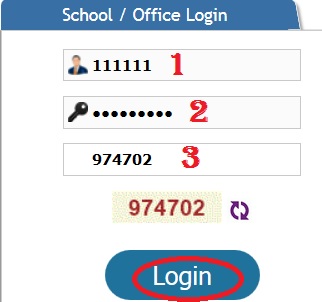 Note :
** SCERT does not charge any fee for stage 1 examination
** Only that category of the candidate will be considered which will be certified by the school head while filling the application form/ Admit card
Exam Pattern
The pattern of written examination will be as follows
| | | | | | |
| --- | --- | --- | --- | --- | --- |
| Paper | Test | No. of Questions | No. of Marks | Duration (in minutes) | Time |
| Paper I | Mental Ability Test (MAT) | 100 | 100 | 120 | 9.30 A.M. to 11.30 A.M. |
| Paper II | Scholastic Aptitude Test (SAT) | 100 | 100 | 120 | 12.00 P.M. to 2.00 P.M. |
So the test will consist of 200 multiple choice questions of one mark each. Under SAT there are eight subjects
1) Physics (13 questions)
2) Chemistry (13 questions)
3) Biology (14 questions)
4) Maths (20 questions)
5) History (11 questions)
6) Geography (11 questions)
7) Civics (10 questions)
8) Economics (8 questions)
Notification :
https://www.scholarships.net.in/uploads/pdf2018/28185-Advt.pdf
Syllabus :
There is no prescribed syllabus for NTSE Stage 1 examination. However the standard of questions shall be conforming to the level of class lX and X.
Scholarship Amount
On the basis of the National Talent Search Examination, (stage-2) 1000 scholarships will be awarded by NCERT New Delhi.
The amount of scholarship will be as under :
(a) Scholarship of Rs.1250/- per month for class-Xl to XII.
(b) Scholarship of Rs.2000/- per month for Undergraduates and post-graduates.
(c) Amount of Scholarship for Ph.D. is fixed in accordance with the UGC norms.
Important Dates
Stage-I (State Level) :
** Last Date for Submission of Application Form – 30.09.2018
** Examination Date – 04-11-2018
Stage-II : (to be conducted by NCERT) (National Level)
Examination Date – 12-05-2019
Type of School /Institution
Government :
A Government school is that which is run by the State Government or Central Government or Public Sector Undertaking or an Autonomous Organization completely financed by the Government.
Local Body :
A Local Body school is that which is run by Panchayati Raj and Local Body institution such as Zilla Parishad, Municipal Corporation, Municipal Committee and Notified Area Authority Committee and Cantonment Board.
Private Aided :
A Private Aided school is that which is run by an individual or a private organization and receives grant from Government or Local Body.
Private Unaided :
A Private Unaided School is that which is managed by an individual or a private organization and does not receive any grant either from Government or Local Body.