svmcm.wbhed.gov.in Swami Vivekananda Merit Cum Means/ Kanyashree K3 Scholarship Application 2019 : West Bengal
You can now ask your doubts / questions.
Please go to the the bottom of this page for comments section.
Organisation : Government of West Bengal Higher Education, Science & Technology and Biotechnology Department
Scholarship Name : Swami Vivekananda Merit Cum Means/ Kanyashree (K3) Application Scholarship 2019
Applicable For : Class XI and XII, UG in Engineering, Medical & Technical / Professional Courses besides UG/PG Students Pursuing General Degree Courses
Applicable State : West Bengal
Application Last Date : 15.11.2019
Website : https://svmcm.wbhed.gov.in/page/application_procedure.php
WBHED SVMCM Kanyashree
Applications are invited for scholarship for the year 2019, under "Swami Vivekananda Merit-Cum-Means Scholarship Scheme and Kanyashree (K3) Application" for providing financial assistance to the poor and meritorious students of West Bengal, pursuing higher studies.
Related / Similar Scholarship :
Eligibility
** Applicants must be domicile of West Bengal and has been continuing education in institutes situated in West Bengal.
** Students at Higher Secondary level, Diploma (Polytechnic) level, Under graduate level, Post graduate level, M. Phil./ Doctoral level as well as Kanyashree (K-2) recipients will get benefit under this scholarship scheme.
** The income criteria for application under the scheme is not more than Rs. 2,50,000/- per annum
How to Apply?
Just follow the below steps to apply for the Swami Vivekananda Merit Cum Means Scholarship Fresh 2019 .
Steps :
Step 1 : Open the home page of e-Governance portal for Swami Vivekananda Merit Cum Means Scholarship through the URL provided above.
Step 2 : Then click on Registration option on the right side of the menu and read the Instructions carefully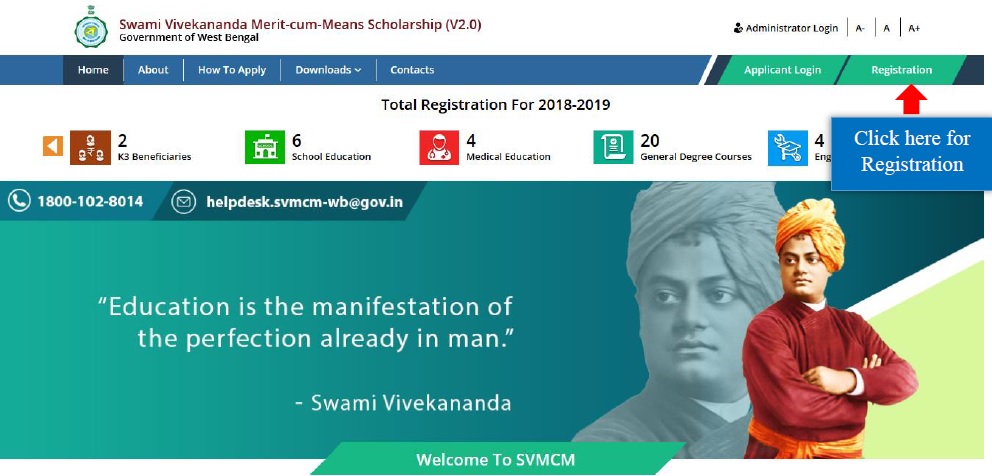 Step 3 : After that click on the checkbox to agree terms and then Proceed for Registration
Step 4 : Choose appropriate Directorate and then click on Apply for Fresh application.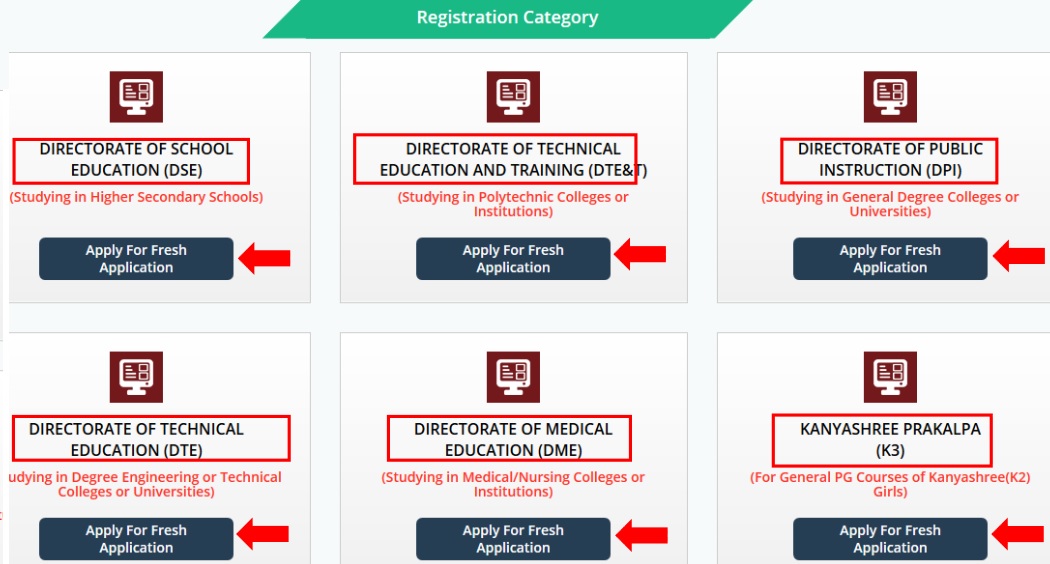 Step 5 : For Fresh Application, fill up the Registration form and then Click on Register button.
Step 6 : After successful registration, an Applicant Id will be generated and the same will be sent to the registered email id.

Step 7 : Now click on Applicant Login option and Enter the Applicant Id, Password, Security Code then click on the Login button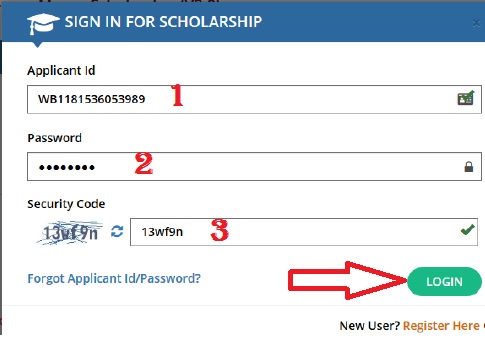 Step 8 : After successful login, Dashboard of the concerned applicant will be appeared. Click on Edit Profile or Edit Application to continue the application process.
Step 9 : First fill up the Basic Details form and then click on Save & Continue button. In the Basic Details form, applicants only have to upload the image and signature as the other fields are already filled up during the time of the registration
Step 10 : After successful submission of Basic Details form, Personal Details form will be appeared. Fill up the form and then click on Save & Continue button
Step 11 : Upload all the necessary documents as required and then click on Submit Application button. The uploading of Income Certificate is not needed for K3 applicants.
Step 12 : After successful submission of the Application, a success message regarding the submission will be displayed. Applicants may download the Application details by clicking on the Download Application Details button. Click on Finalize Application button to finalize the application
Step 13 : After finalization, a page will be appeared for uploading the Verification Certificate of Head of Institution. At first, click on Download Head of the Institution Verification Certificate button to download the certificate.
Step 14 : Then get the certificate attested with Signature and Official Seal of Head of the Institution concerned. After that upload the scanned copy of the attested certificate and click on Final Submission of Scholarship Application button for final submission of the application
User Manual :
https://www.scholarships.net.in/uploads/pdf2018/28094-SV.pdf
Note :
Obtained Marks, Total Marks and Obtained Percentage of applicants from Qualifying Examination Board of WBBSE or WBCHSE will be filled up automatically.
Change Password
To change Profile Password, Click on Reset Password option under Setting tab in Menu area. First enter the Existing Password, then New Password for confirmation and Captcha. Click on Update Password button.

Documents Required
i. Mark sheet of Madhyamik Examination or its equivalent (Both sides)
ii. Mark sheet of last Board/Council/University/College examination (Both sides)
iii. Income certificate of family (Not Applicable for Kanyashree)
iv. Domicile certificate as Aadhaar ID/Voter ID/Ration card/Certificate Issued by concerned authority
v. Scanned copy of Bank Passbook (1st Page, containing A/C No. and IFSC)
Technical Helpdesk
Please contact us for further queries and consequent operational support via Helpdesk for user support.
** Support mail id – helpdesk.svmcm-wb [AT] gov.in
** Toll free help line no – 1800 102 8014 (11 AM to 4 PM except Sundays)