svmcm.wbhed.gov.in : Kanyashree K3 2020-21 Swami Vivekananda Merit Cum Means Scholarship V3.0 West Bengal
You can now ask your doubts / questions.
Please go to the the bottom of this page for comments section.
Organisation : Government of West Bengal
Scholarship Name : SVMCM V3.0 Swami Vivekananda Merit Cum Means Scholarship 2020-2021
Applicable For : Class XI and XII, UG, PG Students
Applicable States/UTs : West Bengal
Application Starts From : 07th October 2020
Website : https://svmcm.wbhed.gov.in/
WBHED SVMCM Scholarship
With a view to assisting the meritorious students belonging to economically backward families in the State of West Bengal to pursue higher studies, the Government of West Bengal introduces this scheme of giving scholarships at different levels of higher studies, at educational institutions based in West Bengal.

The Swami Vivekananda Merit Cum Means Scholarship Scheme has been thoroughly revamped in the year 2016 to cover more number of students as well as to enhance the scholarship amounts significantly..
Eligibility
** The scheme benefits students studying in regular mode of Class XI and XII, and at under Graduate level in Science/Arts/Commerce, Engineering, Medical and Technical / Professional courses. Post Graduate level students pursuing Science/Arts/Commerce & Technical/Management .
** These scholarships will be sanctioned to deserving students on merit-cum-means criteria.
** Students should pass in the year 2020 or 2019 (unable to get admission in the year 2019 due to unavoidable reason)
** Students pursuing M.Phil courses and Doctoral courses (NON-NET JUNIOR RESEARCH FELLOW and NET-LECTURERSHIP) from State-aided Institutions will come under the purview of this Scholarship Scheme.
** Kanyashree recipients (K-2) pursuing Post Graduate courses in Science, Arts and Commerce stream from Universities of this State after obtaining Under Graduate Degree with 45% marks in aggregate from Institutions of this State will come under the aegis of this Scholarship Scheme.
** The upper ceiling for family income has been fixed at Rs.2,50,000/- per annum.
** As the payment will be made by direct beneficiary transfer only, furnishing of Bank details of the applicant, i.e. A/C No., Bank Name, IFS Code of Bank is mandatory.
** There will be no need to submit hard copy of the application.
** Candidates opting for these scholarships and found eligible, will not be allowed to enjoy any other governmental (central/state) scholarship or stipend for the same course/stage of study.
How To Apply?
Steps to be followed to apply online
Step 1:
Online Registration:
At first applicants need to fill up and submit the online registration form. On successful submission of the Registration Form, an Applicant ID of 15 characters will be generated and it will be used to login and complete the remaining Steps of the Application Form.
The Applicant Id also required for all future correspondences.Please maintain the Password Policy, for choosing the Password in the Registration Form, as instructed. Please download the Registration Slip or note down the system generated Applicant ID for future use. The Applicant ID will also be sent to the mail id, entered at the time of registration.
Please enter valid mobile no and email id as an OTP will be sent to during the registration process for verification of the mobile no and also sms and email will be sent after completion of registration and submission of application.
Note:
Eligibility criteria for application in Swami Vivekananda Merit cum Means Scholarship 2020 are mentioned in detail advertisement and also in the About section, available under Downloads menu and About menu respectively.
If Applicants forget their Applicant ID or Password, they can retrieve the same using Forgot Applicant ID/Password option from Applicant Login option.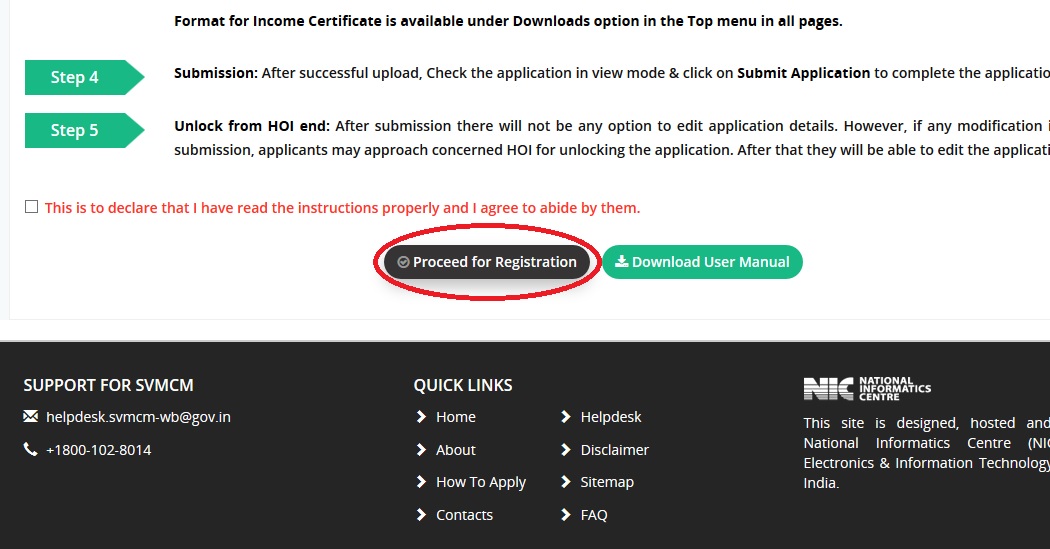 Step 2:
Online Application: Login with the generated Applicant ID, Password (which was set during Registration Process) and Captcha (Security Code). After successful login, fill up rest of the application forms.
While uploading Scanned Copy of Image and Signature, please maintain File Format and File Size as mentioned. Image and Signature format should be JPG/JPEG and size should be in between 20KB-50KB and 10KB-20KB respectively.
Step 3:
Upload Documents: After successful submission of application forms, Scanned Supporting Document Upload form will be appeared. Upload all necessary documents as mentioned in the form. While uploading, please maintain the File format and File size, as mentioned. Files should be in PDF format and size should not exceed 400KB.
In the upload documents form, select the Competent Authority (BDO/SDO/Jt. BDO / BLRO (Panchayat Area), Executive Officer / Finance Officer / Education Officer in case of municipality, Commissioner / Dy. Com / Municipal secretary in case of Corporation Area, G.R-A Gazetted Officer) whom the Income Certificate is issued from.
Documents to be uploaded for Fresh Application:
i. Mark sheet of Madhyamik Examination or its equivalent (Both sides)
ii. Mark sheet of last Board/Council/University/College examination (Both sides)
ii. Admission receipt
iii. Income certificate of family (Not Applicable for Kanyashree)
iv. Domicile certificate as Aadhaar ID/Voter ID/Ration card/Certificate Issued by concerned authority
v. Scanned copy of Bank Passbook (1st Page, containing A/C No. and IFSC)
Documents to be uploaded for Renewal Application:
i. Copy of the Marksheet of the last examination in the present course of study. (Both sides and in case of semester examination system, both semester Marksheets).
ii. Admission receipt for the promotion to the next higher class
Format for Income Certificate is available under Downloads option in the Top menu in all pages.
Step 4:
Submission: After successful upload, Check the application in view mode & click on Submit Application to complete the application process.
Step 5:
Unlock from HOI end: After submission there will not be any option to edit application details. However, if any modification is needed after submission, applicants may approach concerned HOI for unlocking the application. After that they will be able to edit the application details.
Contact
Email : helpdesk.svmcm-wb@gov.in
Call : +1800-102-8014