scert.kerala.gov.in NTSE State Level National Talent Search Examination 2019-20
Organization : State Council of Educational Research and Training (SCERT)
Scholarship Name : NTSE 2019-20 State-Level National Talent Search Examination
Applicable For : Class Xth Students
Applicable State : Kerala
Last Date : 30.09.2019
Exam Date : 17-11-2019
Website : http://www.scert.kerala.gov.in/index.php?option=com_content&view=article&id=112&Itemid=44
You can ask questions or answer questions about this scholarship.
Please go to the bottom of this page.
SCERT Kerala NTSE
The State Council of Educational Research and Training (SCERT), Kerala is organising the State-level National Talent Search Examination for the students of Class X on 04 November, 2019.
Related / Similar Post :
Scert Kerala Hall Ticket NTSE/ NMMS 2019-20
Eligibility
** Only those pupils who are studying in Class X during this academic year (2019 – 20) in any Government/Aided/Recognised schools/Kendriya Vidyalaya/ Navodaya Vidyalaya in Kerala are eligible to apply for the State-level NTS Examination.
** Students registered under Open Distance Learning (ODL) will also be eligible for scholarship provided the student is below the age of 18 years and is appearing in Class X examination for the first time.
** Pupils who have secured not less than 55% marks for all non-language subjects in the qualifying examination of class IX of 2017-18 will be admitted for the examination.
How To Apply?
Pupils are directed to apply Online. Read the following instructions carefully
Steps :
Step 1 : Open the website of SCERT Kerala and Click NTSE link under Scholarship Exam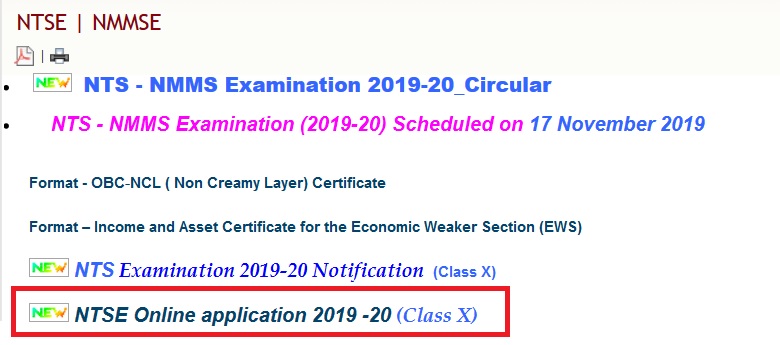 Step 2 : Click on the link NTSE Online Application 2019-20
Step 3 : Enter the required details and Press submit button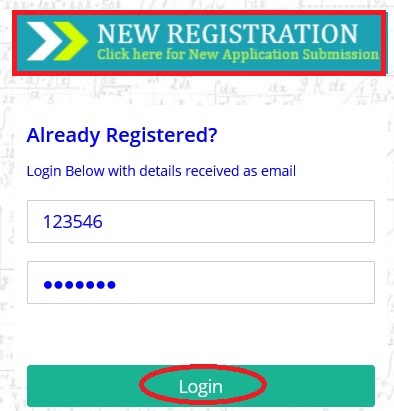 Step 4 : Click on the options for remittance of the fee (Credit card/Debit card, Internet banking/SBI Branch – challan mode)
Step 5 : Payment can be done through Credit/Debit card or Internet Banking or challan
Step 6 : If challan mode of payment is selected, download the challan, get a printout and remit the fee in any SBI Branch
Step 7 : After remitting fee you will get a SB collect reference number starting with DU………… For internet banking also you will get the same
Step 8 : You can complete the filling up of application only using this SB collect reference number starting with DU………….
Step 9 : The NTSE application will be open again 12 hours after the payment of the fee either online or at the bank counter
Step 10 : Click on NTSE application with the SB collect reference number starting with DU……..to upload the application form
Note :
Do not apply online more than one time. If correction is necessary click 'Online Application Editing.' Then enter your Application ID and Application Number and do the necessary corrections.
Step 11 : Only after entering necessary corrections confirm your Application. After confirmation further editing is not possible. Only after confirmation click submit and get the hardcopy of your online Application.
Step 12 : The hard copy of the online application of the following category of students should be accompanied by
a. Those belonging SC/ST/BPL categories should send the attested photocopy of the caste certificate /BPL certificate as proof.
b. Physically challenged candidates must produce the attested copy of medical certificate from the competent authority stating that the candidate suffers from 40% or more disability as per the PWD Act 1995.
Step 13 : The Principal /HM should ensure that all the relevant certificates/documents are enclosed along with Application form.
Step 14 : The hard copy of the Online Application along with relevant certificates/documents shall be sent by post to the following address after obtaining the declaration/signature from the applicant as well as the Principal/ HM with seal before the last date.
The Liaison Officer
The State Level NTS Examination
SCERT, Poojappura, Thiruvananthapuram – 12
Note :
The candidates are advised to keep a photo copy of the Hard copy of the Online application. They have to enter their Application ID and Application Number to get the Hall ticket from SCERT Website.
Notification :
https://www.scholarships.net.in/uploads/pdf2019/26639-Advt.pdf
Exam Pattern
The test will be conducted in Two Parts of 90 minutes duration each.
SAT :
Part I – Scholastic Aptitude Test (SAT) comprises of 100 objective type questions from Social science, Science subjects and Mathematics.
MAT :
Part II consists of Mental Ability Test (MAT) and Language Comprehension Test. There will be 50 questions in Mental Ability Test and 50 questions in Language Comprehension Test (50 questions in Malayalam Language and 50 questions in English Language). Candidates can choose either Malayalam or English for Language Comprehension Test.
Note :
Marks scored for Language Comprehension Test will not be considered for ranking. But candidates must score a minimum of 40% marks in Language Comprehension Test.
Exam Fee :
General Category is Rs.250/-
SC/ST/ BPL Category is Rs.100/-
Helpline
If you have any queries please contact, 0471-2346113/ 9746079606 or email to ntsescertkerala [AT] gmail.com