svmcm.wbhed.gov.in Renewal 2016 : Swami Vivekananda Merit Cum Means Scholarship West Bengal
You can now ask your doubts / questions.
Please go to the the bottom of this page for comments section.
Organisation : Government of West Bengal Higher Education, Science & Technology and Biotechnology Department
Service Name : Online Renewal Application 2016
Scholarship Name : Swami Vivekananda Merit Cum Means Scholarship
Applicable State : West Bengal
Application Last Date : 31st July 2018
Website : https://svmcm.wbhed.gov.in/index.php
SVMCM WBHED Scholarship Renewal
The SVMCM portal invites Online Renewal Applications (first renewal) for the Fresh Candidates who received SVMCM Scholarship after passing the qualifying examination in the year 2016.
Related :
Swami Vivekananda Merit Cum Means/ Kanyashree K3 Scholarship Application West Bengal 2019 : www.scholarships.net.in/28094.html
Renewal Procedure
For renewal of scholarship, application must be submitted online to the concerned scholarship sanctioning authority within one month from the date of his/her admission in the next higher class due to promotion by passing in the first attempt. (In case of Semester mode-All Semester Examinations need to be cleared in the first attempt).
Renewal cases (concentrated only at a particular level of study) will be sanctioned subject to good academic performance (Minimum 60% marks should be obtained from Higher Secondary Level to Undergraduate Level at the promotional examination) and 50% marks at Post Graduate Level).
How to Apply?
Just follow the below steps to apply for the Swami Vivekananda Merit Cum Means Scholarship Online Renewal Application 2016.
Steps :
Step 1 : Go to the official website of Swami Vivekananda Merit Cum Means Scholarship West Bengal website through the URL provided above.

Step 2 : Then Login with the generated Applicant ID, Password (which was given during Registration Process) and Captcha (Security Code).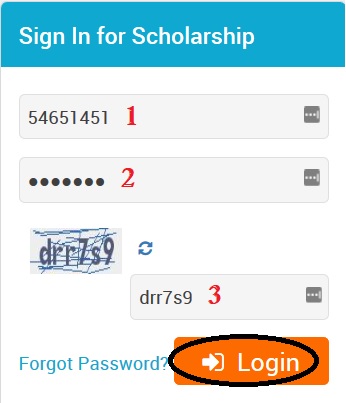 Step 3 : Fill up rest of the application forms, i.e. Basic Details, Personal Details.


Step 4 : Image and Signature format should be JPG/JPEG and size should be in between 20KB-50KB and 10KB-20KB respectively.
Note :
1. For Renewal of existing beneficiaries, Bank A/C Number of previous year is required for authentication.
2. Successful authentication process will lead to subsequent Registration form.
3. Candidates will receive the system generated Applicant ID and chosen Password to fill up the detail application process.
Forgot Password
You have to follow the below steps to recover your Password,
Step 1 : Enter Your Applicant Id [54651451]
Step 2 : Enter Your Email Id [abc@gmail.com]
Step 3 : Enter the Captcha – Type the code as shown in the image.
Step 4 : Click on the Submit button.

Documents Required
i. Copy of the Marksheet of the last examination in the present course of study (Both sides and in case of semester examination system, year wise semester Mark sheets)
ii. Admission receipt for the promotion to the next higher class
iii. 1st page of the Bank Passbook and the leaf of the Passbook in which the credited Scholarship amount of last year has been shown
Final Submission
** After finalizing the application, download the Verification Certificate which contains two pages. First page is the Applicant Copy and second page is the HOI(Head of the Institution) Copy.
** After verification and signed by HOI, applicant will scan his copy and upload this in the application portal to complete the application process. HOI will retain his copy.
Last Date
Last date for Renewal Application for the year 2016 is 31st July 2018.
Helpdesk
For further queries, contact us via our support helpdesk.
Support mail id – helpdesk.svmcm-wb AT gov.in
Toll free help line no – 1800 102 8014 (11 AM to 4 PM except Sundays)