Rangoonwala Utkarsh Youth Development Scholarship 2018-19 : Foundation India Trust
Organization : Rangoonwala Foundation (India) Trust
Scholarship Name : Utkarsh Youth Development Scholarship 2018-19
Applicable For : Mumbai based students
Application Last Date : 07-Sep-2018
Website : http://www.rangoonwala.org/index.html
You can ask questions or answer questions about this scholarship.
Please go to the bottom of this page.
Rangoonwala Utkarsh Scholarship
Rangoonwala Foundation (India) Trust invites applications for Utkarsh Youth Development Scholarship Programme for the year 2018-19.
Related / Similar Scholarship : KCMET MAITS 2018
Who Can Apply?
** Mumbai based students who fulfill the percentage criteria*
** Where fees of Commerce and Arts stream courses are above Rs. 15,000/- per year.
** Where fees of Science stream courses are above Rs. 20,000/- per year.

How to Apply?
Just follow the below steps to Apply for the Utkarsh Youth Development Scholarship Programme 2018-19.
Steps :
Step 1 : Students have to come to RF(I)T office in person for profiling and Get the application.
Step 2 : Fill the applications carefully with the required details.
Step 3 : Submit the Application form to RF(I)T office before the Last date.
Note : After the Last Date the applications will be rejected.
Which courses are supported by RF(I)T?
** Professional courses after HSC (Engineering, Medicine, IT etc.)
** Diplomas will be considered ONLY if there are no degree courses available for that particular professional course.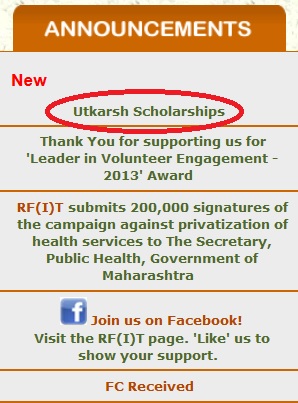 ** Post graduation degree and diploma.
** Foreign studies will not be considered for scholarship support.
Percentage Criteria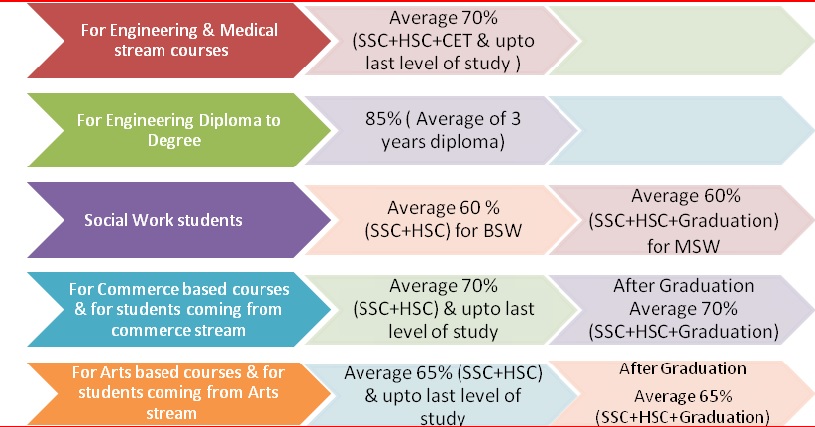 Important Dates
** Date of Form Issue – 06-Aug-2018 to 31-Aug-2018
** Date of Form Receipt – 07-Aug-2018 to 07-Sep-2018
Note :
1. Office will remain closed on 11,12,15,19,25,26, August, 2018 & September 02, 2018.
2. Applications will be issued & received between 2 pm and 5 pm
3. Contribution – Rs. 200/-
Instructions
** Institutions and courses should be recognized and affiliated to established universities/govt.
** RF(I)T's contribution will be made as reimbursement of fees paid, with noting on original fee receipt submitted.
** Students coming in the second year onwards or later should have to fulfill the above criteria and should not have any ATKT.
** 10 days of volunteering, as specified by RF(I)T is a mandatory requirement along with other Terms and Conditions of Utkarsh Youth Development Programme.
** NEET cut offs will be considered for medical & allied streams
Note : RF(I)T's Management reserves the right to change the scholarship criteria and norms without prior information
About Us :
RF(I)T has been inspired by the late Mr. M.A. Rangoonwala – Philanthropist, Educationist, Believer in Equal Opportunities for All. He founded the Rangoonwala Foundation, headquartered in the United Kingdom. The Rangoonwala family continues his legacy through development programmes in different countries, under the Chairmanship of Mr. Asif Rangoonwala.
Notification :
https://www.scholarships.net.in/uploads/pdf2018/25153-Notice.pdf
RF(I)T works on the premise of empowerment through development initiatives, regardless of race, color, gender and religion. We aim to create facilities as well as facilitate processes that build capacities of marginalized urban and rural communities gearing them towards long term sustainability and socio-economic self-reliance.
Contact Us :
Public Charitable Trust
Reg.No.: E-20860 (Mumbai)
Tel: 022- 66612553/63; 66321978;
Email: assist [AT] rangoonwala.org;
Office Address :
85, Atlanta,
Nariman Point,
Mumbai-21.