KCMET MAITS Mahindra All India Talent Scholarship 2018
Organization : K. C. Mahindra Education Trust
Scholarship Name : MAITS 2018 Mahindra All India Talent Scholarship
Applicable For : 10th/12th Passed Students
Applicable States/UTs : All Over India
Website : https://www.kcmet.org/what-we-do-Scholarship-Grants.aspx
You can now ask your question on this scholarship.
Ask here
(OR) Go to the bottom of this page for comments.
KCMET MAITS
Mahindra All India Talent Scholarship (MAITS) Applications open now. This scholarship has been set up to specifically empower students from the disadvantaged sections of our society.
Update : KCMET MAITS Mahindra All India Talent Scholarship Rajasthan 2019 : www.scholarships.net.in/31457.html
It is given to students belonging to lower income group families who wish to pursue a job oriented diploma course at a recognized Government Polytechnic.
Eligibility Criteria
To be eligible for this scholarship, the students should have passed 10th / 12th Standard or equivalent examinations and have secured admission in a government or any other recognized Polytechnic Institute for Diploma Courses in India.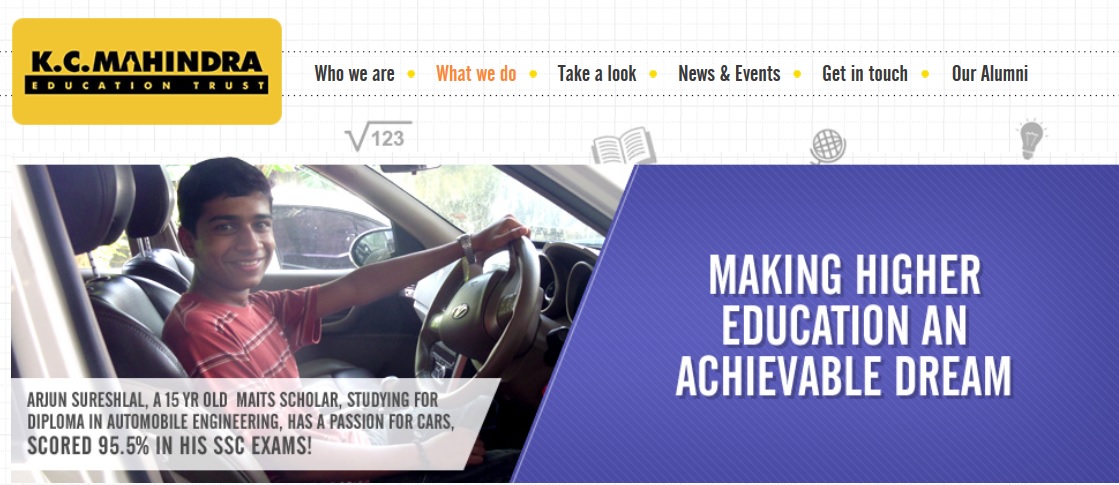 Note : 2nd year and 3rd year students not eligible to apply
How to Apply?
Just follow the below steps to apply for the Mahindra All India Talent Scholarship 2018.
Step 1 : Go to the official website of K. C. Mahindra Education Trust through the URL https://www.kcmet.org/index.aspx
Step 2 : Download the Application form from the official website or you can directly download it from the below mentioned PDF link.
Application Form :
https://www.scholarships.net.in/uploads/pdf2018/25035-MAITS.pdf
Step 3 : Fill the Application Form with the required details and attach the Enclosures.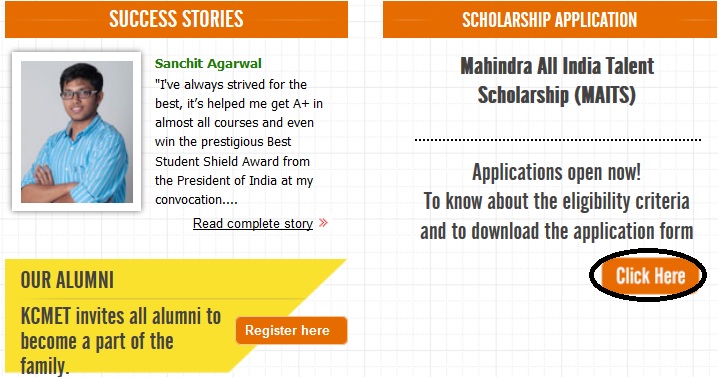 Enclosures
1. Testimonial (Recommendation letter) from any one of the two referees (teacher/employer) mentioned above.
2. A short statement as to your general aptitude and interest, the type of vocation you would like to pursue and your ambitions and aspirations in life.
3. Attested copy of Certificate of Date of Birth as recorded in your School Certificate.*
4. Attested copy of Mark Sheets and Certificates of examinations passed.*
5. Attested copy of Letter from Institution where admission has been secured.*
* Candidates who have not secured admission will not be called for the final interview. Therefore candidates should submit a copy of the admission letter as soon as they secure admission.
6. Family Income certificate copy.
7. Self-attested copy of first page of passbook or canceled cheque.
8. Aadhaar Copy. (Mandatory).
Note :
Only students who have a bank account can apply for this scholarship.
Scholarship Details
Majority of the awardees are girl students, as the Trust is keen in supporting girls and encouraging them to be qualified and subsequently reduce their vulnerability to exploitation and improve their standard of living.
In 2005, the Mahindra Group decided to double the number of scholarships given to 550 every year. From the academic year 2012-13, each individual through this scholarship gets awarded Rs. 10,000 per annum for a maximum period of three years.
About KCMET :
The K. C. Mahindra Education Trust has also established several awards and scholarships for the academia. To build trust and further encourage teachers the Trust has set up the following
** The K. C. Mahindra Chair for Nuclear Chemistry at the Institute of Science in Mumbai and the Dhandevi Mahindra Scholarship Award at Sophia College, Mumbai.
** The Kema Grants established in 1997 provides financial grants and scholarships to faculty members and staff of educational institutions.
Student Helpdesk
For queries on the Mahindra All India Talent Scholarship (MAITS) for diploma studies, contact Mr. P. V. Ramchandran on RAMCHANDRAN.P2 [AT] mahindra.com.