Nathani Charitable Trust New Education Scholarship Form 2018-19 : nathanitrust.org
Organisation : Nathani Charitable Trust (NCT)
Scholarship Name : New Education Scholarship 2018-19 Financial Aid From Zakat Fund
Applicable State/UTs : All India
Applicable For : Students who seek admission in professional courses
Website : http://www.nathanitrust.org/es-eligibility-criteria.htm
You can now ask your question on this scholarship.
Ask here
(OR) Go to the bottom of this page for comments.
NCT New Education Scholarship
Nathani Charitable Trust invites applications for New Education Scholarship Financial Aid for Education from Zakat fund 2018-2019.
Related : Nathani Charitable Trust Continued Education Scholarship 2018-19 : www.scholarships.net.in/25026.html
The financial aid for Education is provided from ZAKAT FUND especially economically backward & underprivileged students from the community who seek admission in higher professional courses or educational institutions.

Eligibility
** Only full time Government recognized professional courses conducted by a statutory body such as University, Board, Director of Technical Education, AICTE etc will be considered.
** Students falling under GENERAL category will be supported from Std. IX on wards. Only children of Widow/Divorcee./Orphan/Separated/Deserted or child of disabled deserving parent will be supported from Nursery on wards.

** Applications of such students shall not be considered who intends to/are pursuing their degree courses from cities other than their hometown when such courses can be pursued in their home city. They are not entitled for any help from the trust.
How to Apply?
Just follow the below steps to apply for the New Education Scholarship 2018-19
Step 1 : Go to the official website of Nathani Charitable Trust through the URL provided above.
Step 2 : Download the Application Form from the official website or you can directly download it from below mentioned link.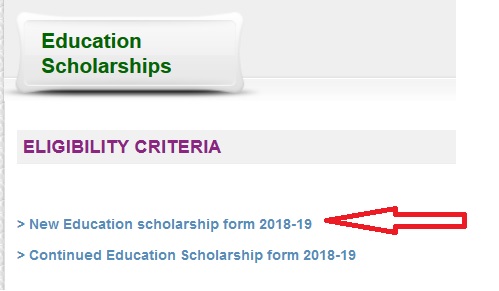 Application Form :
https://www.scholarships.net.in/uploads/pdf2018/25015-New.pdf
Step 3 : Read the instructions carefully before applying and fill the Application Form with the required fields.
Step 4 : Please send the application form by POST to the following address
Nathani Charitable Trust
(Administrative office)
2nd Floor, Cecil Court, Near Regal Cinema,
Mahakavi Bhushan Road, Colaba,
Mumbai – 400 039.
India.
E-Mail : info [AT] nathanitrust.org
Telephone : 022-6122 6122
Time : 10:30 am-1:30 pm. 2:30- 5:30 pm (Monday to Friday)
Note :
** Application Form should be filled in ENGLISH Only.
** Application Form should be filled in BLOCK LETTERS
** Applicant should write in the boxes
** Applicant should write neat handwriting using Ball Pen only
** Incomplete Form will not be considered
** Applicant should AFFIX his/her LATEST PHOTOGRAPH
** No Double Form should be filled and sent by an Applicant
Documents Required
1. Duly filled & signed/thumb impression application form (compulsory)
2. Additional two passport size recent photographs of the student with the name written behind it
3. Attested copies of past three annual examination mark sheet/ result copies for school level and for college level SSC and HSC (compulsory for new student)
4. Latest electricity bill
5. Proof of address first & last page of Ration card, or Telephone bill, or Voting Identity Card or Leave & License agreement or Rent receipt/Bill or Aadhaar card.
6. Divorce certificate/Divorce deed in case of divorcee, Death certificate of husband in case of widow is compulsory Medical certificate if husband medically ill e.g. dialysis, hearth problem, paralysis, cancer or any other threatening diseases.
7. Proof of Income – Salary certificate or Govt. approved Income certificate or Pay Slip or certificate from family doctor or Local Medical Social Worker (MSW)or Medical Officers of Primary Health Centre (PHC) or Community Health Centre (CHC) regarding the family income (Compulsory- applicable according to their nature of work)
8. Letter from School/College/Institute with break-up of fees (In original). Tuition fees will only be paid for std XI and XII Coaching Classes. Original fees structure of Tuition/Coaching classes should be given on the original letter head of the classes.
In additional we require coaching class's Head/In-charge name with landline number/contact number/mobile number, address of Tuition/Coaching classes' stamp of tuition classes/email address.
9. Proof of admission/selection in course for which scholarship is applied for/ bonafied certificate
10. Copies of certificates of academic, co-curricular & extracurricular activities
11. Copy of bank pass book –first page (name, bank a/c no, & address details)
Important Guidelines
** Acceptance of the application form does not GUARANTEE AID.
** Incomplete applications will not be accepted. Double form sent by an applicant will be rejected.
** Our representative(s) will survey the authenticity of application and if any information provided is found suppressed/ false or improper then application form will be rejected and no future application would be accepted.
** Decision of our committee regarding acceptance or rejection of application will remain final and no correspondence or clarification will be provided.
** Non Zakat case will be considered based on availability of funds.
** The student will be given scholarship on the basis of Aptitude, Intelligence quotient (IQ), Interest, Personality test also known as psychometric test results.
** Please note that Aptitude, Intelligence Quotient (IQ), Interest, Personality test is to guide the student for best career option. Aptitude testing does not Guarantee of Scholarship.
** If a scholar gives up the selected course of study before its completion, or change the course of study, or even in case the student is expelled from the institution on disciplinary or academic grounds, the scholarship will be cancelled.
** Nathani Charitable Trust (NCT) believes that after the basic professional (i.e. Engineering /Medical) degree a person is capable of earning very decent amount.
Hence he/she is not eligible to receive NCT scholarship; however there are some exceptional cases where if the student is found super meritorious and found eligible through NCT criteria's such students are encouraged for further studies.