MOE Singapore SIA Youth Scholarship For Indian Students 2019 : Ministry of Education
Organization : Ministry of Education Singapore
Scholarship Name : SIA Youth Scholarship 2019
Applicable For : 10th Standard Completed Students in the Year 2018
Applicable States : All India
Application Deadline : 29-07-2018 (Date Extended)
Test & Interview City : Delhi
Website : https://www.moe.gov.sg/admissions/scholarships/sia
You can now ask your question on this scholarship.
Ask here
(OR) Go to the bottom of this page for comments.
MOE Singapore SIA Youth Scholarship
Ministry of Education Singapore invites the applications for SIA Youth Scholarship for the Academic Year 2019. The application period is from 18 June 2018 (7.30 am India Time) to 29 July 2018 (7.30 pm India Time).
Related : MOE Singapore A*STAR Youth Scholarship 2018-19 : www.scholarships.net.in/25078.html
The Scholarship is for 2 years of Pre-University studies in selected Singapore Junior Colleges and is renewed annually, subject to the satisfactory performance of the scholar.
Eligibility Criteria
If you meet the following criteria, you are invited to apply for the scholarship
** Nationals of India
** Born between 2000 and 2002
** Completed Standard 10 in the Year 2018
** Possess outstanding academic track record (at least an average of 85% / minimum 'A' with English as first language in the Standard 10 State/National examinations)
Test & Interview Dates
The tentative dates of tests, interviews and key activities (which are subject to changes) are
| | |
| --- | --- |
| Activity | Date |
| Application Period | 18 June 2018 to 29 July 2018 |
| Selection Test and Interview | Early October 2018 |
| Award of Scholarship | Early November 2018 |
| Arrival of Scholar in Singapore | End January 2019 |
You will be notified at least 1 week in advance if you are short-listed for the selection test / interview. We regret that only short-listed candidates will be notified.
Application Procedures
Just follow the below steps to apply for the SIA Youth Scholarship 2019.
Step 1 : Go to the official website of Ministry of Education Singapore provided above.
Step 2 : Read the instructions carefully and Click on the Apply Now button at the end of the page.
Apply Online : https://isams.sg/azs/index.do?schmCat=INDIA
Step 3 : If you have already created an account, please login with your Email Address and Password.

Step 4 : New User need to create an account before you can apply for a scholarship. To create an account, please click on Register button.
Step 5 : Select your scholarship and Click Continue button
Step 6 : Please fill in your personal particulars and Click Register button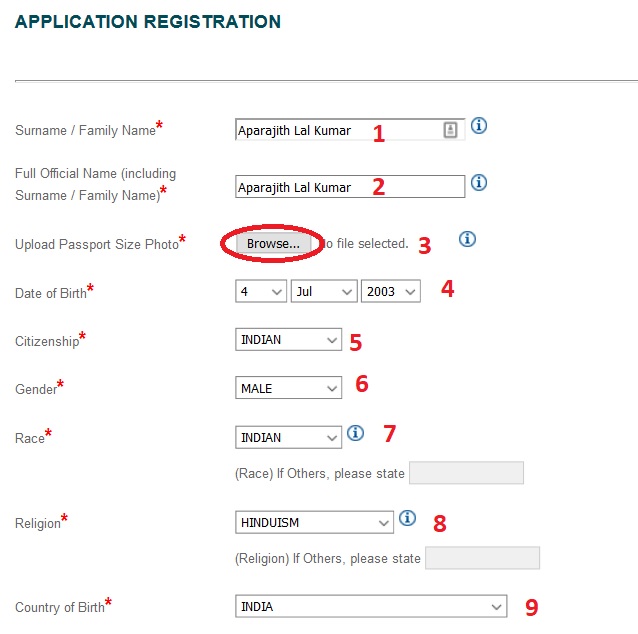 Benefits
** Annual allowance with hostel accommodation
** Settling-in allowance
** Return economy class air passage
** Coverage of school fees
** Coverage of GCE A Level examination fees (once only)
** Subsidised medical benefits and accident insurance cover
Frequently Asked Questions
1. Can I save the information I have entered and continue filling in the online application form the next time I login?
Yes. Click on the 'Save' button located at the bottom of each section to save the information entered for that particular section.
2. Is there a time limit given to complete the online application form?
You will be automatically logged out should you fail to click on the 'Save' button at the bottom of each page within 30 minutes.
3. What is the format of the photograph I need to upload?
The photograph should be a passport-sized one which was taken recently and satisfies these criteria
** either JPG or GIF format
** size no more than 60kB and
** a maximum resolution of 150 pixels X 200 pixels.
4. Can I make any amendments or changes to my application after submitting the online form?
No amendments or changes can be made to submitted applications. Please ensure that all information you have provided in your application is correct before submission.
5. How do I know that my online application form has been submitted successfully?
If your online application form has been successfully submitted after you have clicked on the 'Confirm and Submit' button, you will be directed to an Acknowledgement Page indicating your application number.
An acknowledgement email containing your application number will also be sent to your email address.
Helpline
If you encounter difficulties during the application process, you may refer to the Frequently Asked Questions or contact our customer service centre at +65 6872 2220.