SS Janakalyan Trust Davangere Press Scholarship For Media Person 2019 : ssjanakalyantrust.org
You can ask questions or answer questions about this scholarship.
Please go to the bottom of this page.
Organisation : Dr. Shamanur Shivashankarappa Janakalyana Trust
Scholarship Name : Davangere Press Scholarship 2019
Applicable For : Media Persons & Photographers Children
Applicable District : Davangere, Karnataka
Application Last Date : 31-08-2019
Website : http://ssjanakalyantrust.org/davangere-media-person.html
SS Janakalyan Trust Press Scholarship
SS Janakalyan Trust is inviting applications for Press Scholarship for Media Persons & Photographers Children 2019.
Related : Dr. Shamanur Shivashankarappa Janakalyana Trust Scholarship Program 2019 : www.scholarships.net.in/24647.html
Eligibility
1. Son/Daughter of Media persons or Media photographers of Davangere District only
2. Studying in any School or College
3. Students must have ADHAAR
4. Students should have BANK ACCOUNT NUMBER in any of the core banking facility branch, selected students will receive the scholarship amount to their bank account directly.
How to Apply?
Just follow the below steps to apply for the Davangere Press Scholarship 2019.
Step 1 : Go to the official website of Dr. Shamanur Shivashankarappa Janakalyana Trust Davangere through the URL provided above.
Step 2 : Then, read the scholarship terms & conditions carefully and Click Apply Now button at the end of the page.

Step 3 : Enter your Personal information, Previous Education details, Present Education details and Bank Details
** Enter the Name of the student* [ANANYA]
** Enter your Aadhaar Number* [812345679000]
** Enter your Date of Birth* [09/04/1998]
** Select your Gender* – Male/Female
** Enter your Father / Guardian Name* [JOSEPH]
** Enter your Name of the Press [AR Press]
** Enter your Address line1 * [123/A, HALBARGA, BRHAMPUR]
** Enter your Address line2 * [KALABURAGI, KARNATAKA]
** Enter your Pin Code * [585101]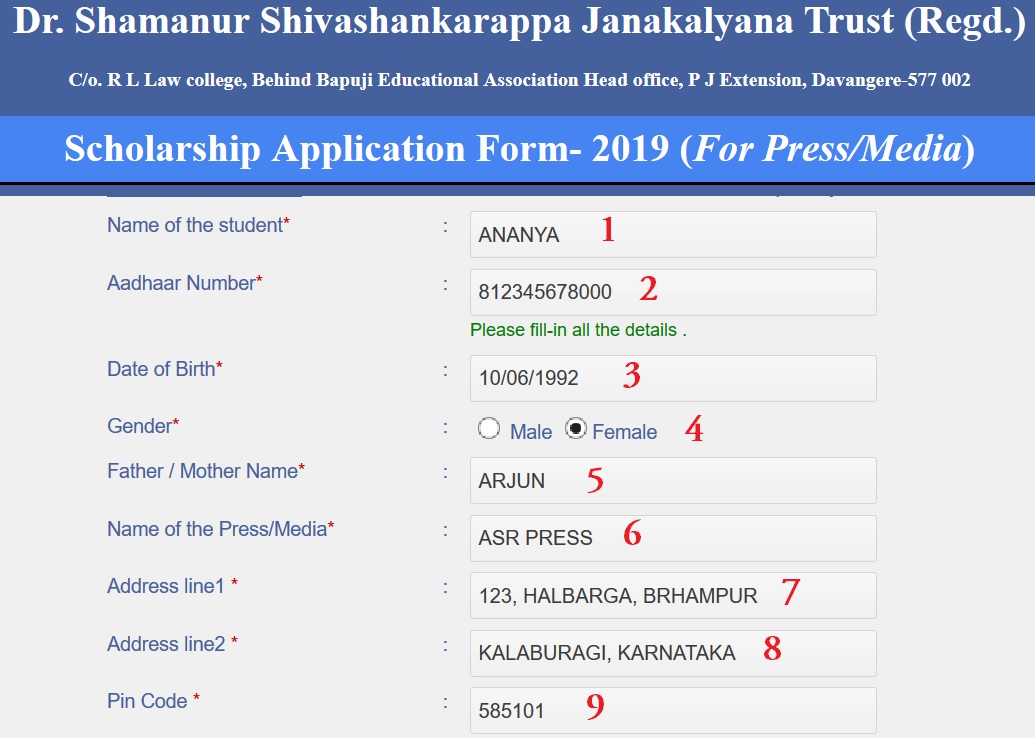 ** Enter your District* [KALABURAGI]
** Enter your State* [KARNATAKA ]
** Enter your Contact Number [9876543210]
** Enter your E-mail Address * [ananya123@gmail.com]
** Enter your Nationality* [INDIAN]
** Enter your Caste [SC]
** Enter your Annual Family Income* [75000]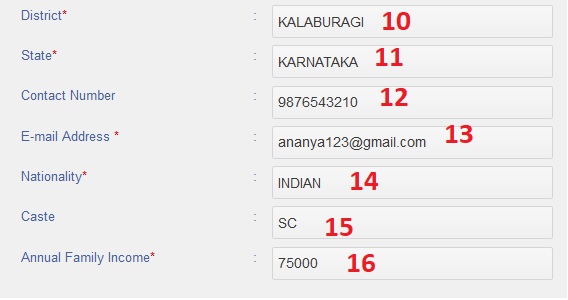 Step 4 : Finally accept the declarations and Click on the Submit button to complete your Application.

Step 5 : After pressing SUBMIT button applicant will get filled application in PDF format along with the application number printed on it.
Step 6 : Take a print out of the application affix passport size photo on the application and get signature from your school/college Principal/Director/Head of the Institution by way of verification and attestation of the photograph and all the Information contained therei
Note :
You should write "SCHOLARSHIP APPLICATION FOR THE CHILDRENS OF MEDIA PERSONS AND MEDIA PHOTOGRAPHERS OF DAVANGERE DISTRICT" on top of the cover/envelop of the application before submitting hard copy in office.
If you don't write on the cover, your application will be considered in general category
ADDRESS for sending the applications :
The Secretary
Dr. Shamanur Shivashankarappa Janakalyan Trust
C/o. R L Law College,
Behind Bapuji Educational Association Head office
P J Extension, Davangere-577002,
Karnataka. INDIA
Search Application
To Search your Saved Applications please enter the following details,
Step 1 : Enter your Aadhaar number
Step 2 : Enter your Date of Birth
Step 3 : Click Get PDF button
Documents To Be Attached
The completed application should be submitted personally along with the following documents to the address mentioned below.
1. Affix recent passport size photo,
2. SSLC/10th, PUC/12th marks card
3. Previous year/semesters marks card if studying UG or PG
4. Student Father/Mother Identity card issued by Editor of Media or Accreditation card Issued by Department of Information Government of Karnataka.
5. Copy of school or college Admission receipt/fee receipt
6. Copy of Student Identity card if issued by the school or college
7. Copy of Student Bank account passbook showing student photo and account number and IFSC Code.
8. Copy of ADHAAR card
Important Dates
** Online Application Starts From 01-07-2019
** Last Date For Online Application 31-08-2019
** Last Date For Sending Hard Copy 31-08-2019
Contact Us :
Any issues and queries related to the online application send e-mail to drssjkt [AT] gmail.com