Dr. Shamanur Shivashankarappa Janakalyana Trust Scholarship Program 2019 : ssjanakalyantrust.org
Organisation : Dr. Shamanur Shivashankarappa Janakalyana Trust Davangere
Scholarship Name : Trust's Scholarship Program 2019
Applicable State : Karnataka
Application Last Date : 31-08-2019
Website : http://ssjanakalyantrust.org/
SS Janakalyan Trust Scholarship Program
Dr. Shamanur Shivashankarappa Janakalyana Trust Davangere invites application for Trust's Scholarship Program 2019. The Application Process Starts From 01-07-2019.
Related : SS Janakalyan Trust Davangere Press Scholarship For Media Person 2019 : www.scholarships.net.in/24661.html
The Trust's Scholarship Program is currently focused on assisting students for their professional courses in Engineering, Technology, Management, Law, Nursing, Medicine and Dental sciences.

Who Can Apply?
1. Residents of Karnataka
2. Refer the below table for cut off % for different courses
3. Students whose entire family income from all sources is less than Rs. One lac (100000) per year shall be eligible to apply.
4. Scholarship shall be discontinued after the student passes from the course.
5. Only those who study in reputed colleges on regular basis, affiliated to university of repute are eligible to apply.
6. Those who study through correspondence or in Part time colleges are not eligible to apply.
7. All the applications will be scrutinized thoroughly, economically weaker and meritorious students will be awarded with scholarship
8. Students must have bank account number in any of the core banking facility branch
9. Students must have ADHAAR number.
Cut Off Marks
Sl. No.

Courses

Cut off %

1
PUC , MBBS
90% 

(For e.g. If student is studying PUC his/her 10th/SSLC score should be More than 90%)

2
DIPLOMA, BSC, BCOM, BE, BVSC
85%

(For e.g. If student is studying BSC his/her PUC score should be More than 85%)

3
BCA, BBM/BBA, BA, BDS, BPHARMA, MA, MSC, MCOM, B.Ed.
80% 

( For e.g. If student is studying BDS his/her PUC score should be More than 80%)

4
CA, MCA, MBA,MPHIL, MPED, MTECH
75%

(For e.g. If student is studying MBA his/her DEGREE score should be More than 75%)
How to Apply?
Just follow the below steps to apply for the Scholarship Program 2019.
Step 1 : Go to the official website of Dr. Shamanur Shivashankarappa Janakalyana Trust Davangere through the URL provided above.
Step 2 : Then, read the scholarship terms & conditions carefully and Click Apply Now button at the end of the page.

Step 3 : Enter your Personal information, Previous Education details, Present Education details and Bank Details
** Enter the Name of the student* [ARUN]
** Enter your Aadhaar Number* [897654321000]
** Enter your Date of Birth* [05/07/2000]
** Select your Gender* – Male/Female
** Enter your Father / Guardian Name* [KUMAR]
** Enter your Father / Guardian Occupation* [TEACHER]
** Enter your Address line1 * [11, NAALUR, ]
** Enter your Address line2 * [KARNATAKA ]
** Enter your Pin Code * [577424]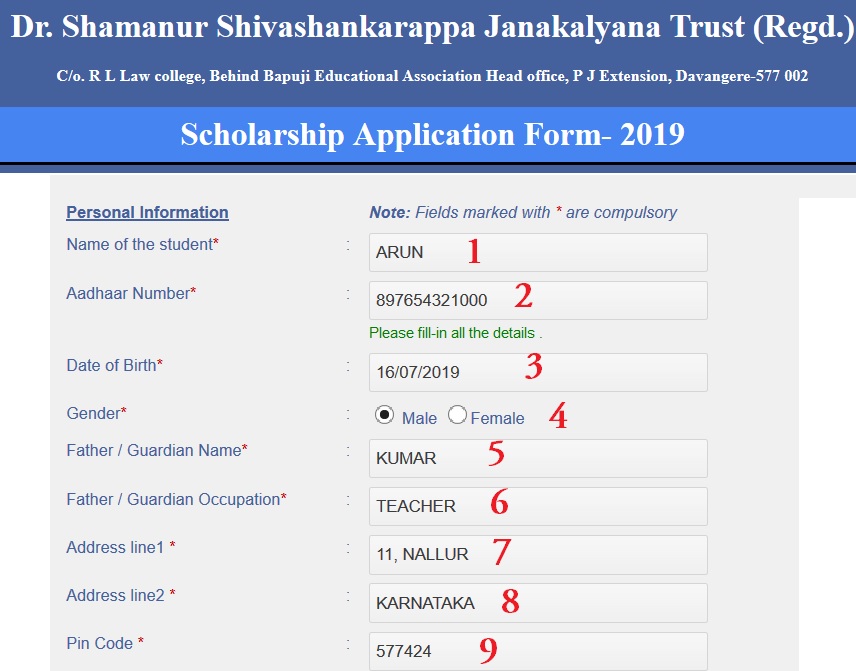 ** Enter your District* [NAALUR]
** Enter your State* [KARNATAKA ]
** Enter your Contact Number [NAALUR]
** Enter your E-mail Address * [abc@gmail.com]
** Enter your Nationality* [INDIAN]
** Enter your Caste [SC]
** Enter your Annual Family Income* [80000]
** Enter your Income Certificate RD. No. [471526]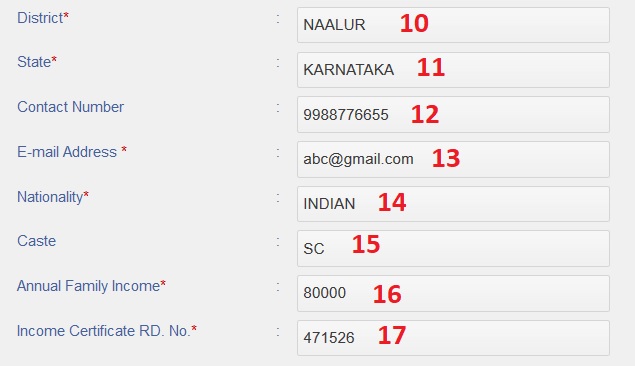 Step 4 : Finally accept the declarations and Click on the Submit button to complete your Application.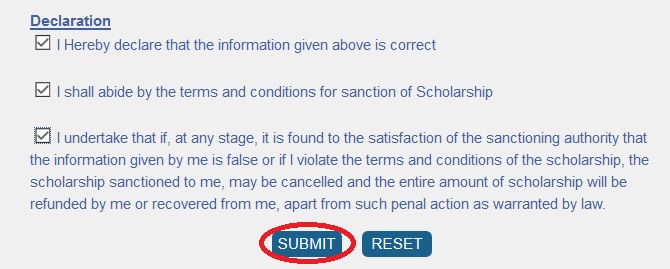 Step 5 : After pressing SUBMIT button applicant will get filled application in PDF format along with the application number printed on it.
Step 6 : Take a print out of the application affix passport size photo on the application and get signature from your college Principal/Director/Head of the Institution by way of verification and attestation of the photograph and all the Information contained therein.
Step 7 : You can Edit, reprint or view your submitted application by entering your Adhaar number and Date of Birth in the box given in the online application link within last date of applying online.
Address for sending filled in applications :
The Secretary
Dr. Shamanur Shivashankarappa Janakalyan Trust
C/o. R L Law College,
Behind Bapuji Educational Association Head office
P J Extension, Davangere-577002,
Karnataka. INDIA
Documents To Be Attached
The applicant should send the printed application along with the following documents to the address mentioned below by courier or by post or personally.
1. Attach Passport size photo on the Printed application
2. SSLC/10th, PUC/12th marks card Etc.
3. Previous year/previous semesters marks card if studying UG or PG
4. Income certificate with family income from all sources less than one lac (Rs.100000) per year
5. Copy of Admission receipt/fee receipt
6. Copy of Identity card if issued by the Institution
7. Copy of Student Bank account passbook showing student photo and account number and IFSC Code
8. Copy of ADHAAR card.
Disbursement Of Scholarships
The scholarship applications will be scrutinized by the expert members. Applicants with top merit and from economically weaker section will be awarded scholarship
** The scholarship amount shall be disbursed to the Bank Account number of the student provided in the application form. If the student has given account number of his parents, friends or relatives then application will be rejected.
** If a student leaves or discontinue the course from the institution, it shall be his/her duty and the duty of the Principal/Head of the Institution to send intimation to trust.
Last Date
1. The last date for applying online application is 31-08-2019
2. Last date for sending the printed application along with all the documents is 10-09-2019
Note : Any issues and queries related to the online application send e-mail to drssjkt [AT] gmail.com