gokdom.kar.nic.in Incentive For IIT, IIM, NIT & IISc Students Karnataka 2019-20 : Directorate of Minorities
Organisation : Karnataka Directorate of Minorities
Scholarship Name : Incentive For IIT, IIM, NIT & IISc Students 2019-20
Applicable For : IIT, IIIT, NIT, IIM, IISER, AIIMS, NLU, INI & IUSLA Students
Applicable State : Karnataka
Website : https://gokdom.kar.nic.in/
You can now ask your question on this scholarship.
Ask here
(OR) Go to the bottom of this page for comments.
GOKDOM Incentive For IIT, IIM, NIT & IISc Students
Applications are invited from students belonging to Minority Communities who are pursuing higher education in below mentioned Institutes to avail one time incentive of Rs.2 Lakh for full course duration.
Related : GOKDOM National Overseas Scholarship Karnataka 2019-20 : www.scholarships.net.in/36684.html
Who Can Apply?
1) Student should be studying in any one of the IITs, IIMs, NITs, IIITs, NLUs, IISERs, AIIMs, NLUs other Institutes of National Importance and Institutes Under State Legislature Act.

2) Students should be a domicile of state of Karnataka.
3) Student should belong to Minority Community (Muslim, Christian, Jain, Buddhist, Sikh & Parsi)
4) Students annual family Income should be less than Rs.6 Lakhs
5) One time incentive of Rs. 2 lakh for full course duration will be given to selected students.
6) Student must have cleared all previous examination without any backlogs.
Eligible Institute
The following institutes are eligible to applt for the incentive.
** Indian Institutes of Technology (IITs)
** Indian Institute of Information Technology (IIITs)
** National Institutes of Technology (NITs)
** Indian Institute of Management (IIMs)
** Indian Institute of Science Education & Research (IISERs)
** All India Institute of Medical Sciences (AIIMS)
** All National Law University Schools (NLU)
** Institute of National Importance (INIs)
** Institute under State Legislature Act (IuSLAs)
How to Apply?
Just follow the below steps to apply for the Incentive For IIT, IIM, NIT & IISc Students
Step 1 : Go to the official website of Karnataka Directorate of Minorities through the URL provided above.
Step 2 : Then click 'Incentive for students pursuing graduation in IITs, NITs, IIMs, IIITs, AIIMS, IISERs, NLUs, IISc,INIs & IuSLAs Notification 2019-20' link under the Latest News section.
Step 3 : Student must Registrar online before submitting offline application form along with required document.
Online Application
If you want to apply online click on the Online Registration link in the notification
Step 4 : To fill out this form, you must be signed in. Enter your email address and Password for Sign in
Step 5 : After that, Enter your Email id and read the instructions carefully.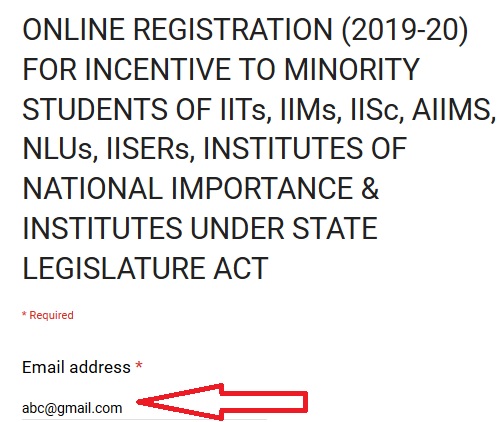 Step 6 : Accept the terms & conditions and Click Next button.

Step 7 : Fill the form with your personal details
1. Enter the Student's Name in Block Letters [ANANYA]
2. Enter your Date of Birth in the format of MM/DD/YYYY* [06/02/1993]
3. Select your Gender * [Male/Female]
4. Enter your Place of Birth * [Bengaluru]
5. Enter your Village/Town * [Bengaluru]
6. Select your District * [Bangalore Urban]
7. Enter your State * [Karnataka]
8. Enter your Pin Code * [560001]
Step 8 : Next, Enter your Candidates Bank Details, Academic Details, Graduation Details to be Filled By Students Pursuing UG, PG & Other Higher Courses and Post Graduation/ Other Higher Education Details.
Step 9 : Finally accept the declaration and Click on the Submit button to complete your registration.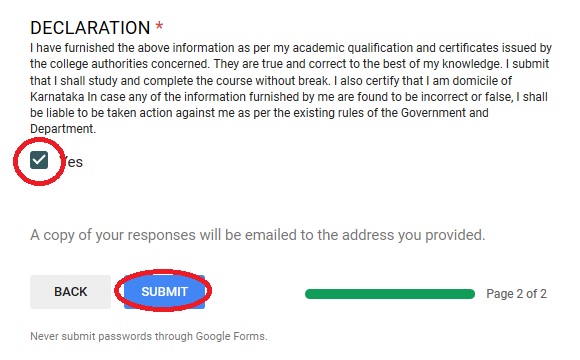 Offline Application
Step 10 : To apply in Offline method, download the Application Form from the official website or you can directly download it from the below mentioned link.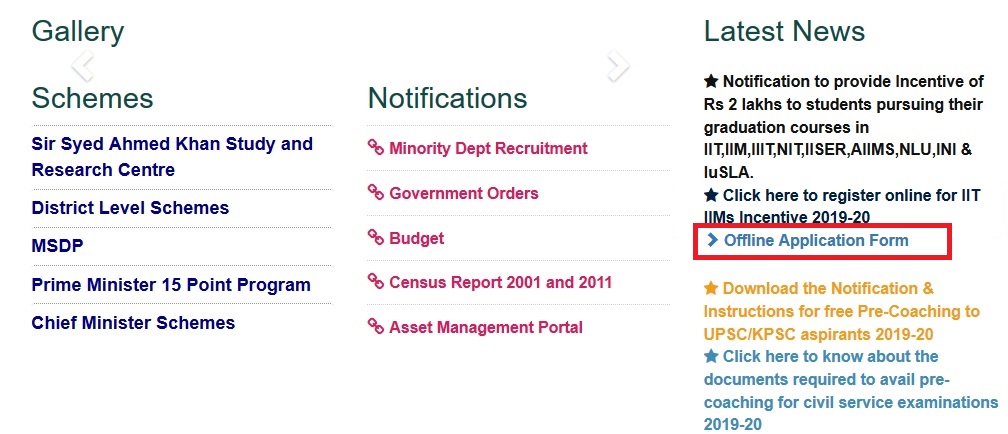 Step 11 : Next Fill This Application Form Carefully And Legibly with the required details in Block Letters Only.
Application Form 2019-20 :
https://www.scholarships.net.in/uploads/pdf2019/24548-Form.pdf
How to Submit?
After successful online registration the candidates must download OFFLINE APPLICATION FORM from the official website. Duly filled Application Form along with required documents must be submitted to
Directorate of Minorities
20th Floor, V.V.Towers,
Dr. B.R.Ambedkar Veedhi,
Bangalore-560 001
Documents Required
Self Attested Copy Of Following Documents To Be Submitted Along With The Application Form
Check List :
1. Valid Income & Caste Certificate issued by Tahasildar.
2. Domicile Proof certificate
3. Students driving license/ Voter ID/ Ration Card
4. Identity card issued by Institute.
5. SSLC & PUC marks card
6. Study Certificate issued by Institute (Format enclosed with application)
7. All previous semester Marks cards & Degree Certificate (if had completed Degree)
Notification :
https://www.scholarships.net.in/uploads/pdf2019/24548-Advt.pdf
8. All previous semester Marks cards & Post Graduation Certificate (if had completed Post Graduation)
9. Fee Receipt & Admission/ Registration Certificate of institute.
10. Applicants Bank Account, Pass Book Xerox copy with Account Number, IFSC Code and Bank Address
11. Aadhar Card.
12. Copy of candidates Result Sheet/ Rank Declaration Sheet obtained in competitive exam.