scholarship.up.nic.in : 2019-20 Post Matric Samaj Kalyan Vibhag Online Application Uttar Pradesh
Department Name : Samaj Kalyan Vibhag of Uttar Pradesh (Uttar Pradesh Social Welfare Department)
Portal Name : SAKSHAM UP Scholarship & Fee Reimbursement Online System
Scholarship Name : UP Post Matric Scholarship 2019-20
Applicable For : Students Studying in Class 11th &12th, UG, PG & Diploma
Applicable State : Uttar Pradesh
Website : http://scholarship.up.nic.in/
You can now ask your question on this scholarship.
Ask here
(OR) Go to the bottom of this page for comments.
UP Post Matric Scholarship
Applications are invited for Post Matric Scholarship for academic year 2019-20. According to the new time table for the post-ninth classes for the year 2019-20, the proceedings will start from 31 October 2019.

UP Scholarship Important Dates
1. UP Scholarship Correction & Modification :
** The last date for correcting suspicious data in the second time table – 28 December 2019,
** The last date for correcting suspicious data by the student and submitting it to the institution – 31 December 2019
** The last date for re-forwarding by the institution – 03 January 2020
2. Apart from UP Board, students of other boards (CBSE / ICSE / OTHER BOARD) must make their high school mark sheet / certificate available through the institution by 05 January 2020 to the District Welfare Officers.
3. Allahabad UP Gramin Bank, Prathama UP Gramin Bank and for other reasons, correct the name of the student bank, bank branch name and account number included in the suspicious data by -28 December 2019.
Who Can Apply?
** All the students who are studying in class 11th or 12th from any recognized institutions can apply for the scholarship.
** All categories of students (General, OBC, SC, and ST Candidates) of Uttar Pradesh are eligible to apply for this scholarship.
** Other Courses-Studying in any College, University or institute Recognized by Govt.
** The family income should not exceed Rs. 2 lakh per annum
How To Apply?
Students can apply for Post Matric Scholarship 2019-20 through online. Just follow the simple steps mentioned below to apply online.

Steps:
Step-1 : Go to the 'UP Scholarship & Fee Reimbursement Online System' via [http://scholarship.up.nic.in/]
Step-2 : Fill the application form by entering their Basic Personal Details, Educational Details, Contact Details, Address etc.

Step-3 : After completing, submit the filled application form and take a printout of it for the future references.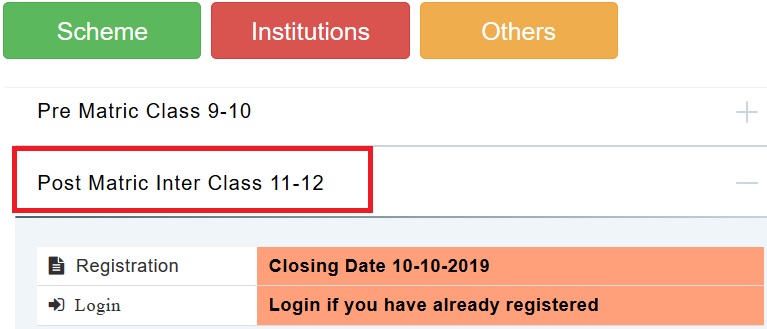 Documents Required
** Caste Certificate
** Income certificate
** Residence Certificate
** Birth Certificate
** College (or) School Certificate and
** Other Important Documents
Scholarship Time Table 2019-20 :
https://www.scholarships.net.in/uploads/pdf2019/24268-postmatric.pdf
Helpline
Help Line Toll-Free Numbers,
** 18004190001 & 180030100001 (Social Welfare),
** 18001805131 (Backward Class Welfare),
** 18001805229 (Minority Welfare)