CII-SKA Merit-cum-Means Scholarship 2018 : Surakshit Khadya Abhiyan
Organization : Confederation of Indian Industry (CII)
Scholarship Name : CII-SKA Merit-cum-Means Scholarship
Applicable For : UG Students of Food Technology/ Microbiology, Nutrition and Home Science
Applicable State/UTs : All India
Application Deadline : 31st July 2018 (Continuing students), 31st August 2018 (New Students)
Website : http://cii-ska.in/Default.aspx
You can now ask your question on this scholarship.
Ask here
(OR) Go to the bottom of this page for comments.
CII-SKA Merit-cum-Means Scholarship
CII Surakshit Khadya Abhiyan (SKA) Announcing the CII-SKA Merit-cum-Means Scholarship for Undergraduate Students of Food Technology/ Microbiology, Nutrition and Home Science.
Related : AICTE TFWS Tuition Fee Waiver Scheme For All Technical Institutions : www.scholarships.net.in/23434.html
Aim
The aim of the Scholarship is to :
** Promote Food Safety amongst the future generation
** Facilitate education for needy and meritorious students in the field of Food Technology/ Microbiology, Nutrition and Home Science
** Strengthen the student connect with SKA
Eligibility Criteria
1. Indian students who have taken admission / pursuing Under-Graduate programmes in Food Science / Technology / Processing / Microbiology / Safety / Nutrition are eligible for the scholarship;
2. Student must have completed without any break
3. The student should have cleared all the courses of the concerned semester in the first attempt;
5. All papers must have been cleared with a 60% score or B grade; 6. The annual gross income of parents of student from all sources does not exceed Rs. 2,50,000/-;
7. Calculation of merit-cum-means scores;
8. The merit cum means scores will be calculated by giving weight-age to parental income and merit of student as follows
** Weight-age of parental income – 40%
** Weight-age of merit of student – 60%
9. The merit will be considered for last examination;
10. Parents' income weight-age will be calculated as under
** Annual income below Rs.1,00,000 – 100 marks
** Rs. 1,00,000 to 1,50,000 – 95 marks
** Rs. 1,50,000 to 2,00,000 – 90 marks
** Rs. 2,00,000 to 2,50,000 – 85 marks
Amount of Scholarship
1. Actual Tuition fees of the Institute / College / Course;
2. Allowance for purchase of books / study material;
3. Allowance for Hostel accommodation and other related incidental subsistence allowance;
4. The number of scholarship to be given will be based upon the number of available funds.
How to Apply?
** Students must fill the attached form and submit to the Principal / Director / HOD / Professor In- charge for verification. You can download the Application Form from official website or directly download it from below mentioned PDF link.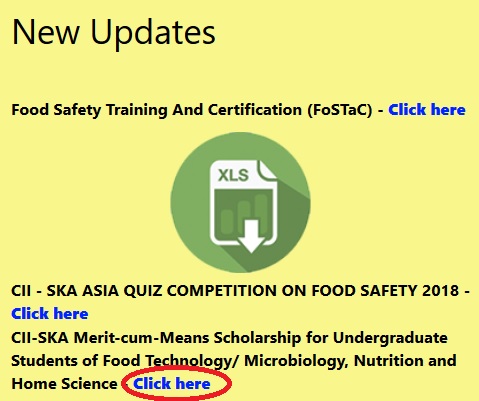 ** Candidates may be required to produce all documents in original.
** The committee will finalize students list based upon the number of available scholarships;
Application Form :
https://www.scholarships.net.in/uploads/pdf2018/23847-CII-SKA.pdf
** Once approved, SKA FACE – CII office will notify the list of approved students through email. A letter will also be sent to the parent of student as well as the Institute / College.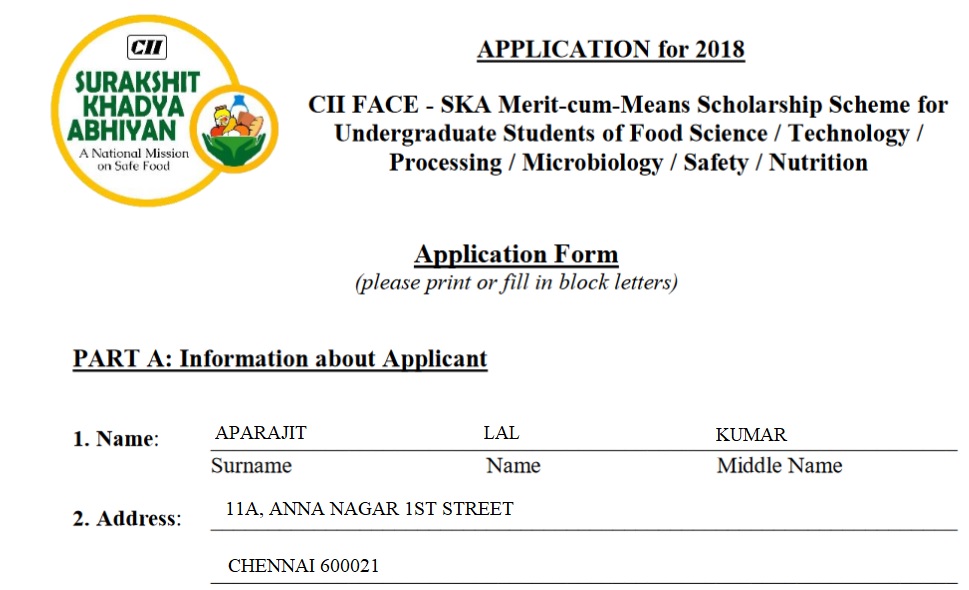 Release Of Scholarship
1. The College / Institution will have to send the annual / semester exams report of the academic progress of the student without fail;
2. The Director / Principal / HOD or Professor-in-charge shall attest duly filled form along with the academic reports and other relevant documents to be submitted to "Executive Director, CII FACE – SKA (Scholarship Scheme), 28 IGSSS Building, 3rd Floor, Lodi Road, New Delhi – 110 003" by e-mail at ska.scholarship [AT] cii.in
3. The scholarship will be transferred by RTGS in the student's bank account.
Dead Line
** Last Date for submission of the completed Application Form along with the Verification Certificate is as under
1. Continuing Students – 31st July 2018
2. New Students – 31st August 2018
** Scrutiny by CII Secretariat – September 2018
** Decision by Jury – September 2018
** Communication to Students – October 2018
Contact Us :
For further information please contact
Ms Amandeep
CII-FACE
ska.scholarship [AT] cii.in