SBI YFI 2018-19 Youth For India Fellowship : youthforindia.org
You can ask questions or answer questions about this scholarship.
Please go to the bottom of this page.
Organisation : State Bank of India
Fellowship Name : SBI YFI 2018-19 Youth For India Fellowship
Applicable For : Young Professionals or Fresh Graduates
Application Last Date : 5th June 2018
Website : https://www.youthforindia.org/
SBI Youth For India Fellowship
SBI Youth for India Fellowship provides a framework for India's best minds to join hands with rural communities, emphathise with their struggles and connect with their aspirations.
Related / Similar Fellowship : SBI YFI Fellowship 2020-21
Eligibility Criteria
** Young Professionals or Fresh Graduates
** Age 21-32 (as on date of commencement of programme)
** Indian citizen
How to Apply?
Just follow the below steps to apply for SBI Youth For India Fellowship 2018-19
Step 1 : Go to the official website of Youth For India provided above.

Step 2 : Select Application Menu in the home page and Click 'Apply Now' link in the drop down menu.

Step 3 : Already registered user provide your Email address and Password for Login. If you are a new user then click Registered link in the Login page.

Step 4 : Enter the following details for Registration and Click Submit button
i. Enter Your Email [udhaya@gmail.com]
ii. Enter Your Name [Udhaya Kumar]
iii. Enter Your Password
iv. Re-enter Your Password
v. Select Your Country [India]
vi. Enter Your Mobile [9898989898]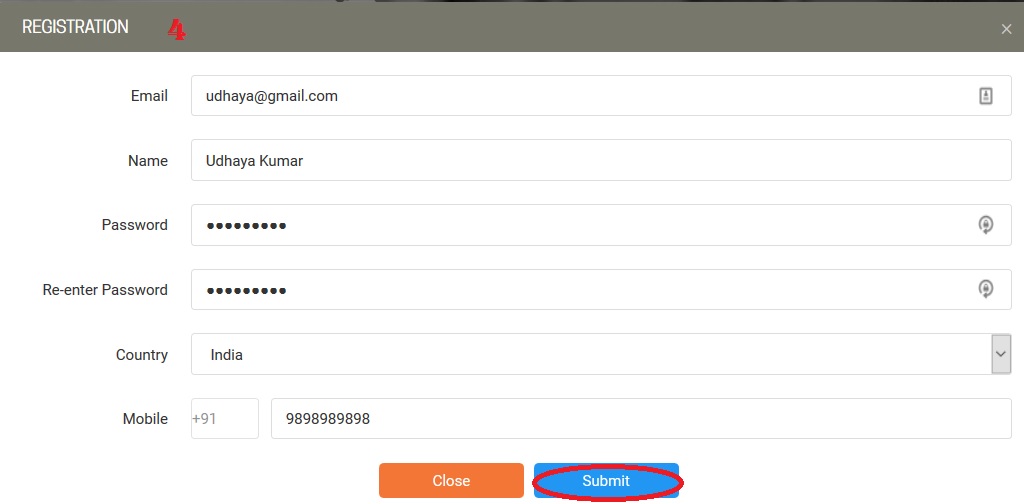 Step 5 : Enter Your Address and then upload your image by clicking 'Choose File' button.

Step 6 : After that, you have to enter your Personal Details, Academic Qualifications, Employment Details and Details of Entrance Exams to complete your application.
Interviews :
Short-listed candidates are called for interview rounds held across major cities in India.
Final Selection
** Candidates selected post interview will be notified via e-mail and/or SMS.
** On confirmation, candidate will be sent the offer letter specifying details of the programme, fellowship support and terms and conditions of the fellowship.
** He/She will also have access to further material about the programme areas of our partner NGOs.
Fellowship Support
** Stipend – Rs 15,000/- to meet living expenses
** Local Transport Allowance Rs 1,000/- per month
** A Readjustment Allowance of Rs. 30,000/- upon successful completion of the Fellowship
** To and fro travel costs of the Fellows from his/her place of residence to project location as well as for training programmes
** Medical Insurance
** Mentorship by experienced professionals in the field
** Access to the Community through well-established Partner NGOs
** Linkages with premier organizations of the country
FAQs
1. Is There A Process Of Submitting The Application Other Than Through The Online Process?
No, applications can be submitted online only.
2. Is There Any Time Constraints In Filling The Form?
Yes, the application form should be filled within 7 days of registration, else the form will be suspended. Second, a timestamp of 60 minutes is provided to feed responses to all the 3 essay questions.
3. I Am Not In India Presently, But I Am Interested In The Fellowship. Can I Interview Virtually?
On successful short-listing for the next round, candidates may write to us at contactus [AT] youthforindia.org. We will try to accommodate their request.
4. What Did The Past Fellows Do After The Fellowship?
Upon completion of the fellowship, fellows went into a variety of fields
** Social Entrepreneurship
** Jobs in Rural Development Sector – NGOs or Corporate Foundations
** Jobs in the corporate sector
** Development Studies
** Management Studies
** Return to a previous job (for fellows on sabbatical)
Contact :
Pre-visit FAQ section for any clarifications before you mail us at contactus [AT] youthforindia.org