SBI YFI Fellowship 2020-21 Youth For India : youthforindia.org
Organisation : State Bank of India
Fellowship Name : SBI YFI 2020-21 Youth For India Fellowship
Applicable For : Young Professionals or Fresh Graduates
Last Date : 18.05.2020 (Date is Extended)
Website : https://www.youthforindia.org/
SBI YFI Fellowship
Applications to the SBI Youth For India Fellowship are now open for the year 2020-21.
Related / Similar Fellowship : Daksha Fellowship 2020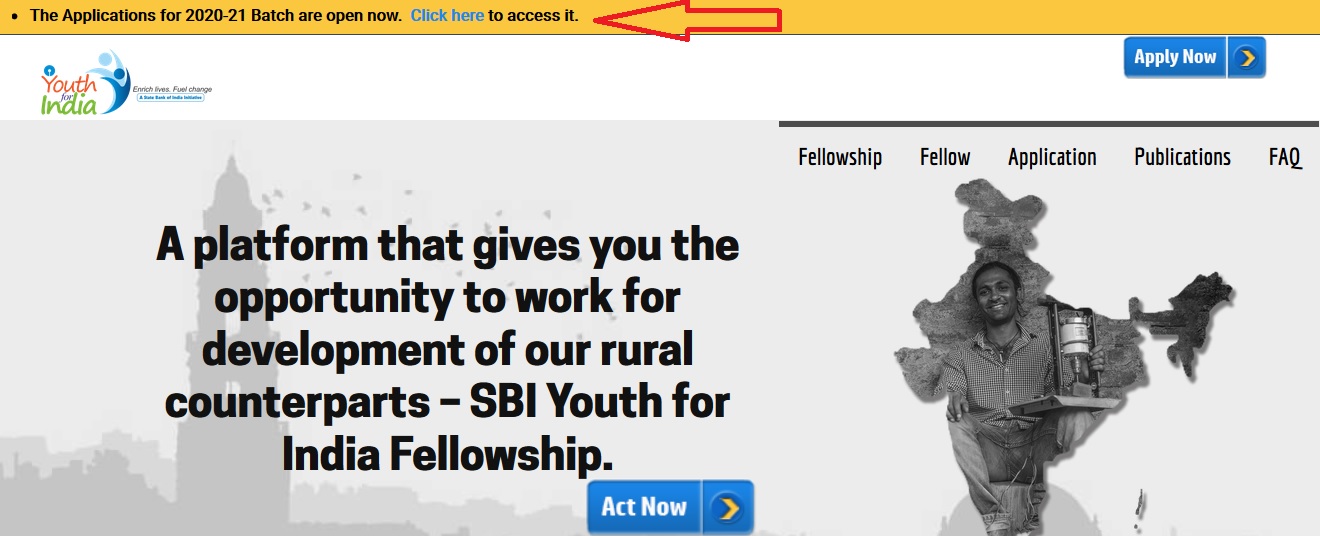 About Fellowship
The SBI Youth for India Fellowship is a 13-Month program, where India's brightest young minds are given an opportunity to go live and work amongst rural communities to help solve pressing rural development challenges. Fellows are further supported in their projects by leading NGOs and experts across disciplines.
Eligibility
** Your Age – Between 21 to 32 Years Old as of August 1, 2020
** Citizenship – Indian or Overseas Citizens of India. Indian's & Indian Origin
** Qualification – Undergraduate / Bachelors Completed before August, 2020.
How to Apply?
Just follow the below steps to apply for SBI Youth For India Fellowship 2020-21.
Register Here : https://register.you4.in/
Step 1 : Go to the official website of Youth For India provided above.

Step 2 : Select Application Menu in the home page and Click 'Apply Now' link in the drop down menu.

Step 3 : Already registered user provide your Email address and Password for Login. If you are a new user then click Registered link in the Login page.

Step 4 : Enter the following details for Registration and Click Submit button
i. Enter Your Email [udhaya@gmail.com]
ii. Enter Your Name [Udhaya Kumar]
iii. Enter Your Password
iv. Re-enter Your Password
v. Select Your Country [India]
vi. Enter Your Mobile [9898989898]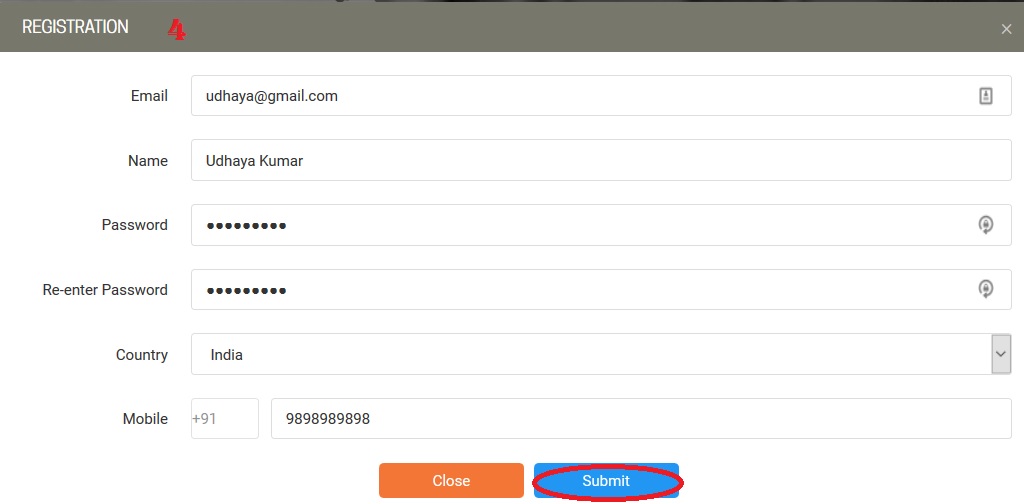 Step 5 : Enter Your Address and then upload your image by clicking 'Choose File' button.

Step 6 : After that, you have to enter your Personal Details, Academic Qualifications, Employment Details and Details of Entrance Exams to complete your application.
Interviews :
Short-listed candidates are called for interview rounds held across major cities in India.
Selection Process
The candidates shortlisted in the first stage will be notified on an on-going basis during the application period. In the next stage, a series of screenings will be conducted and the last phase will include Final Interviews conducted in major cities.
We will constantly be in touch with the candidates shortlisted in the final stage on an online forum to know them better as well as clarify their doubts regarding the fellowship.
Pre-Fellowship Research
The candidates will be given access to documents related to NGO program areas and description. You will research, read and familiarize yourself with these to be able to decide on your preferred programme area and partner NGO.
As the fellowship is divided into two cohorts, August and October, your cohort will be decided during this phase.
Life Post Fellowship
After completion of the Program,
** You can continue in the rural development sector with NGOs or explore social entrepreneurship opportunities.
** You can pursue further studies or other fellowships.
** You can return to the mainstream and apply your learning to develop products and services more suited to Rural India.
** More than 70% OF OUR ALUMNI have continued to work in the development sector.
FAQs
1. What Is The Last Date For Submitting The Application Form?
The tentative schedule is Application Phase 1 will end in the last week of April. The candidate who is selected for Application Phase 2 have to complete their application by 2nd week of May. The exact dates shall be shared soon.
2. Is There Any Time Constraints In Filling The Form?
Yes, the application form should be filled within 7 days of registration, else the form will be suspended. Second, a timestamp of 60 minutes is provided to feed responses to all the 3 essay questions.
3. Do I Need Some Specific Experience To Contribute Effectively?
We do not require you to have a specific degree or experience. If you have the passion to make a difference at the grass root level, you will most certainly be able to find an opportunity to contribute.
4. What Does A Candidate Receive After Completion Of Fellowship?
On successful completion of the fellowship, a candidate receives an adjustable amount of Rs. 40,000 and a certificate from SBI Youth for India. Please note SBI Youth for India does not offer any job post the completion of the 13-month programme.