Vidya Poshak 2018-19 SSLC/Class10 Nurture Merit Scholarship Karnataka : vidyaposhak.ngo
Organisation : Vidya Poshak
Scholarship Name : Nurture Merit Scholarship 2018-19 (Financial Assistance)
Applicable For : SSLC/Class10 Students aspiring to join Commerce, Arts, Diploma, ITI, GTTC
Applicable City/District/State : Selected Districts/Taluk's in Karnataka
Application Last Date : 15th June 2018
Website : http://www.vidyaposhak.ngo/download-financial-support-application-for-sslcclass10-students/
Vidya Poshak Nurture Merit Scholarship
Vidya Poshak is Inviting Applications for Nurture Merit Scholarship for year 2018-19 from SSLC/Class10 Students.
Related / Similar Scholarship : Vidya Poshak SSLC Nurture Merit Scholarship 2020-21

Who Can Apply?
** Should have appeared for the SSLC examination for the first time in March/April, 2018
** The applicant should have scored at least 80% in the SSLC Karnataka board/CBSE examination.
** Aspiring to join Commerce, Arts, Education in PUC 1st year & Diploma, ITI, GTTC
** Total family income should be less than Rs.80, 000 /- per annum (Rupees Eighty Thousand only).
** Parents of the applicant should be resident of one of the below districts of Karnataka.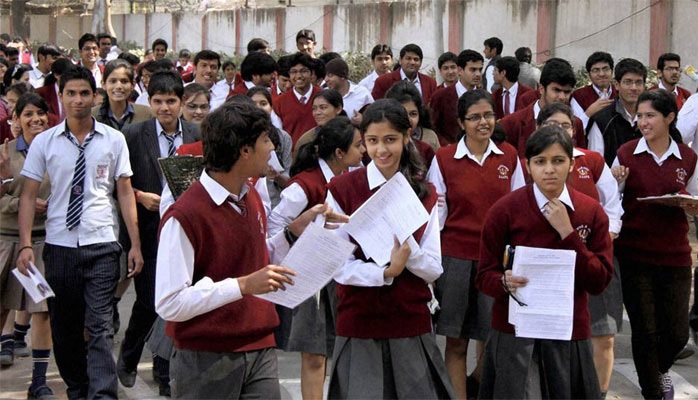 Applicable Districts/Taluks
Therefore new applications will be entertained only from following Districts/taluk's in Karnataka
Bagalkot District: Badami, Jamakhandi, Hunagund, Mudhol, Bilagi, Bagalkot
Vijayapur District: Vijayapur, Indi, Muddebihal, B. Bagewadi
Belagavi District: Belagavi, Bailhongal, Savadatti, Chikodi, Hukkeri, Gokak, Athani, Mudalagi, Raibag, Ramadurga, Khanapur
Dharwad District: Dharwad, Kundagol, Hubballi, Kalghatagi, Navalgund
Gadag District: Ron, Mundaragi, Shirahatti, Naragund, Gadag
Davanagere District: Davanagere Harihar, Honnali, Jagalur, Harapnahalli, Channagiri
Uttar Kannada: Sirsi, Siddapur, Yallapur, Mundagod, Kumata, Bhatkal, Haliyal, Joida, Karwar, Honnavar, Ankola
Shimoga District: Sagar, Shivamogga, Hosanagar Shikaripura, Teerthahalli, Soraba.
Scholarship Notification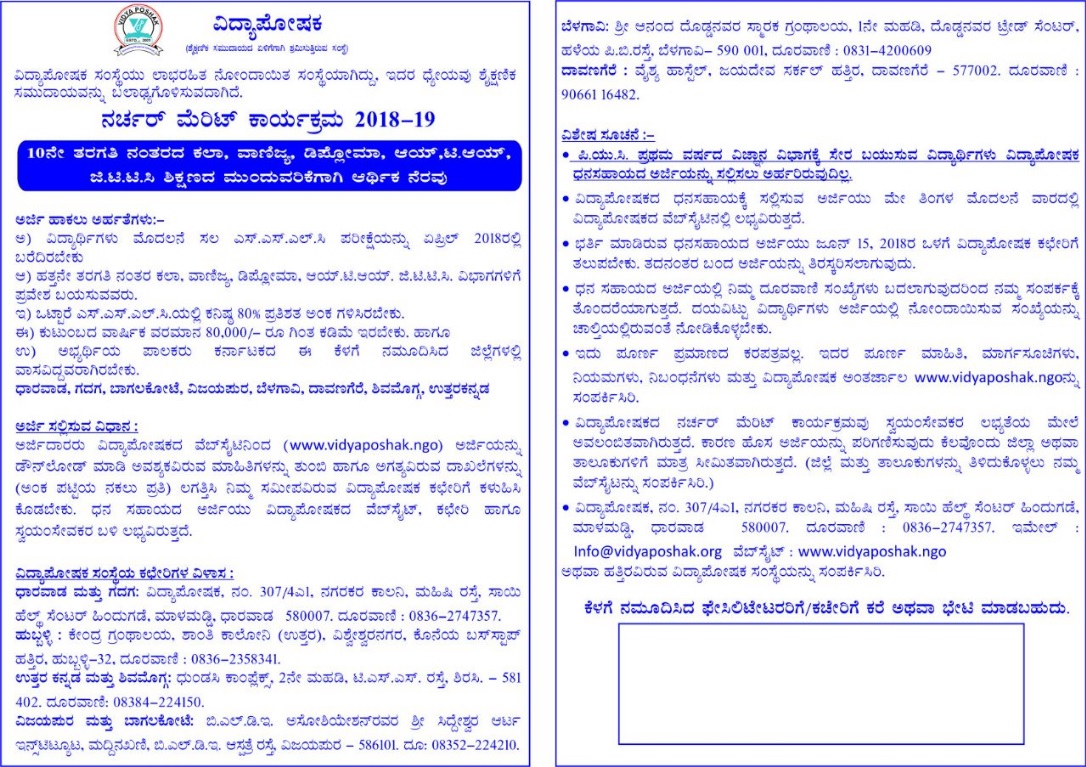 View Notification Here :
https://www.scholarships.net.in/uploads/pdf2018/23146-Note.jpg
How To Apply?
Step-1: Applicants should download the application form from the Vidya Poshak website (www.vidyaposhak.ngo)
Step-2 : Fill in all the relevant information, attach supporting document/s (Marks card copy) and post it to the nearest Vidya Poshak office.
Download Scholarship Application Form Here :
https://www.scholarships.net.in/uploads/pdf2018/23146-SSLC.pdf
Note:
** Please read instructions & eligibility criteria provided in the next page carefully before filling the form.
** Attach Xerox copy of marks card along with filled application without fail
** Please provide accurate and complete address in the application.
Branch Office Addresses:
Application forms are available in Vidya Poshak website www.vidyaposhak.ngo and at branch our offices mentioned below
Scholarship Instructions
** Completed applications should reach Vidya Poshak by 15th of June 2018. Applications received after this date will not be entertained
** Please keep the contact number used in application form for the vidya Poshak financial assistance .All the communications with the students will be through this contact number only.
** Students joining science stream in 1st year PUC are not eligible to apply for the Vidya Poshak financial assistance.
** Complete information, guidelines, instructions, terms and conditions are posted on our website www.vidyaposhak.ngo
Scholarship Helpdesk
Phone : 0836-2747357,
Email : info@vidyaposhak.org