TTA Times & Trends Academy 2018 Meri Pehchaan Scholarship : timesandtrendsacademy.com
Organisation : Times and Trends Academy (TTA)
Scholarship Name : Meri Pehchaan Scholarship 2018
Applicable For : 12th Passed Students
Application Deadline : 15th April 2018
Scholarship Competition Date : 6th May 2018
Website : https://timesandtrendsacademy.com/meri-pehchaan-scholarship-times-trends-academy/
You can now ask your question on this scholarship.
Ask here
(OR) Go to the bottom of this page for comments.
TTA Meri Pehchaan Scholarship
Meri Pehchaan is a scholarship offered by Times and Trends Academy (TTA) for young aspiring students who desire to have highly paying careers that they aspire to.
Update : Times and Trends Academy Meri Pehchaan Scholarship 2019 : www.scholarships.net.in/34115.html
This scholarship is eligible for all the students from Designing, Finance and accounts and Animation institutes and 10th or 12th students. Times and Trends academy will pay 30% – 100% on tuition fees of the shortlisted students.
About Meri Pehchaan:
Under Meri Pehchaan scholarship scheme, a student will be eligible to avail a scholarship on courses (for domains mentioned below) offered at Times and Trends Academy. The selected student will get a scholarship of 30%-100% waived-off on the tuition fees.
Times and Trends Academy (TTA) will offer a financial aid of 30%-100% on the tuition fees. This scholarship is offered to help students build their careers.
3 students will be selected under the scholarship for the following domains:
** Fashion Designing
** Interior Designing
** Jewellery Designing
** Event Management
** Animation
** Finance and Accounts
Eligibility Criteria
** Students should have passed 10th or 12th and scored 65% or more
** Students should also qualify the Meri Pehchaan Test
How To Apply?
Just follow the simple steps below to register online for Meri Pehchaan Scholarship 2018.
Steps:
Step-1 : Go to the official website of 'Times and Trends Academy' through URL https://timesandtrendsacademy.com/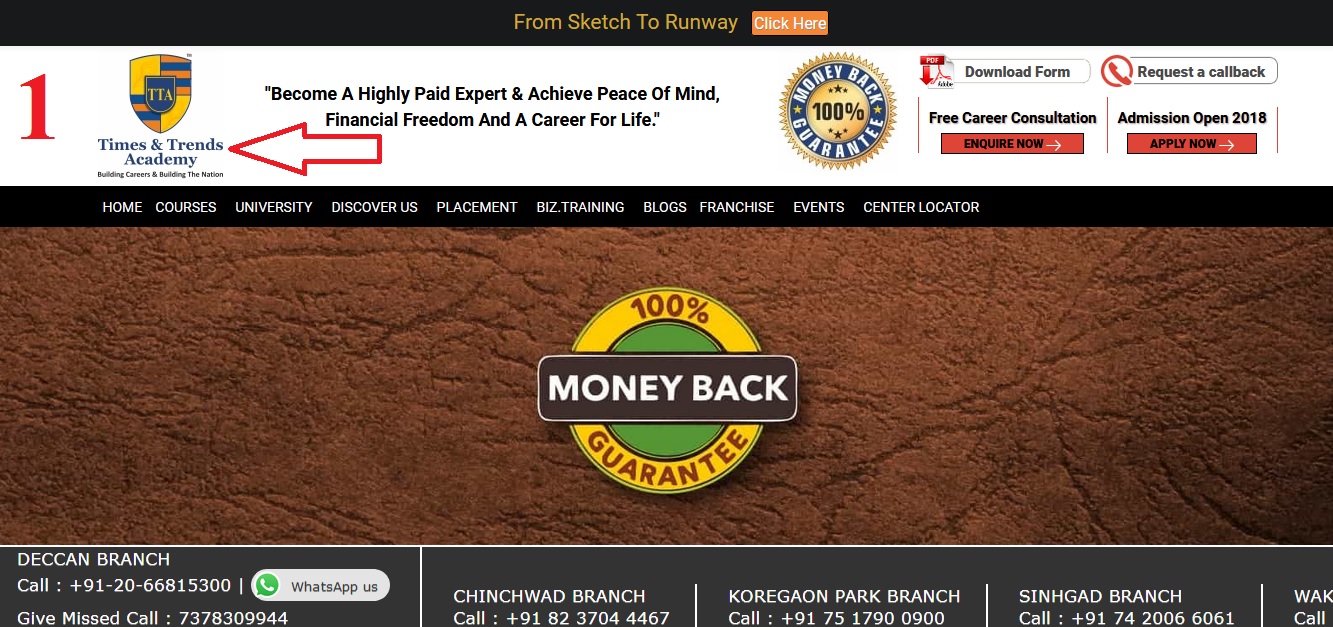 Step-2 : Click on the 'Scholarship Program' under 'Events' available at the Home Page.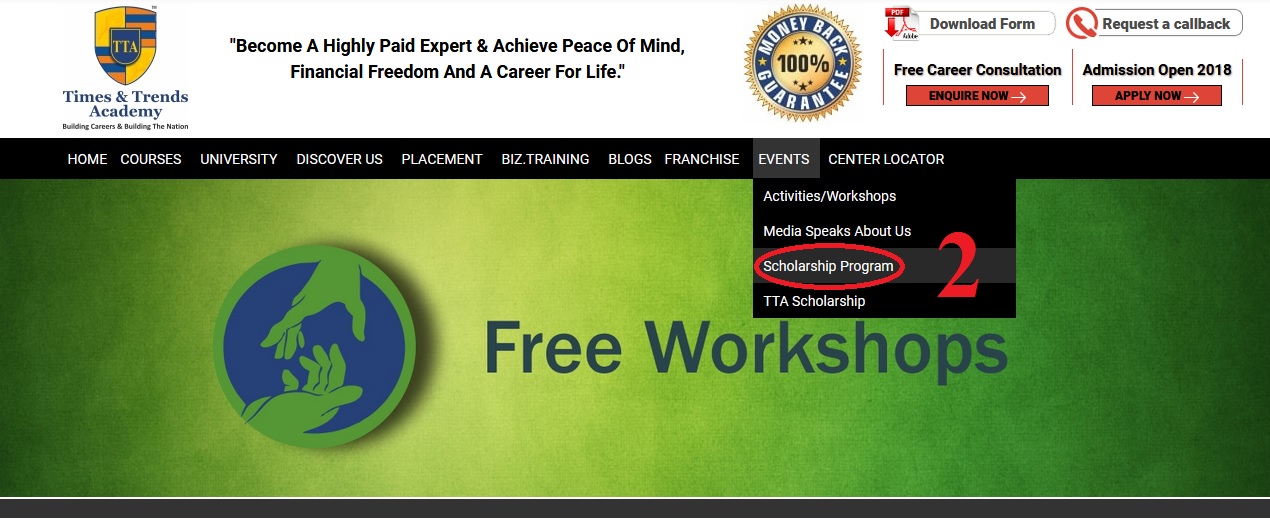 Step-3 : You can find the online registration form titled 'Register For 2018 Scholarship' in the scholarship page.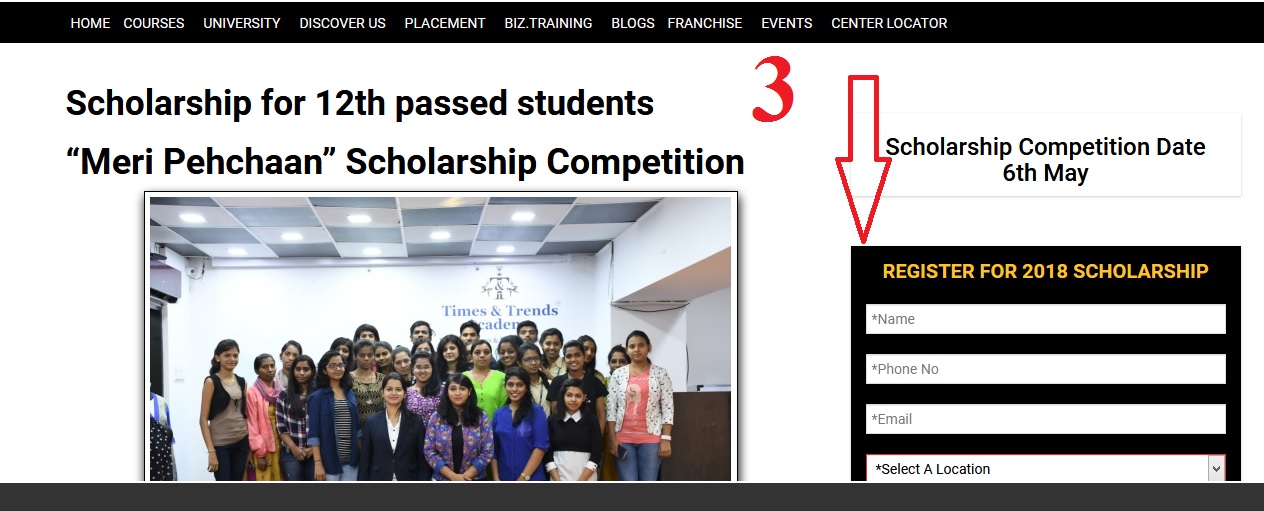 Step-4 : Fill the online form with your personal details
Name : Enter your Name in the space provided (i.e. Arjun)
Phone Number : Enter your valid Mobile Number. (i.e. 9999999999)
Email : Enter your Email ID. (i.e abc@gmail.com)
Location : Select your Location from the drop down list. (i.e. Deccan, Pune)
Captcha : Enter the Captcha code as per given in the registration page.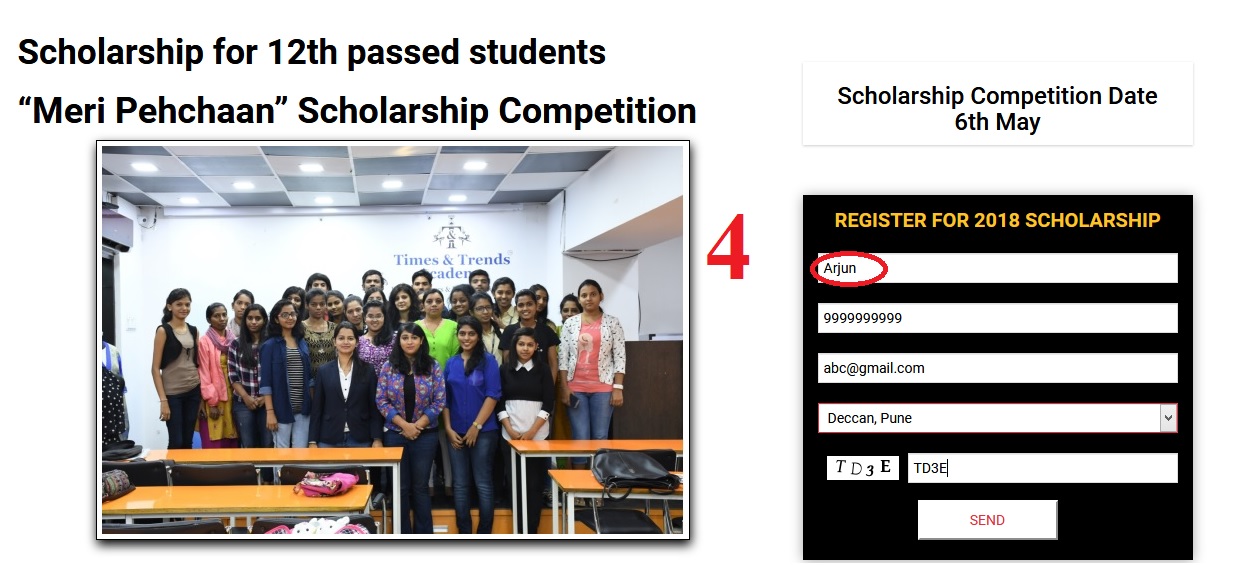 Step-5 : After filling the form, click on the 'Send' button to complete your registration.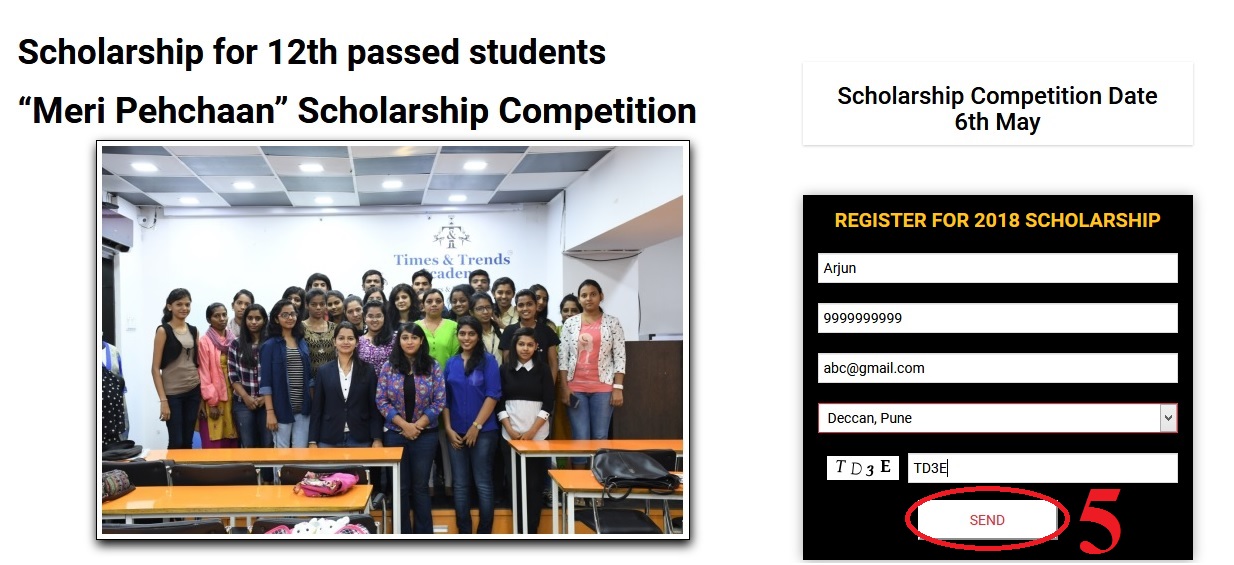 Terms & Conditions
** A student must have completed his 10th or 12th.
** A student must meet the eligibility criteria mentioned above.
** The scholarship is offered on tuition fees and ranges between 30% and 100%.
** The scholarship offers are subject to Times and Trends Academy (TTA)'s policies. The academy holds the rights to change the terms or even terminate the scheme.
About Times and Trends Academy (TTA):
Times and Trends Academy (TTA) has developed vocational courses with the help of industry experts. These courses help students to shape their early careers and acquire highly paying jobs.
These courses not only enable the students to get the jobs, but also train them on how to become entrepreneurs who can start their own business, and run the business successfully and profitably.
Application Last Date
The last date to apply for the Meri Pehchaan Scholarship 2018 is 15th April 2018.