Ekam Yogashala 2018 Scholarship For Free Yoga Teacher Training In Rishikesh : ekamyogashala.com
Organisation : Ekam Yogashala
Scholarship Name : Scholarship For Free Yoga Teacher Training In Rishikesh 2018
Applicable For : Anyone interested in yoga
Deadline of Last Event : 03 Jan, 2019
Website : https://www.ekamyogashala.com/scholarship-free-yoga-teacher-training-rishikesh-india
You can now ask your question on this scholarship.
Ask here
(OR) Go to the bottom of this page for comments.
Ekam Yogashala Scholarship
The scholarship course is a well thought out program of our managing staff who wanted that each one of you who are keen in learning yoga gets the yoga training without financial hurdles.
Related : Ajarya Yoga Teacher Training Scholarship Program : www.scholarships.net.in/20099.html
The cost of the tuition will be borne by the Ekam yogashala, while you will only have to pay for your accommodation and food expenses.
It will be a comprehensive 200 hour yoga course but there will not be any compromise on the standard or quality of yoga training.
Eligibility Criteria
** An only criterion is your willingness to learn and show your passion for yoga. You have to be a part of Karma Yoga, or Seva in the Yogashala.
** You are expected to volunteer for maintaining the discipline and decorum of the premises and yoga class, cleanliness in the surroundings or any other task which could be requested from you.
Application Procedure
** To apply for this Scholarship course you only have to fill a short form.
** You will also have to write a few words on "Why you are opting for Scholarship course?"
** There won't be any standardized test or much questioning.
** Forms will be filtered but we will try to admit as many students as possible.
Steps To Fill Online Form
Step-1 : Go to the Ekam Yogashala Scholarship page "https://www.ekamyogashala.com/scholarship-free-yoga-teacher-training-rishikesh-india"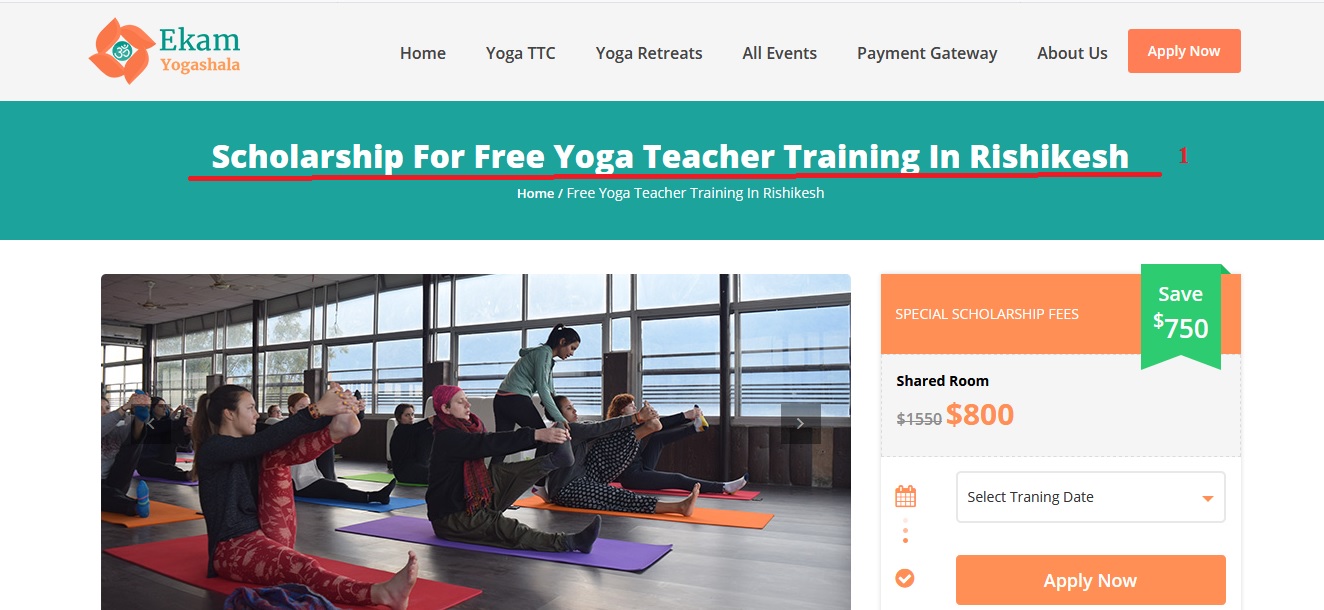 Step-2 : List of Free Scholarships 200 hour yoga teacher training in Rishikesh are available under the Title 'Upcoming Events'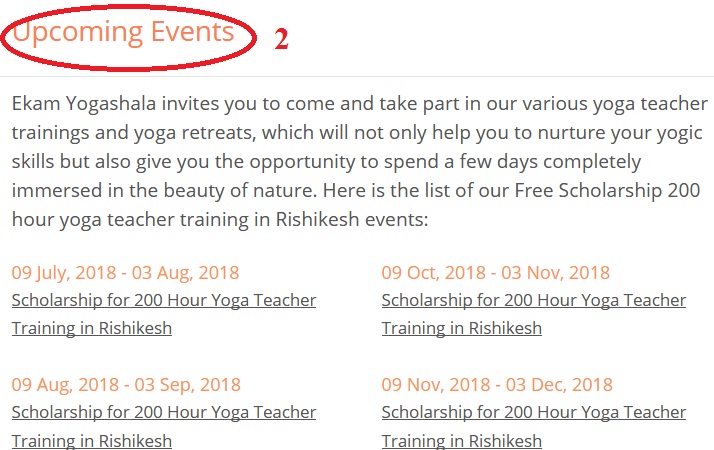 Step-3 : Select your convenient training date. Click on the link under your training date to apply for scholarship.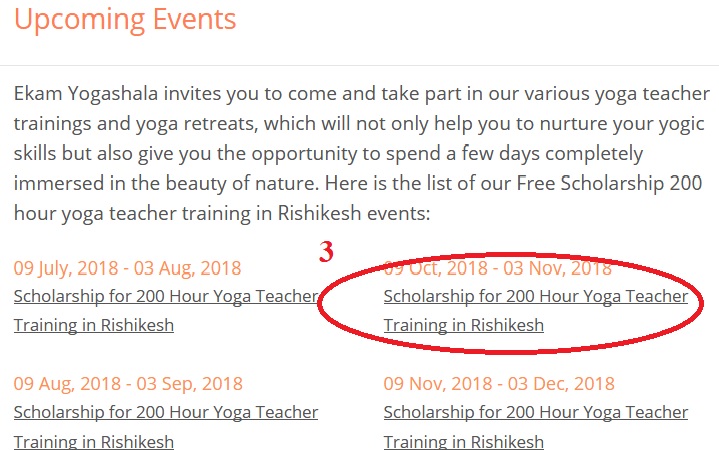 Step-4 : Enter the following details
Step-4.1 : Full Name -Enter your Full name in the space provided.
Step-4.2 : Gender -Select the appropriate gender from the drop-down list.
Step-4.3 : Date of Birth – Date of Birth is to be entered in the DD/MM/YYYY format.
Step-4.4 : E-Mail – Enter your personal Email ID
Step-4.5 : Phone Number – Enter your phone number with country code
Step-4.6 : Website / Blog – Enter the name of your own Website / Blog (If any).
Step-4.7 : Full Address – Enter your full address with postal code.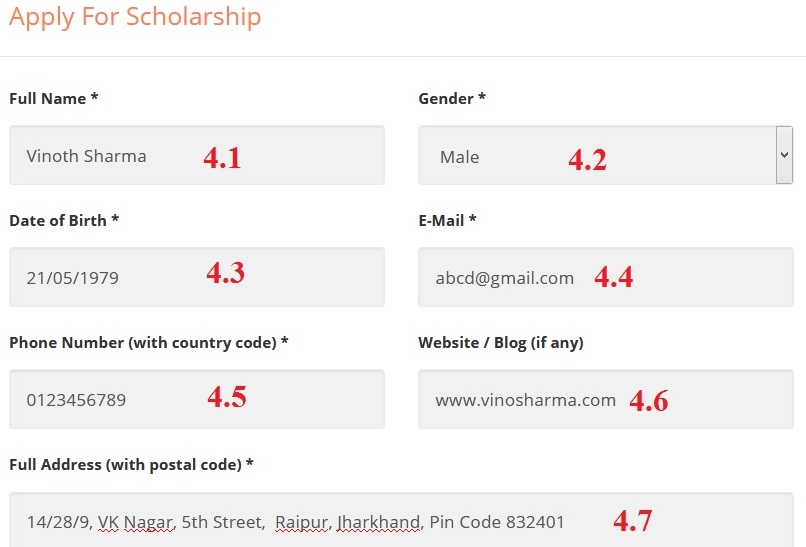 Step-4.8 : If you have yoga experience, Mention it in the space provided
Step-4.9 : Mention it if you have any stress related problem in the relevant place
Step-4.10 : Describe your current physical and mental health status, inclusive of any recent diagnoses (i.e. recent injury, surgery, prescribed medication):
Step-4.11 : Select Yes, If you are a smoker. Otherwise click 'No'.
Step-4.12 : Select Yes, If you are an Alcoholic. Otherwise click 'No'.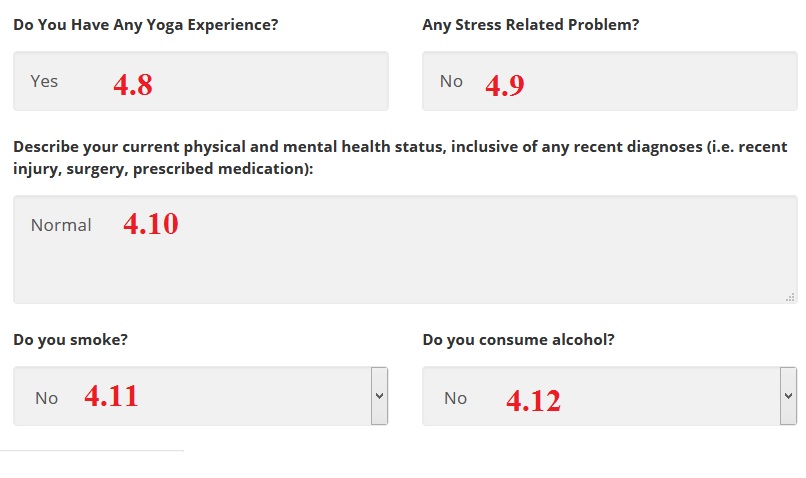 Step-4.13 : If you are taking any prescribed medicine, Select Yes and Specify that medicine.
Step-4.14 : Write a message to Ekam Yogashala's Director about why are you applying for this Scholarship Course.
Step-5 : After filling the details, Submit the application to complete the registration.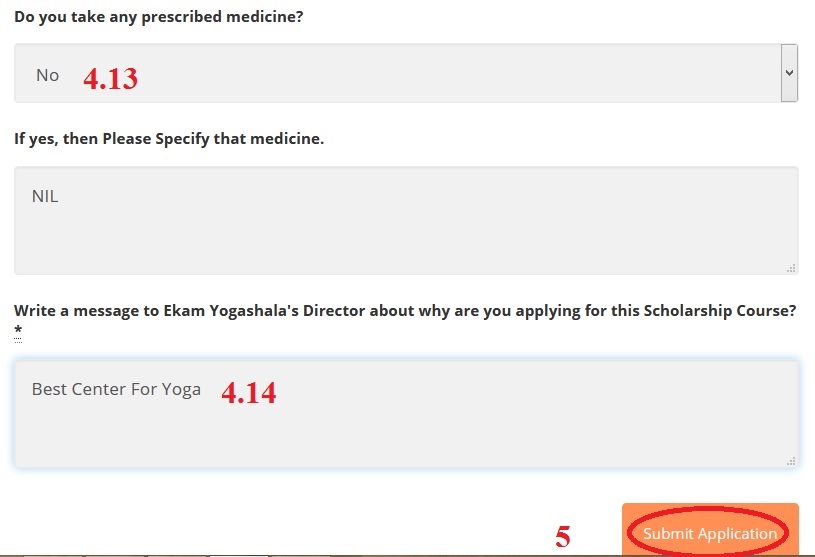 Venue & Facilities
You will be lodged in the best premises, on the private or sharing basis as per your choice and comfort.
** Double/Single bed
** Wardrobe
** Coffee table
** Free Wi-Fi
** Laundry facility
** Attached bathrooms with hot and cold running water
Food :
All Students availing Scholarship course will be offered 3 yogic meals in the premises; Breakfast, Lunch, and Dinner. Each meal will be prepared by the Ayurvedic chefs, using fresh vegetables, spices, and herbs. Meals also include salad, seasonal fruits, and Healthy drinks.
Training Teachers
Yogi Ashish
Hatha Yoga
Alignment & Adjustment
Vinyasa Flow
Yogi Vikas:
Hatha Yoga
Sandeep Pandey Ji
Pranayama:
Meditation
Yoga Philosophy
Tanushree Rawat:
Yoga Anatomy, Yoga Nidra
Yoga Philosophy
Kundalini Yoga
Upcoming Events
Here is the list of our Free Scholarship 200 hour yoga teacher training in Rishikesh events:
09 July, 2018 – 03 Aug, 2018:
Scholarship for 200 Hour Yoga Teacher Training in Rishikesh
09 Aug, 2018 – 03 Sep, 2018:
Scholarship for 200 Hour Yoga Teacher Training in Rishikesh
09 Sep, 2018 – 03 Oct, 2018:
Scholarship for 200 Hour Yoga Teacher Training in Rishikesh
09 Nov, 2018 – 03 Dec, 2018:
Scholarship for 200 Hour Yoga Teacher Training in Rishikesh
09 Dec, 2018 – 03 Jan, 2019:
Scholarship for 200 Hour Yoga Teacher Training in Rishikesh
Event Details
Event Location:
Ekam Yogashala
Balaknath Street, Upper Tapovan, Laxman Jhula
Rishikesh, Uttarakhand (249192)
Yoga Guru
Ashish Rawat:
09 Oct, 2018 – 03 Nov, 2018
Prices:
$1550 Shared Room
How To Reach Ekam Yogashala?
By Airways:
Rishikesh is well connected to all the major cities. Jolly International Airport at Dehradun is only 15 km from Rishikesh. You can reach directly from your place of Departure to Jolly international airport or you can come via Delhi International airport. We can send you taxi to the Jolly International airport at a request. The cost of the taxi will be 20 US dollars.
By Roadways:
You can hire a taxi from International airport in Delhi or you can also book a taxi from us. We can send you a taxi to pick you from Delhi airport. The cost of the same will be 80 US dollars.
By Railways:
You can also have the joy ride on the train from Delhi to Haridwar. Haridwar is 25 km from Rishikesh. It is linked to all the cities of India. From Haridwar, you can hire a taxi and if you want, we can also send the taxi to pick you. Charges of the taxi would be 20 US dollars.
Terms and Conditions
** Ekam Yogashala expects students to follow strict discipline and rules and regulations of the School.
** Students are expected to be punctual in the class and should attend all the classes.
** School expects students to maintain decorum and academic standards.
** Students are expected to show good moral conduct and are always ready to help each other.
** Transport charges are not covered.
** Non-vegetarian food, alcohol or any kind of beverage is strictly prohibited.
** 200 dollar fees have to be paid at the time of booking.
** The payment is non-refundable, non-negotiable and non-transferable until the course is cancelled.