National Scholarship Portal NSP 2.0 Schools/Institutes Registration For 2018-19 : scholarships.gov.in
Organisation : Government of India
Portal Name : National Scholarship Portal NSP 2.0
Service Name : NSP Schools/Institutes Registration For 2018-19
Applicable For : All Institutes
Applicable States/UTs : All Over India
Application Deadline : 31st March, 2018
Website : https://scholarships.gov.in/
You can now ask your question on this scholarship.
Ask here
(OR) Go to the bottom of this page for comments.
NSP Institute Registration
All Institutes register on NSP portal till 31st March, 2018 for the financial year 2018-19.
Related : National Scholarship Portal : www.scholarships.net.in/national-scholarships-portal
Registration of New Educational Institute
The facility to create new Institutes is provided to the State Nodal Officers. You may contact your respective State Nodal Officer for Registration.
How To Contact State Nodal Officers?
List of State Nodal Officers is available under Services-> Scheme Wise State Nodal Officers of NSP.
Steps:
Step-1 : Visit National Scholarship Portal through https://scholarships.gov.in/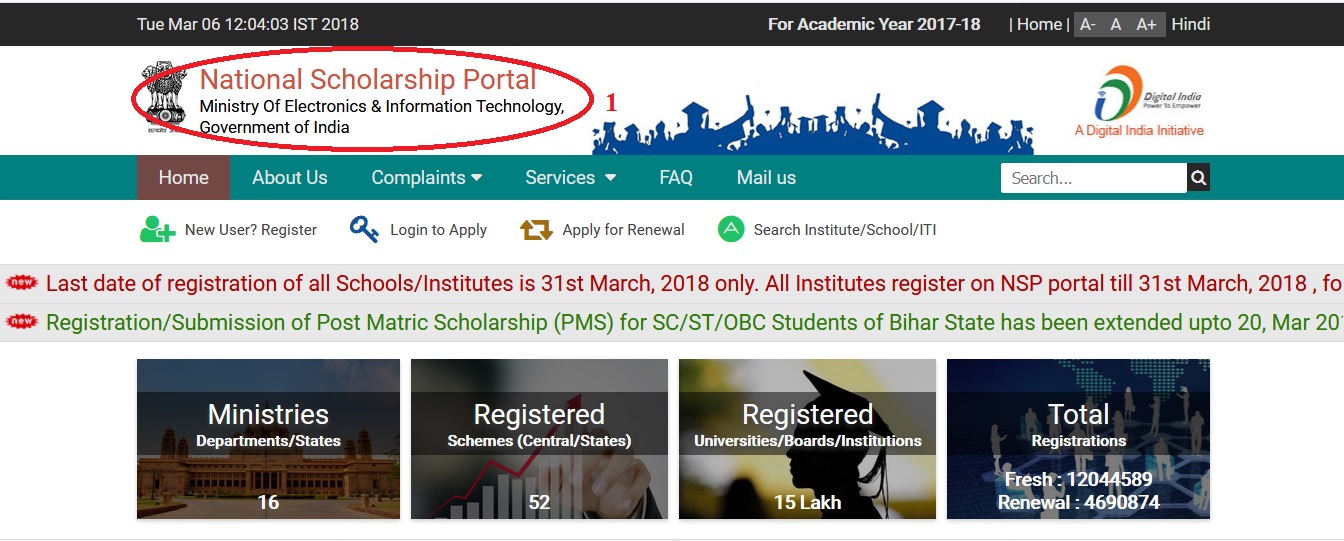 Step-2 : Select the 'Scheme Wise State Nodal Officers' link under 'Services' menu.
Step-3 : You can find the department wise officers contact details under 'Scheme Wise State Nodal Officers' link.
Step-4 : Contact details are available in the PDF. You can contact the officers for registration of your Institute.

Last Date
Last date of registration of all Schools/Institutes is 31st March, 2018 only

Login For Institute
Institutes does not have Login Credentials can contact State Nodal Officers for Login Credentials.
How To Login?
Step-1 : Go to the National Scholarship Portal through URL https://scholarships.gov.in/.
Step-2 : 'Institute Login' is available under the 'Official Login' section. 'Click on Institute Login' to login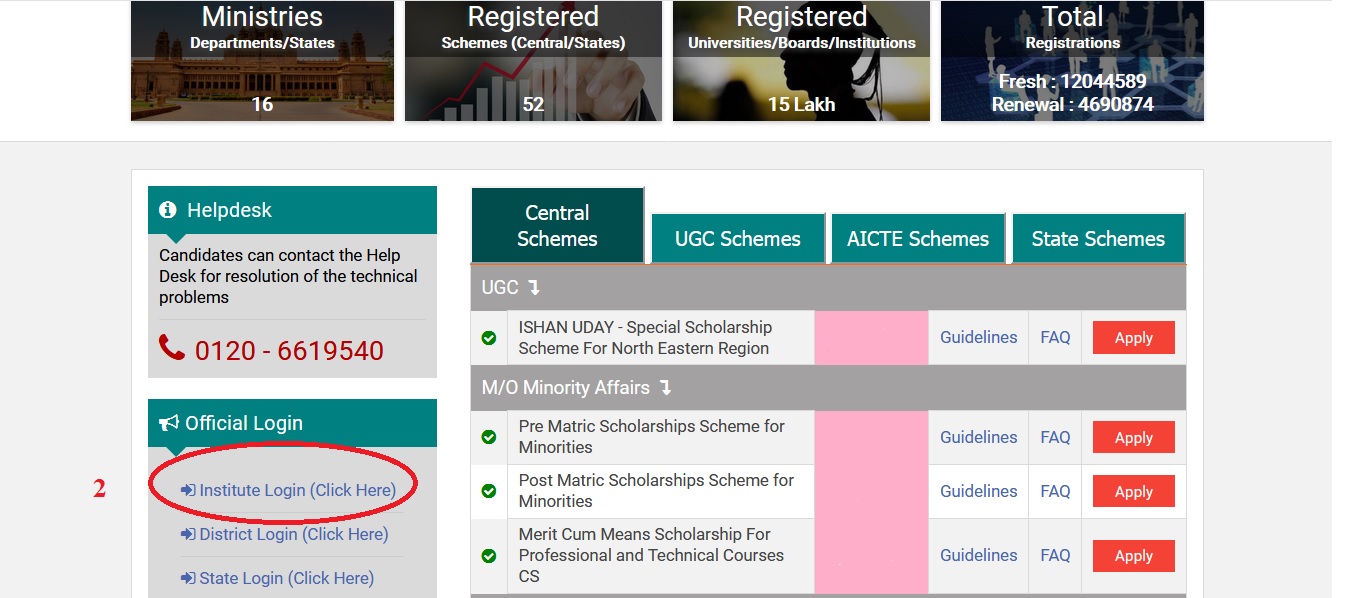 Step-3 : Enter the details like Academic year, User ID, Password and Captcha code
Step-4 : Finally click on the 'Login' button to proceed.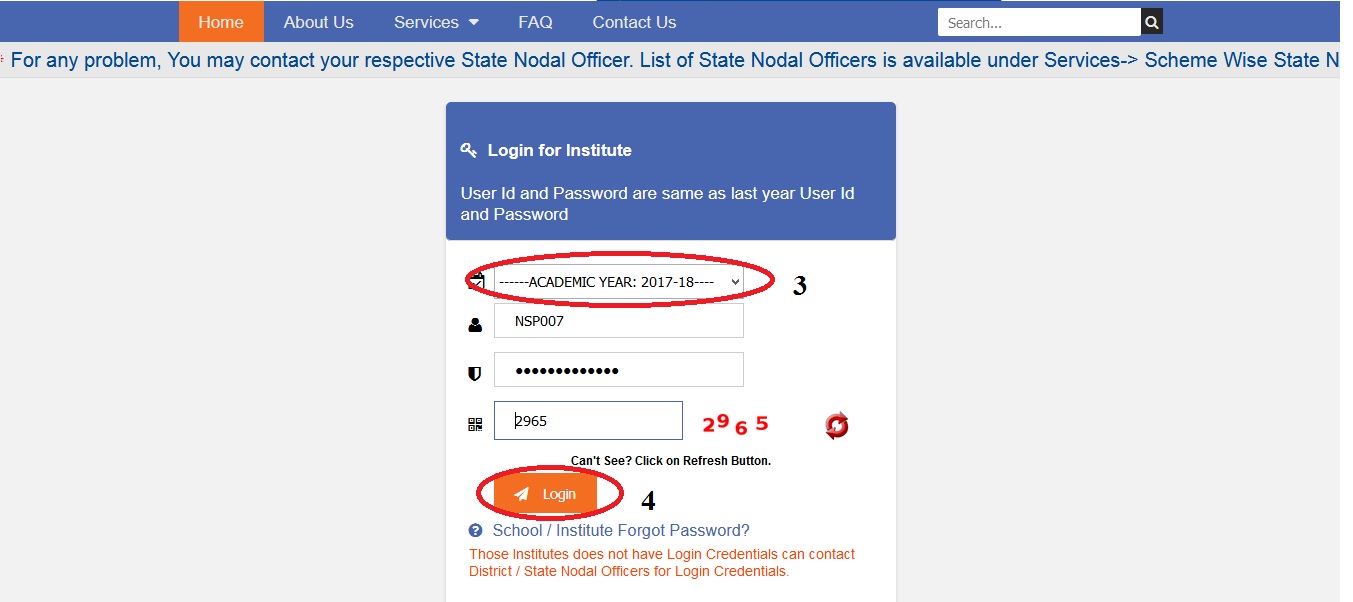 Update Password
It is recommended that the Institute Nodal Officer change the default password as issued. The user can enter its own password as desired and Update the Password
as desired.
How to Update the Password ?
** After login,On the Home Screen enter the Current Password and then enter the New Password.
** The user is supposed to enter and confirm the new password as entered and click on the 'Update Password'
School/Institute Forgot Password?
Step-1 : Go to the link 'https://nsp.gov.in/app/instForgotPassword.action' available in the 'Institute Login' page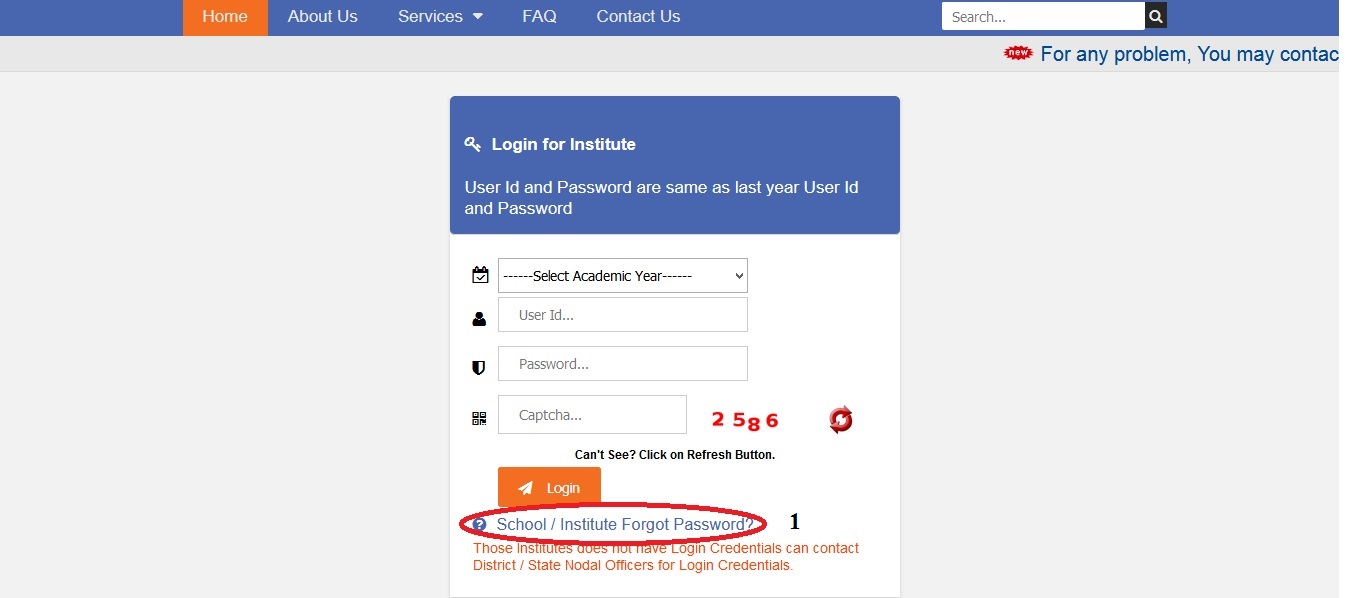 Step-2 : Enter the User ID and Captcha code in the relevant places and click  on the 'Submit' button to retrieve the Password.

Notes For Institute Nodal Officer:
** Do not reveal the login password to anyone
** Changing your password frequently enables you to maintain the secrecy.
** Inappropriate users are not permitted to view the page.
** In case of any error messages after logging into the website, re-enter the Username and Password.
** Ensure that the system is protected by anti-virus software.
** Dust free environment allows a better performance of the system.
NSP Helpdesk
Candidates can contact the Help Desk for resolution of the technical problems 0120 – 6619540
About National Scholarship Portal
National Scholarships Portal is one-stop solution through which various services starting from student application, application receipt, processing, sanction and disbursal of various scholarships to Students are enabled. National Scholarships Portal is taken as Mission Mode Project under National e-Governance Plan (NeGP